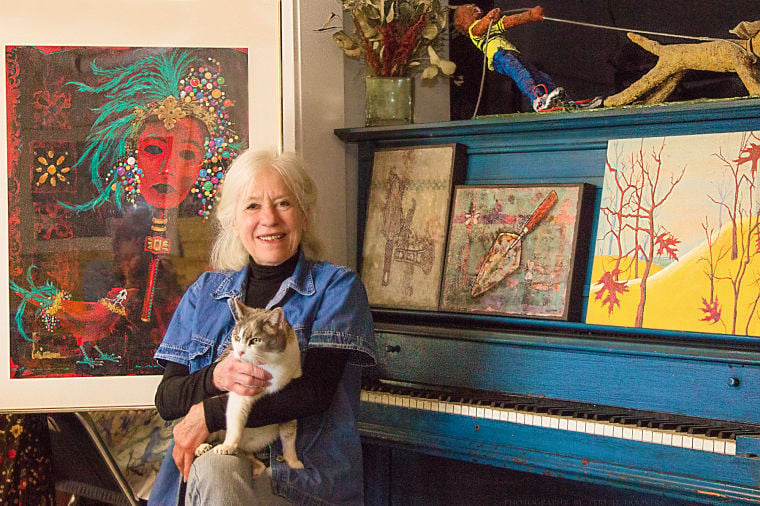 Before we get into the winner of the 2021 Coronavirus Limerick Challenge, let me tell you something about our entrants overall.
They numbered 104, but sent in many more limericks than that. A bunch composed more than one, and a few people emailed me more than a dozen.
The contestants ranged in age from 10 to at least 85. They hail from as far away as Canada. And some of them came up with deviously clever rhymes. Consider, for example, the runners-up.
No. 4 is Kathy Cole of Independence. Here's one of her ditties:
I travel, and so I can't be
With my grand-daughter, who's turning three.
And I'm not there to touch-
Her Gran is a face on T.V.
No. 3 was Drew Pyrak of Falls Church, a media analyst who on the side has published a book of 101 limericks:
It's been an emotional year
With so much remaining unclear.
Together with those we hold dear!
Greg Trafidlo, a local musician known in both Roanoke and Nashville, came through with No. 2:
At the coffeehouse, something's amiss-
First thrived, now a vacant abyss.
Once housed smiling faces,
And I've played crowds much smaller than this!
The first runner-up is another musician, Mike Franke of Salem:
At first it was met with resistance.
Hand-washing and keeping our distance.
Is actually making a difference.
Now let's have a drum roll for the winner, Sally Mook of Blacksburg.
The retired nurse and prolific artist sent in 10 limericks. Her winner reflects on the trouble hearing-impaired people have communicating with others in a largely masked society.
Mask wearing is truly dismaying,
My hearing impairment is staying.
I'm missing folks' quips,
I need to "see" what they're saying.
My co-judge in the contest, Gary Hunt, flagged that last line as particularly impactful and poignant. Little did Hunt realize it's based on months of frustration that Mook herself has experienced.
"I have to tell you, that's the truth," she said when I called her Wednesday with the good news. "I have a cochlear implant."
Mook is 85 but sounds about 40 years younger on the telephone. She's well known in Blacksburg for her paintings — her genre has been dubbed "experimental modernist" and Mook herself has been called a "new age satirist."
Her work is currently on exhibit at Art Pannonia, a gallery at 114 N. Main St. in Blacksburg. It's the latest in a number of galleries that have showcased Mook's art over the years.
"I don't get a lot of money for my paintings," she said. "I get about enough for some new brushes and fresh paint."
She retired from nursing and began painting earnestly in 1990, at the urging of her late husband, Dean Mook. He taught engineering at Virginia Tech. He died in June, not directly from COVID-19, she said, but possibly from delayed treatment arising from the pandemic.
"He began getting sick at the beginning of the shutdown," Mook told me.
The couple bore four children, the youngest of whom is now 50. Their eldest son teaches engineering at the State University of New York in Buffalo. A daughter teaches high school science in California. One son is a chef in Roanoke, and their youngest manages an automotive store in Salem.
Mook estimated she's created well over 1,000 paintings in the past 31 years. The most recent, which she just finished, was a commissioned piece depicting a pet goat.
The eldest of four herself, Mook was born in Leaksville, North Carolina, in 1936 (today, the area just across the Virginia-North Carolina border from Martinsville is known as Eden). Her father's career at an insurance salesman took the family to Concord, North Carolina; then Brookhaven, Georgia (outside Atlanta); and finally to Richmond, where Mook attended high school.
"We are a family that's just loaded with comedians," she told me. "My father could keep people entertained with jokes and limericks."
Another influence was Miss Kitty Mae Davis, Mook's high school English teacher at Jefferson High School in Richmond. Davis was a taskmaster who tolerated little tomfoolery, Mook recalled.
"She never married as far as I knew. She seemed to be about 75 when I had her, but she was probably younger than that" in 1954, Mook said.
Davis "insisted on perfection," Mook added. "I used to fall asleep in all my other classes, but not hers."
Aside from painting and walking her dogs, one of Mook's favorite pastimes is mixing with others, something that's been in short supply for the past year.
"I really love getting together with other people, but not with those masks on," she told me. She actually depends on lip-reading when conversing.
She said she can't wait until she can once again attend services at her beloved church, the Unitarian Universalist Congregation of the New River Valley.
Mook's limericks and others fielded in the contest are being collected in a book by Hunt, who's already lined up a print-on-demand publisher to put it together. Kyle Edgell, the well-known Roanoke artist, caricaturist and Laughter Yoga promoter, has agreed to create art for the volume.
Its working title is "Laughing in the Face of the Virus: Limericks in the COVID age." Hunt has ordered 125 copies, and figures he'll sell enough to raise $400 or so for a worthy, local pandemic cause. But as of Wednesday, nobody had suggested one.
Hunt, who's 70, already has had the vaccine, and after I get it and am protected, he and I will take a spin down to Blacksburg and treat Mook to lunch at the restaurant of her choice.
"How nice!" she told me. "I don't eat much, I promise."