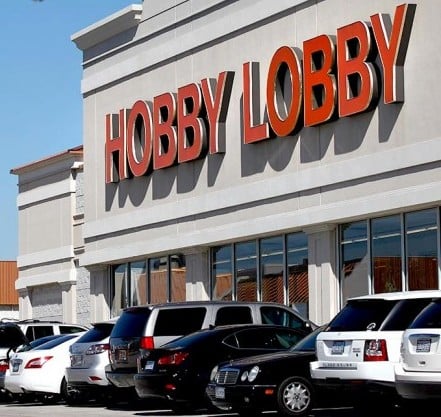 Today's 5-4 decision against "Obamacare" and in favor of Hobby Lobby is a bad deal for all around. Sure, it was about birth control, but when you look at it in the broader context the decision means much more.
First, it doesn't apply to public corporations. That's the only good news here. Rather, it applies to closely held private companies -- basically those that were formed under subchapter S of the IRS code. This means no large public companies will suddenly discover they have sincerely held religious beliefs as a cause to opt out of birth control coverage mandated by the Affordable Care Act.
But -- and this is a big one -- the decision opens up the door for many more challenges by right-wingers under the Religious Freedom Restoration Act. That's because it is now settled law that ANY sincerely held religious belief can be used to justify one or more exemptions under the law. Allow me to illustrate.
• The Church of Scientology is a recognized church -- whether you believe their science-fiction space opera BS or not. Scientologists believe that the use of any psychiatric drug -- including antidepressants, which are among the most prescribed medicines in the United States -- is tantamount to a sin. Will a business owned by a Scientologist now contend it should not have to cover psychiatric medications as part of its health coverage?
• Jehovah's Witnesses have a well known and long history of adamant opposition to blood transfusions. Will businesses owned by Witnesses object to the health coverage they provide their employees under that sincerely held religious belief?
• Christian Scientists (not to be confused with Scientologists, which is a different belief system) eschew doctors in favor of prayer to treat illnesses. Will businesses owned by Christian Scientists be exempt from providing coverage?
We don't yet know the answers to those questions, but they illustrate the can of worms the 5-member majority has opened up.
Worse, medicine is based on science and fact, and religious belief to a large extent is based on superstition. At its worst (see Scientology) it amounts to belief without any factual underpinnings whatsoever.
Just about anyone can start a church and it simply doesn't matter how insane that church's belief system is. Which means it's likely we're going to see many new churches spring up. Some of them will posit a belief system that excludes health insurance entirely. Right now there are thousands of nuts out there who would join the Church of Any Law Signed by Obama Is Sinful.
And under that worst-case scenario, we can expect to see many more challenges to the Affordable Care Act and others. The ACA is merely the one that's front and center now.