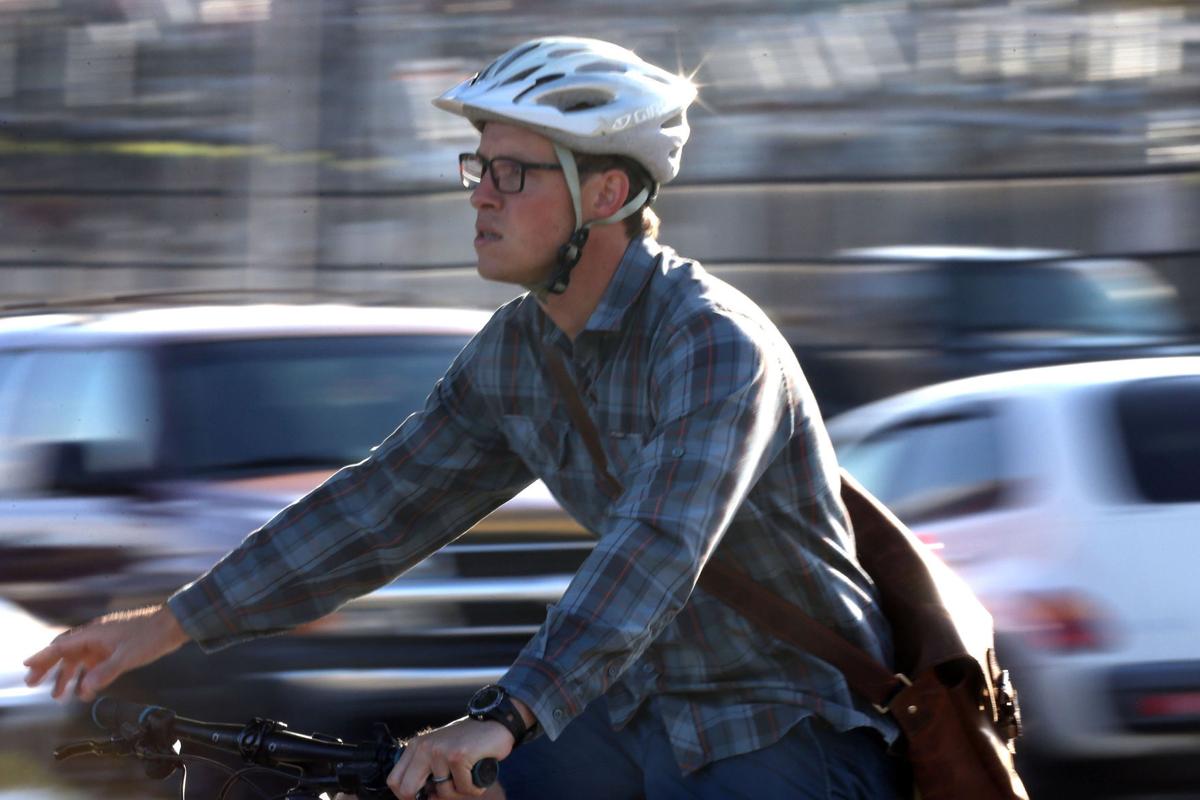 Saturday afternoon, I was riding my bicycle west along Brandon Avenue. I rolled up to the front of a line of vehicles stopped at a red light at Peters Creek Road. I was in the designated bicycle lane — aren't those great?
One of those vehicles was a farm tractor, with an enclosed cab, pulling some kind of trailer.
As I pulled past that thing on the right, the tractor driver freaked. We shall call him "Mr. Self Righteous." Repeatedly, he honked his horn. I looked back and he gestured wildly and shook his head — about what I wasn't sure. So I ignored him.
When the light turned green I moved forward through the intersection, and after I cleared it, I was once again in the bike lane, heading up a low-grade hill.
A minute or so later, and right around the crest, the tractor came roaring up from behind and passed me. Again, Mr. Self Righteous honked his horn repeatedly. Again, he gestured wildly. The guy should have been minding his own business. Instead, it seemed he was playing road guardian, imagining I had committed some grievous offense. It was pure harassment.
Anyway, as the tractor passed, I gestured back. That seemed to make Mr. Self Righteous angrier. Suddenly, the tractor veered hard to the right and stopped a little ways ahead, blocking the bike lane. It seemed like Mr. Self Righteous was trying to pull me over. I reckon he figured he had me trapped.
Usually in such situations I stop and yell at the driver. Occasionally, I've even chased down malevolent motorists to confront them. But the last time I did that, it spooked a friend with whom I was riding.
"What if the guy had pulled a gun?" my friend said. In Virginia, that's a fair point. So this time, I slipped to the left around the stopped tractor and kept riding.
The honking continued. I heard the tractor's engine roar. But the wind was at my back and the hill was behind me. Even though I'm not in great shape, I can still outrun a slow-as-molasses tractor under such circumstances. I caught the next two green lights and never saw Mr. Self Righteous again.
I wish this was a rare occurrence, but it happens all too frequently in the Roanoke Valley. Some motorists — no question, they're a small minority — harass cyclists, sometimes dangerously. Others are inattentive or drunk. They're a danger, too.
In 2014, two bicyclists in this region were killed by drunk drivers. That spring, Wes Wilmer of Botetourt County was maimed by a hit-and-run driver who was distracted. (She was caught and prosecuted.) Terry Vandelinde was clipped and forced off the road by a hit-and-run driver while descending a hill on the Blue Ridge Parkway. Fortunately Vandelinde was uninjured. That driver got away.
It's possible Mr. Self Righteous was upset because I pulled ahead of him in line at the Peters Creek Road red light. Some drivers believe that's illegal. But they're wrong.
So here's a basic primer on bicycle laws in Virginia. It's not necessarily all-encompassing.
Bicyclists have a right to ride on roads and shoulders except on limited access highways such as interstates 81 or 581. (And, by the way, we also own cars and pay gas taxes, so spare us the bull excrement about that.)
Bicyclists must ride in the same direction as traffic. When cars are passing them, they should ride as far to the right as is safe and practicable — for the cyclist.
Generally, bicyclists must follow the same traffic laws as drivers.
Except bicycles may ride on the right to the front of a queue of cars stopped at a traffic light.
And a bicyclist who has stopped at a red light may jump it, provided there's no cross traffic and they've waited at least two minutes, or through two cycles of the signal.
Cyclists may ride up to two abreast, except when cars are trying to pass them. Then they must ride single file. Exception: On the Blue Ridge Parkway cyclists must ride single file except when passing each other.
Bicyclists should take precautions to be as visible as possible. Among other things, that means front and rear reflectors and/or lights are required after sundown.
Drivers must grant at least 3 feet of leeway when passing a cyclist. This law dates to 2014. Before that, the rule was 2 feet.
It's against the law for a driver to open the door of a parked car into bicycle or vehicular traffic. That's a new law that took effect July 1.
There also are some extra-legal considerations both cyclists and motorists should reflect upon.
First, there's no question that some cyclists flout traffic laws or ride unsafely. They shouldn't do that. But does that justify a driver working themselves up into a self righteous tizzy? No.
The odds are stacked against a cyclist in any car-bike collision. Drivers, safely encased in 2-ton (or more) metal cages, never get injured in those. Cyclists do, and it's easy for them to wind up disabled or dead.
(This is why it was unwise for me to, ahem, salute Mr. Self Righteous after his provocations.)
Second, more and more cyclists are mounting rear-facing video cameras on their bikes to record tag numbers of harassing drivers. That's so they can press charges. Malevolent motorists, take note.
Finally, in firearms-permissive places like Virginia, where you can practically get a concealed carry permit from a box of Cracker Jack, the gun angle cuts both ways.
I don't recommend riding armed, but I know cyclists who do. People like Mr. Self Righteous never can be sure of who's carrying. Picking a silly fight could result in tragedy.
Let's be careful out there, and more mindful and respectful of each other.