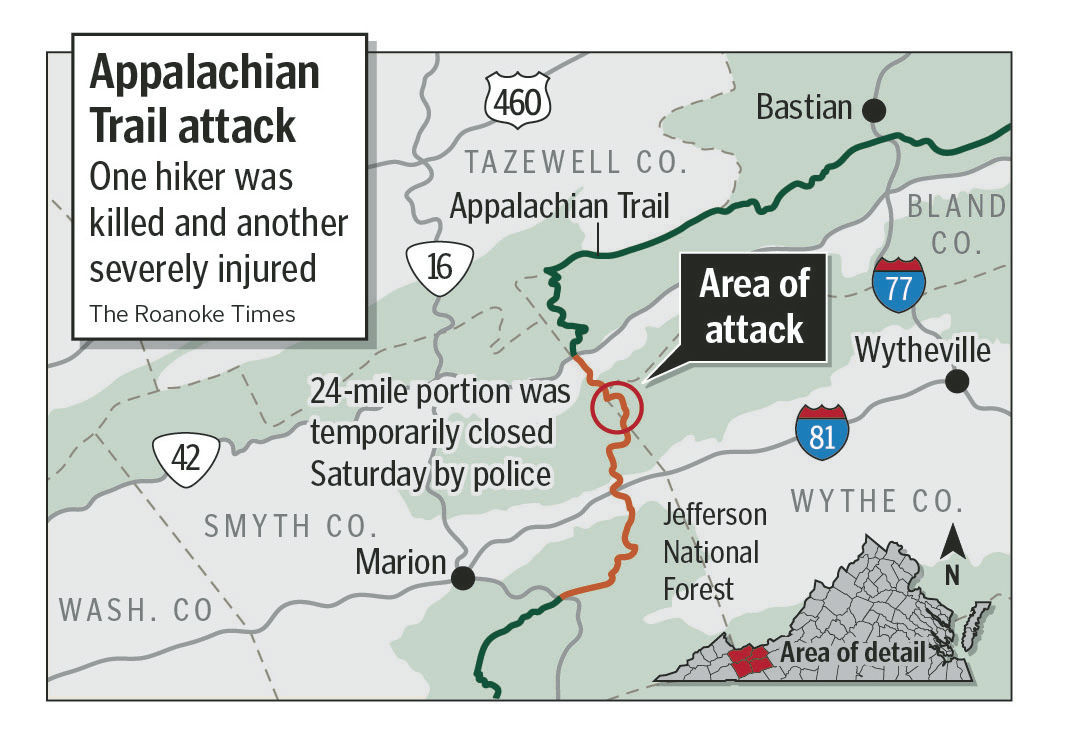 The man charged with murder on the Appalachian Trail in Wythe County first threatened hikers that he would "pour gasoline on their tents and burn them to death" before stabbing two people, according to an FBI affidavit.
During an appearance in U.S. District Court in Abingdon on Monday, James Louis Jordan, 30, of Massachusetts, was ordered by a U.S. Magistrate Judge Pamela Meade Sargent to undergo mental evaluations, which will include a competency examination and a sanity examination. They are due Aug. 1.
Jordan has been charged with murder and assault with intent to murder following a late-night attack Friday along the Appalachian Trail in Wythe County. One man was killed and one woman escaped with severe stab wounds, according to court documents. Authorities have not released the victims' names.
The affidavit from FBI Special Agent Micah Childers provides details about the attack. According to Childers' statement, Jordan was playing guitar, singing "and acting disturbed and unstable" when he approached a group of four hikers on the Appalachian Trail in Smyth County on Friday. The hikers recognized Jordan from social media posts about a previous incident last month in Unicoi County, Tennessee, during which Jordan allegedly threatened other hikers and was arrested on misdemeanor charges.
At that time, Jordan was charged with possession of marijuana and providing false identification. He was fined, placed on probation and released, according to The Washington Post. Unicoi County Sheriff Mike Hensley told The Post that his deputies charged Jordan with what they could after hikers refused to press assault charges and testify against Jordan in court.
After Jordan first approached the group of four hikers on Friday, the group continued into Wythe County to make a camp along the trail in the George Washington and Jefferson National Forests. Later, Jordan "began randomly approaching the hikers' tents, making noises and threatening the hikers," according to Childers' statement. After Jordan threatened to set their tents on fire, the four hikers decided to pack up and leave out of fear.
That's when Jordan approached them with a knife, according to Childers. Two hikers, described as Hiker #1 and Hiker #2 in the affidavit, ran as Jordan chased them. Jordan returned to the camp, where he got into an argument with the male hiker, called Victim #1 in the affidavit, and began stabbing him in the upper part of the body. The woman, described as Victim #2, watched the male victim fall and then she ran.
The female victim began to tire, and Jordan caught up with her. "She turned to face Jordan and raised her arms as if to surrender when Jordan began stabbing her and she received multiple stab wounds," the affidavit reads. She fell to the ground and played dead, as Jordan left to search for his dog, which had accompanied him on the trail.
The woman then ran south on the trail until she received assistance from a male hiker and female hiker, who hiked with her another 6 miles into Smyth County, where she called 911.
At approximately 2:30 a.m. Saturday, Wythe County's joint dispatch 911 center received a call, presumably from hikers 1 and 2, who said they were being chased by a man with a machete. At 3:12 a.m., Smyth County 911 received the call from the female victim, who reported the attack on her.
At approximately 6:14 a.m., a tactical team from the Wythe County Sheriff's Office entered the camp where the attack began and took Jordan into custody. The deputies saw blood on Jordan's clothing, according to Childers. The male victim was pronounced dead at the scene of the attack.
During an interview with Smyth County Sheriff's Office investigators on Saturday at Bristol Regional Medical Center, the female victim identified Jordan as her attacker. The two hikers who fled also identified Jordan as the attacker to investigators. The hikers said that Jordan had chased them with a knife.
A knife was discovered close to the body of the male victim, according to the affidavit.
During Monday's hearing, Jordan asked about the whereabouts of his dog. Prosecutor Zachary Lee said the dog is at a no-kill animal shelter in Wythe County.
Jordan is represented by attorney Nancy Dickenson.
Meanwhile, also on Monday, a Bristol, Tennessee, business owner said that he had an unusual encounter last week with Jordan.
On May 5, Jordan apparently stopped at the University C Mart at the corner of King College Road and Cedar Street around 1 a.m. Mike Brown, the store's owner, said he stopped to fill up his gas tank. After turning off the pump, Brown said he suddenly heard the sound of a can being kicked. He turned around and saw a dog wearing a service vest.
"I then saw the man dressed in camouflage," said Brown, adding that the man, believed to be Jordan, was also carrying a military backpack, a fishing pole and a guitar.
The man told Brown he was looking in the dumpster for something to eat. Brown, who thought Jordan was a veteran due to a tattoo on his arm, said he went back inside the store and retrieved a sandwich and a bottle of water.
The more the men talked, the more concerned Brown became for his own safety.
Brown said the man talked about being in a "special force" and told him he was a "suburban assassin" and that his target drove a large white truck, similar to one that Brown had parked at the gas pump.
"He said he had to kill his target and open two gates to start the situation up," said Brown, who then called 911.
Two Bristol Tennessee police officers responded.
"The officers did have an interaction with who they believe was James Jordan on May 5," Maj. Matt Austin confirmed Monday. "The officers were checking on him because of a complaint of a suspicious person."
Austin said the officers found no reason to detain him. He was gone the next morning when Brown said he went to the store.
The Bristol Herald Courier contributed to this report.