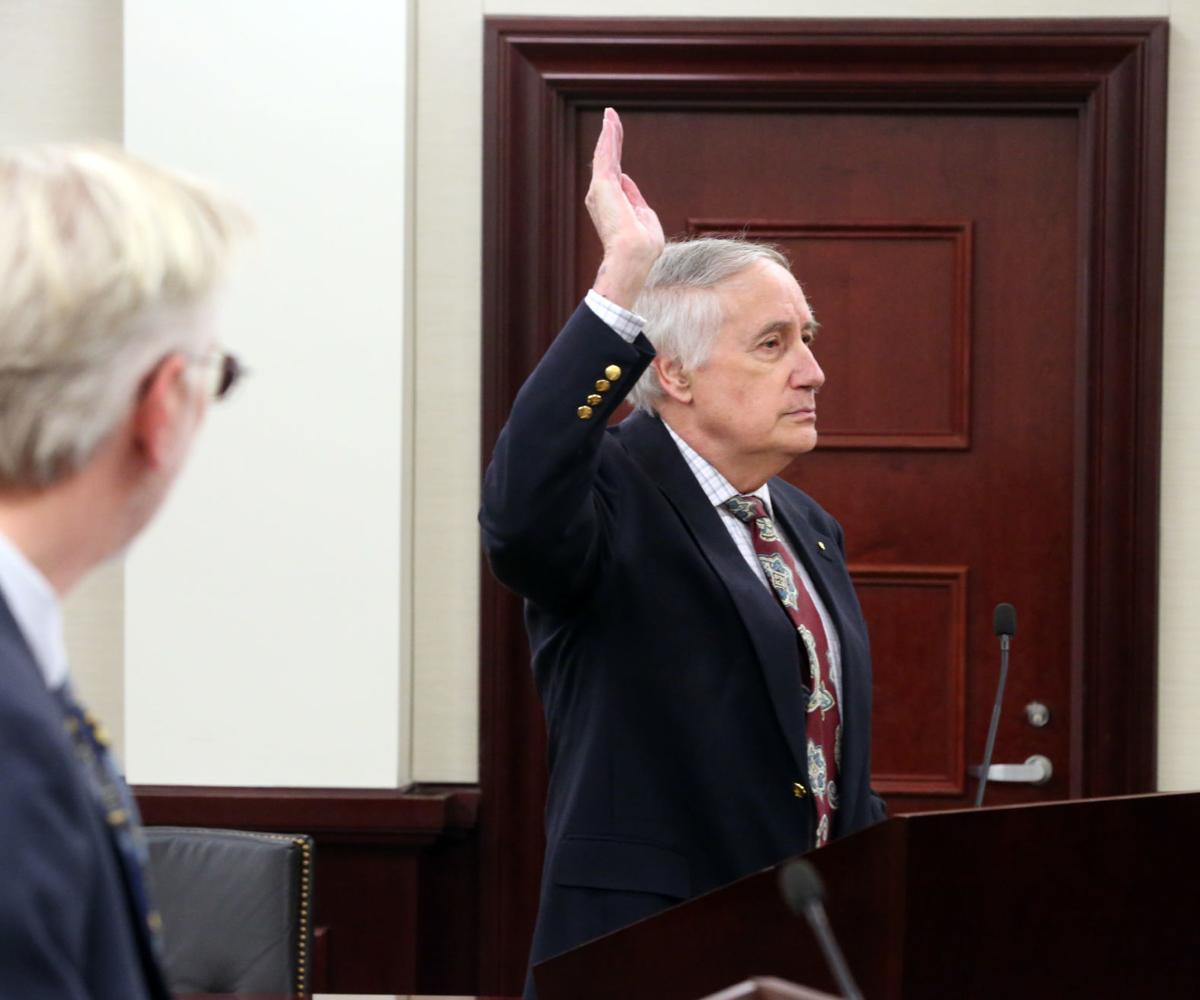 CHRISTIANSBURG — Blacksburg lawyer Joseph Graham Painter asked a judge to restore his firearm rights for the third time Monday, but again he was denied because of his history of criminal charges and mental health issues.
The ruling underscores yet again that while the Virginia State Bar Association deems Painter qualified to practice law, courts continue to deem him unqualified to possess firearms.
Painter, 72, called the contrasting positions "very odd" after Monday's hearing and vowed to appeal again. He added that the law does not limit the number of times he can attempt to have his firearms rights reinstated.
During Monday's proceedings, Painter argued that there is a lot of "bigotry" surrounding mental illness.
"I've been a victim of it," he told Lynchburg General District Court Judge Stephanie Maddox. Montgomery County's sitting judges and prosecutors typically recuse themselves from cases involving Painter.
Painter's most recent legal issues date back to 2013, when police found him and a former female client in a car in a Christiansburg motel parking lot. Painter was accused of supplying the woman, Doris Ann Oliver, 22 at the time, with drugs and guns.
Christiansburg Police Lt. Randy Bonds testified Monday that Oliver told police Painter had conducted work for her in exchange for sexual favors. Bonds added that police recovered audio recordings of some of their interactions during the 2013 investigation.
Painter has denied the allegations, calling the Monday testimony hearsay and salacious.
Based on the 2013 incident, Painter was ultimately charged with drug distribution and two counts of giving firearms to a felon. He was later found not guilty by reason of insanity.
Painter lost his license to practice law after the charges, but he regained it in 2017 after a psychologist reported that Painter's mental illness, diagnosed as bipolar II, was under control.
Painter also lost his right to own guns after the 2013 arrest. He unsuccessfully petitioned for the rights to be restored in April 2018 and then again that October.
He said Monday that he was once an avid gun collector, which is why he hopes to have his rights restored.
Prior to the 2013 arrest, Painter was also convicted in 2001 of misdemeanors tied to setting fires at the Price's Meadow subdivision as it was being constructed near his then-home. Painter later testified that he had no memory of setting fires and had suffered depression and anxiety.
The 2001 convictions brought a suspended five-year prison sentence and an order to move away from the subdivision. His law license was suspended at the time for a year.
Floyd County Commonwealth's Attorney Eric Branscom introduced testimony related to both charges in fighting Painter's bid Monday.
He noted nationwide issues related to mental illness and firearms, invoking both the 2007 mass shooting at Virginia Tech and a shooting in Virginia Beach last month.
Branscom said Painter's gun rights are a matter of public safety and restoring his ability to own guns would be "contrary to the public interest."
In denying the request, Maddox said Painter had submitted a letter from a doctor in support of his request. But she said it was only one paragraph long and did not discuss the medications Painter is taking or his criminal history.
After the hearing, Painter said he is actively practicing law with clients in the region.
Be the first to know
Get local news delivered to your inbox!