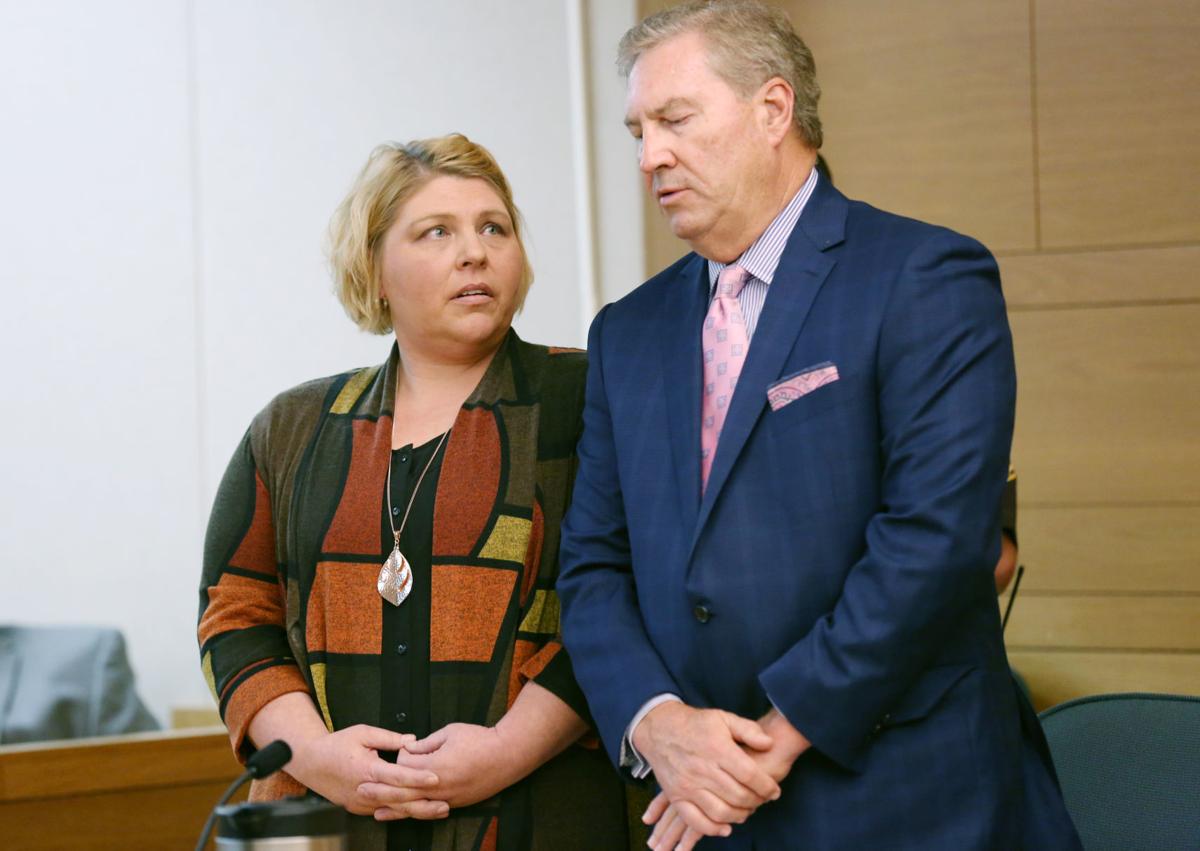 A secretary accused of embezzling nearly $200,000 from a southwest Roanoke church used the stolen money, prosecutors say, to cover her monthly bills for DirecTV and cellphone accounts, to pay for subscription services such as Amazon Prime and Audible audiobooks, and to make trips to Starbucks and nail salons, pharmacies and toy stores.
Between unauthorized credit card purchases and fraudulent check transactions, she siphoned approximately $195,186 from 2016 up until her termination last fall, according to Roanoke deputy prosecutor Donald Wolthuis.
On Tuesday, former West End United Methodist Church employee Amy Mauck Krohmer, 43, pleaded no contest to a single count of embezzlement, an offense that in Virginia can carry up to 20 years in prison. Krohmer has no agreement on her punishment but is scheduled to learn what that will be early next year, on Jan. 16, after a pre-sentence report has been conducted. The amount that she will have to repay will also be established then.
Krohmer's lawyer, Tony Anderson, said in court he would present arguments in her defense at her sentencing. After Tuesday's hearing, Anderson, as well as the church's pastor and a spokesman, all declined to comment on the case.
Pastor Lyle Morton estimated that West End's congregation consists of about 65 church members. More than a dozen of them came to court Tuesday for the plea hearing.
In a summary of the prosecution's evidence, Wolthuis said Krohmer was hired by the church in 2009 and remained an employee until September 2018, when "financial discrepancies" were discovered.
"An audit was conducted to accurately ascertain the full scope of Mrs. Krohmer's embezzlement from the church," he said.
He said Krohmer used three methods of theft: altering payrolls checks, writing unauthorized non-payroll checks that were either voided or marked as legitimate church expenses, or using a church credit card for her own purchases.
Credit card charges accounted for $118,733, or more than half the missing amount.
Wolthuis said Krohmer also frequently added $1,000 or $2,000 to her $823 paychecks, "in effect more than doubling her take-home pay."
Records for 2013, 2014 and 2015 were not available to be evaluated and investigated, prosecutors said Tuesday.
When the initial suspicion emerged against her, Krohmer was approached by ranking church members, the pastor and an auditor, and she reportedly acknowledged some — but not all — of the malfeasance.
"Mrs. Krohmer stated she was short on cash and intended to pay it back. But it just kept going," Wolthuis said.
As part of whatever punishment Krohmer receives, she will be placed on probation until restitution has been satisfied.
Court records indicate that some has already been paid, and an order was entered Monday for the court to accept payments from Krohmer of up to $57,000, but the exact amount remained unclear Tuesday.
Krohmer was indicted in January on three counts of embezzlement and was taken into custody soon after. A few days later, she was freed on a $1,500 cash bond. The court on Tuesday allowed her to remain free.
The two other counts of embezzlement against her were dropped in exchange for her no contest plea.
A decade ago, in 2009, Krohmer was charged in Roanoke with embezzlement, credit card fraud and credit card theft, all felonies. Ultimately, the fraud charge was reduced to a count of filing a fraudulent credit application, a misdemeanor, and the two remaining felonies were dropped. Because of the age of those offenses, court records are no longer available regarding those cases.
Be the first to know
Get local news delivered to your inbox!