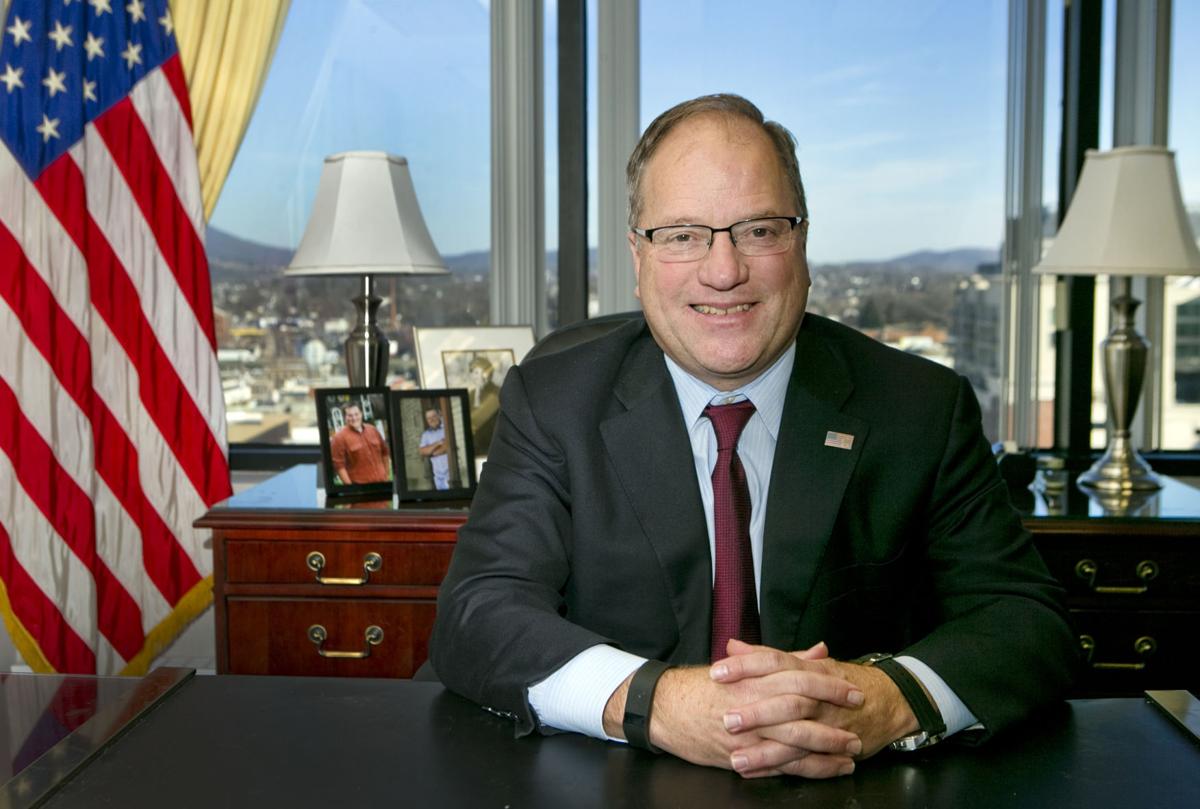 Work toward the control of gun violence, child exploitation and drug abuse is far from complete, but John Fishwick believes he made a dent in those issues as Western Virginia's top federal prosecutor.
Fishwick plans to resign next month in deference to the incoming administration of Donald Trump, an action being taken or considered by scores of presidentially appointed U.S. attorneys nationwide.
Tapped by President Barack Obama a year ago to succeed former U.S. Attorney Timothy Heaphy, Fishwick told the White House in a four-sentence resignation email that the job was "the highlight of my career."
Rick Mountcastle, a career prosecutor in the Roanoke office, is scheduled to become acting U.S. attorney for the Western District of Virginia Jan. 7.
Fishwick, 59, said he plans to return to private practice.
A U.S. attorney oversees federal criminal and civil case work in each of 93 federal judicial districts. When control of the White House swings from one party to the other, the incoming president usually replaces most or all of them. A U.S. attorney appointed by a Democratic president may depart before a Republican president-elect takes office, and vice versa.
The Trump transition team is taking applications online for jobs that include U.S. attorney. Trump has not named anyone receiving specific consideration for the Western Virginia post.
When he leaves office at midnight Jan. 6, Fishwick will have served a year and 16 days. During the time, the office won long prison terms for members of drug ring who sold controlled substances leading to six drug overdoses, three of them fatal, in the Winchester area.
Also, members of a gang who shot and killed a reserve Waynesboro police officer received life sentences.
Fishwick personally participated in the prosecution of a Covington man who received 15 years for burglarizing a gun store. He brought child pornography manufacturing charges against a Galax man charged in state court with murdering a woman and her daughter.
The U.S. attorney relies on full-time assistant prosecutors, of which the Western District office has 28 out of a total staff of 55 people. One assistant, Jennie Waering, called Fishwick fair-minded, accessible and enthusiastic.
"He has worked tirelessly during his short tenure to make the Western District of Virginia a safer place for all," Wearing said.
Tim Jones, Roanoke's police chief, praised the departing U.S. attorney for cultivating relationships with police. Fishwick attended law enforcement task force meetings and a monthly chiefs roundtable, rode with a police officer on the night shift and attended a lineup. His outgoing, affable manner distinguished him from others who held the post, Jones said, and "that's what made him such a strong player at the federal level."
"I have loved this job," Fishwick said in an interview. "And I love public service. Public service is in my bones."
He said he spent two or three days a week away from the agency's main office, which occupies three floors of a downtown Roanoke building.
"We live in a world where people sit at their desk and they look at their phones and they look at their computers. Nothing beats showing up," Fishwick said.
The effort took him to schools where he coached 15,000 students in October to not solve problems with guns or carry guns to school, a news release said. A better way to settle a score is to walk away, Fishwick counseled, so there's no confrontation. The excuses given in court by those convicted of firing a weapon are "always lame," he said.
Fishwick said he owns no firearms, though he has fired guns and has hunted.
Looking ahead, Fishwick said he'll consider future public-service work, but mentioned no specific goals. That said, he claimed he's pleased to resume private legal practice, where the Harvard graduate with a law degree from Washington and Lee has spent most of his 33-year legal career. He'll be forbidden to represent clients involved in federal civil or criminal matters initiated by the Western District U.S. attorney's office for two years.
Be the first to know
Get local news delivered to your inbox!