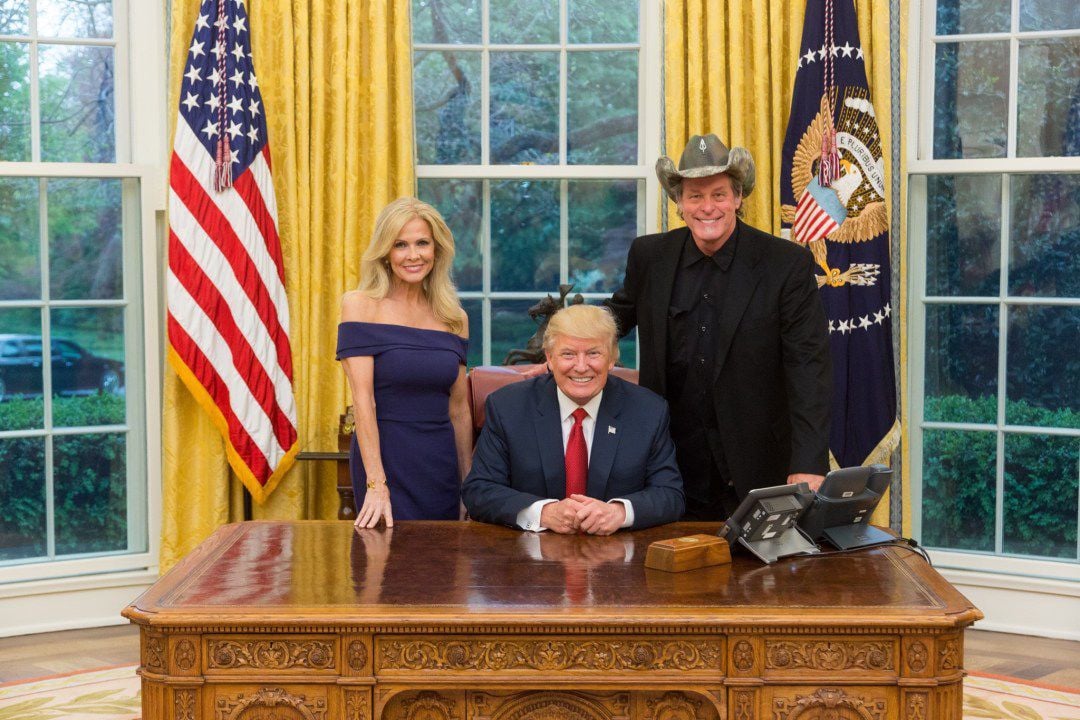 Friday, tickets went on sale for rock 'n' roll has-been Ted Nugent, who will appear July 17 in the Berglund Center's 2,100-seat Performing Arts Theatre. Tickets are $39.50 to $59.50.
As of this writing, it's unclear how strong a draw Nugent will be. When he headlined a New Hampshire music festival in June 2016, sales were so dismal that organizers slashed admission prices from $67 to $5. Later that summer, Bud Light felt compelled to rescind its sponsorship of a Nugent concert in Peoria, Illinois.
Those incidents were remarkable, and over the years, you could say the same for many unhinged public statements and actions by the washed-up rock 'n' roll guitarist. (His last hit record was during the Carter administration.)
Did the presidency of Barack Obama drive Nugent totally insane? Or were his hints to kill the president a desperate plea for attention as Nugent watched his relevance dwindle to the infinitesimal?
In 2007, when Obama was seeking the Democratic nomination for president, the deranged rocker called the future president "a piece of s---" during a concert.
Of course, it would be unfair to characterize Nugent with such statements if they were isolated incidents. They're not. His inflammatory rhetoric stretches back at least 25 years. Targets of his verbal and written fusillades include blacks, Jews, Muslims, foreigners, gun control activists and certain women, whom he's described in the most degrading terms possible.
While waving a machine gun at a 2007 concert in a California casino, Nugent called Clinton "a worthless b----," U.S. Sen. Dianne Feinstein "a worthless whore" and said then-U.S. Sen. Barbara Boxer "might want to suck on my machine gun." He invited Obama to do the same, and invited Clinton to ride it.
In a 2016 Facebook post, Nugent promoted a graphic featuring prominent American Jews who support gun control. Each had an Israeli flag superimposed on their photos. One of them was billionaire businessman and former New York mayor Michael Bloomberg. Bloomberg's picture was labeled "Jew York City mayor Mikey Bloomberg" and also "9/11 Israeli agent."
This year, Nugent went on the attack against Parkland, Florida, students who survived the Feb. 14 massacre at their high school and who are now advocating for gun control. "These poor children, I'm afraid to say this and it hurts me to say this, but the evidence is irrefutable, they have no soul," Nugent said.
Nugent likes to portray himself as a patriot, and an advocate of the military and its service members. But when he had a chance to serve during the Vietnam War, he demurred in perhaps the most disgusting way possible.
In a 1977 interview in High Times, he told the magazine he didn't bathe for a month before his draft physical, or brush his teeth, that he snorted crystal meth a few days before, and that when he showed up, it was with trousers crusted with his own excrement.
Later, "in the mail I got this big juicy 4-F [deferment]. They'd call dead people before they'd call my ass. But you know the funny thing about it? I'd make an incredible army man," he told the magazine.
That was a couple years before Nugent released the song "Jailbait," about desiring sex with a 13-year-old. And there's anecdotal evidence Nugent actually realized that goal. According to singer Courtney Love, she performed a sex act on Nugent backstage at one of his concerts when she was 12.
All the above barely scratches the surface regarding Nugent. Besides being a national board member of the NRA, he's a cradle-robbing, pants-pooping, draft-dodging, race-baiting, woman-hating, bigotry-promoting maniac.
He's also the kind of person who makes you wish you had more than two middle fingers.
I'd welcome him to the Star City, but that would be wholly insincere. Ted Nugent's a stone in the shoes of humanity. He seems to have no shame. Can't the Berglund Center do better than the likes of him?
Just in case you wanted to know, civic center general manager Robyn Schon told me ticket sales were "pretty strong" Friday morning — and guns will be permitted at the July 17 concert.
Be the first to know
Get local news delivered to your inbox!