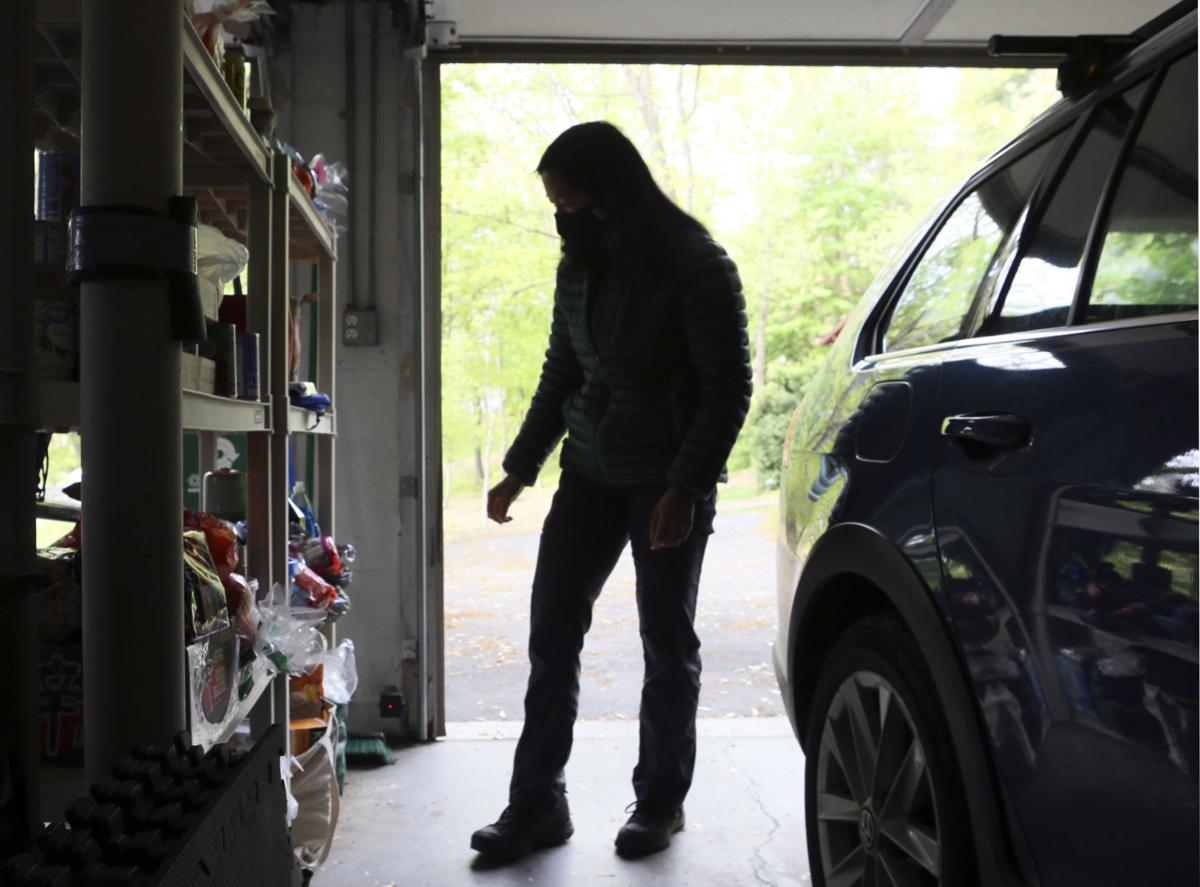 BLACKSBURG — Linsey Marr's sudden scientific fame could be traced to day care.
A dozen years ago, the Virginia Tech professor began wondering why her son kept getting ill. Despite day care workers' frequent cleaning, she would get a call every other week: He's sick.
"I go to pick him up, and find out that more than half the kids were out sick, too," a masked Marr said this month on the patio of her Blacksburg home. "So it seemed like these colds and flus were just spreading so easily, that I started, I was kind of curious, 'Well, is it spreading through the air, or is it spreading by kids touching each other?' "
That initial question would spark the scientist's eventual expertise in the airborne transmission of viruses. That scholarship, at the intersection of biology, physics and engineering, has recently pushed Marr into a national spotlight as one of a few expert voices on how COVID-19 spreads.
Within the past few weeks, Marr estimates, she has been interviewed seven or eight times by The New York Times, three times each by The Washington Post and The Wall Street Journal, and has made another three appearances on National Public Radio. The Atlantic, WIRED magazine and CNN have all beaten down her door. Also supposedly in the works, shesaid, is a New York Times profile, about which she feels a little embarrassed.
"I think it's weird for there to be so much attention on the scientist," Marr said. "I think it's good to humanize scientists, and show that not all scientists are, like, these gray-haired white men.
"So I have not been seeking this at all," she added. "But my main goal has been that accurate science gets out there, because there's so much misinformation these days."
Marr, who's 45, grew up in Sacramento, California, and attended Harvard University for her undergraduate degree. It was there, while running along heavily trafficked Boston streets, that Marr gravitated toward an interest in studying air pollution and health.
"Sometimes I'd be sucking in huge amounts of vehicle exhaust. I'd just smell it for a mile on my run and I'd be wondering, like, 'Well, is this actually a net benefit? Or am I actually harming myself by doing this?' " she recalled.
Particulate air pollution is one of the leading causes of death worldwide, she said, responsible for about 7 million premature deaths annually. Marr began studying pollutants in the atmosphere, human-engineered nanoparticles and how those intersected with public health.
After earning her doctorate at the University of California Berkeley and doing post-doctoral work at the Massachusetts Institute of Technology, Marr started at Tech as an assistant professor in 2003. The transition to rural Blacksburg was a culture shock, at first.
"I've learned to love living in a small town, especially at a time like this," Marr said. "When we want to avoid crowds, it's much easier to do here."
It was during her son's day care experience that she discovered a void in humans' knowledge about how diseases such as influenza spread.
"I started reading some of the scientific papers on the topic and was surprised to learn that we don't even know for the flu how much is transmitted by people touching each other or objects or through the air," Marr said. "And people have been trying to figure this out for decades and we still don't know."
Experiments conducted in the 1930s and 1950s showed that bacteria grew on plastic plates close to where a person had coughed, but not so much farther away. Certain social distancing guidelines — such as staying 3 feet or 6 feet apart — emerged from those studies.
"At the same time, in some of those papers from the 1930s, the author also said, 'Well, there are going to be smaller droplets that will stay floating around in the air and go farther than that.' "
It was in asking the question of whether COVID-19, the disease caused by the new coronavirus, should be considered airborne that Marr's expertise came into mainstream demand. The World Health Organization, using a strict definition of airborne, announced in February that it was not.
"And yet, at the same time, it seemed like there was evidence growing that it was being transmitted through the air in these microscopic droplets, or even larger ones, but really these microscopic droplets traveling through the air that people breathe in," she said.
Marr has used her bully pulpit to tamp down fears, clarifying how exactly these droplets spread.
"People think about like these clouds of virus going through the street and attacking them or something," Marr said. "And it's not that at all. The biggest risk is when you're close to somebody who's infected, there's the risk that you could inhale, breathe in, whatever virus might be in the air."
AJ Prussin, a research scientist and a lab manager of Marr's at Tech, credits Marr for her ability to translate complex knowledge that spans scientific fields into understandable terms.
"I think one of the reasons why she's being so successful, not just during COVID, is her communication skills, with how she understands both the biology and the engineering, and she's able to bridge those two fields together," Prussin said. "I think her being so interdisciplinary makes her high-demand. There are very few people out there with her skill set and her expertise."
Since all non-COVID research at Tech is on hold, even Marr has had to halt some of her research. She and a team of researchers are experimenting on homemade masks by using a mannequin to simulate what kinds of materials are most effective in blocking saliva spray.
As states including Virginia begin to reopen economies, widespread use of homemade masks will remain critical. So, too, will the knowledge about how viruses are transmitted in the air.
"It was a topic that I felt was important, which is why I started studying it," Marr said. "I had never imagined it would become like the hot topic among the general public, though."