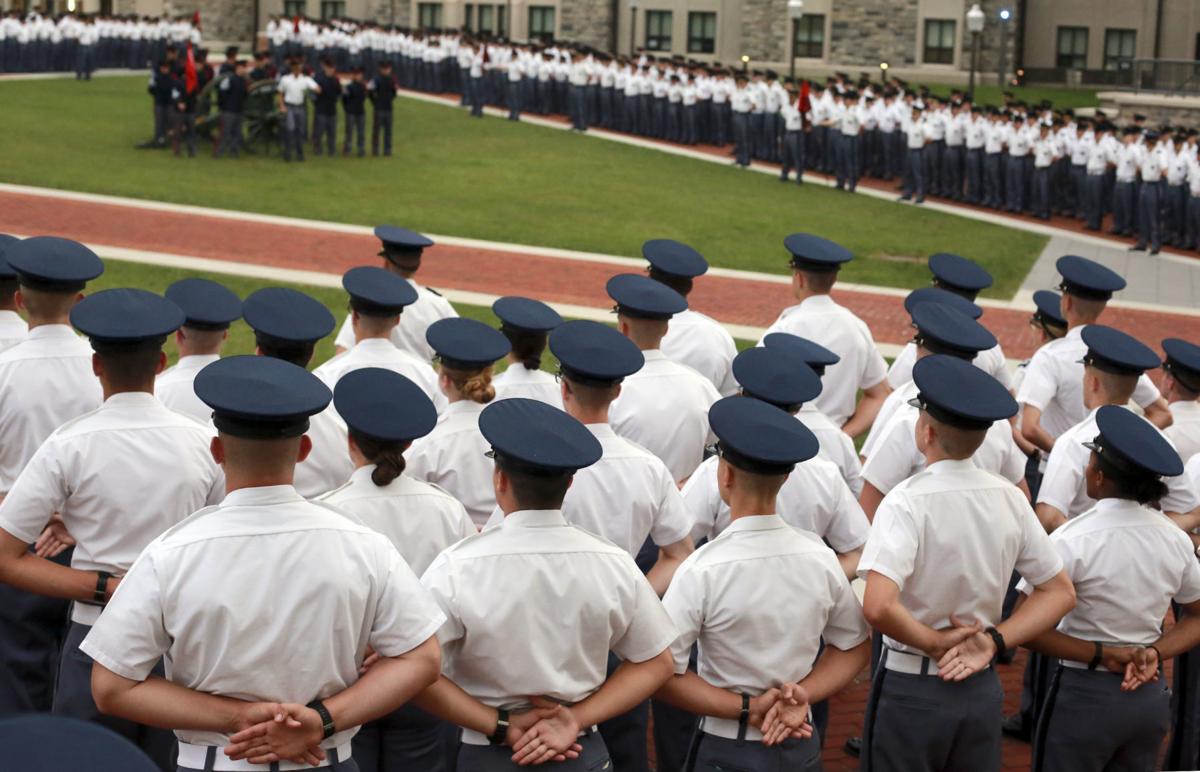 A former Virginia Tech student is suing the university after he was accused of overseeing a Corps of Cadets blood-pinning ceremony last fall.
Darrien Brown alleges the university denied him due process when administrators found him in violation of Tech's hazing policy and suspended him for two semesters. Brown, who would have graduated in May, brought the suit last week in federal court.
The university has declined to comment on the incident. Tech cannot comment on current litigation but stands by its policies and protocols, spokesman Mark Owczarski said Tuesday.
"We believe that when all sides of an issue are ultimately heard that our actions will be upheld," Owczarski said in a text.
On Oct. 18, a group of cadets gathered at Caldwell Fields in Montgomery County for a voluntary sophomore integration event, according to the lawsuit. About 21 juniors and seniors led the event, in which 20 sophomores participated, the suit says.
After performing exercises, the group went on a hike. Brown drove alongside the group "to provide water and make sure everyone was staying safe during the event," court records say.
Afterward, the group had a bonfire, a platoon leader gave a speech and cadets were given pins.
"An unidentified participant later alleged that the event constituted hazing, focusing specifically on the pinning ceremony, also known as blood pinning," court documents say.
"The pin involved is a small company pin. It is placed on a person's shirt and tapped. Participation in this ceremony is entirely voluntary."
The lawsuit contends repeatedly that the pinning was voluntary, and that the company had permission to hold the integration.
"As far as Mr. Brown was concerned, no one was injured during the event, and it was performed just as it has been for many years," court records say.
Brown appealed the university's findings after a December hearing. On Jan. 10, an administrator rejected the appeal and wrote, "Confronting your accuser is not a procedural guarantee in the student conduct process," according to the lawsuit.
The suit alleges Brown, a business management major, will lose his military scholarship and ability to join the Army. The suit calls on Tech to reinstate Brown and expunge his record.
A hearing is scheduled for Tuesday in Roanoke's federal court building.
Rob Dean, Brown's attorney, declined on Tuesday to comment or to say whether additional plaintiffs might bring similar suits.
In January 2018, the university settled a lawsuit brought by former students after they were injured in a 2010 car crash. An older cadet had driven erratically to scare the younger cadets, police said at the time.
Montgomery County Commonwealth's Attorney Mary Pettitt said Tuesday that investigators are still determining whether the October blood pinning rises to the level of criminal hazing under state law.
State law requires that Pettitt's office be informed whenever universities are notified of alleged hazing.
Pettitt also responded to a question about alleged hazing during a fall 2018 sophomore integration, details of which have not before been publicly reported.
"Cadets were required to eat a banana quickly and then chug a Sprite," Pettitt wrote in an email. "Cadets were required to engage in physical activities that were not part of the approved plan for the event — 100 burpees, 300 overhead arm claps, bear crawls through a mud puddle. Sand and water was poured on cadets as they did pushups. Cadets held hamburger buns on either side of their head and said, 'I'm an idiot sandwich'. No injuries were reported to us."