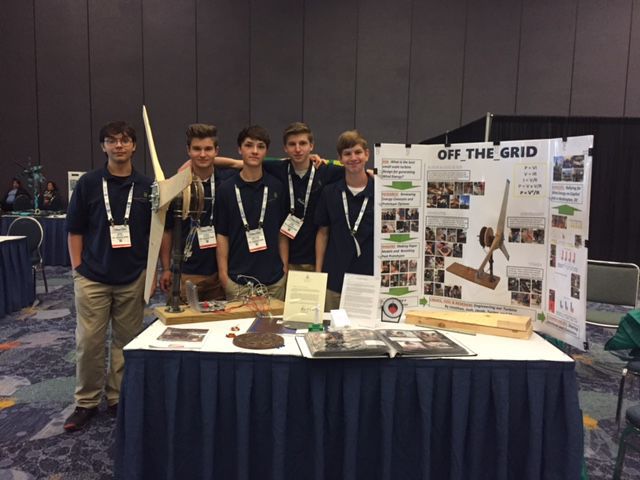 Botetourt County, poised to host the state's first commercial wind farm, is already home to the nation's top high school wind turbine design team.
Five county students, representing a private educational program called The Learning Barn, designed and built a miniature-scale turbine that took first place in the KidWind Challenge competition last month in Anaheim, California.
KidWind Challenge is an engineering design competition for middle and high school students, who vie to build a model turbine capable of producing the most energy in a wind tunnel.
Brothers Jonathan and Jacob Leonard, brothers Josh and Tucker Grimshaw, and Thomas Laughridge earned the right to compete in the national event against 22 other high school teams after taking first place in a Southwest Virginia competition earlier this year.
Calling themselves Off the Grid, the team worked out of The Learning Barn, a private, agriculture-based STEM after-school program in Troutville that is run out of a converted horse barn by Wendy Grimshaw, the mother of Josh and Tucker.
The team designed and built a turbine about 4 feet tall from wood and metal, then connected it to their custom-made generator.
"It's hands-on, which is why the kids love it," Wendy Grimshaw said.
The team's model more than doubled the previous energy production record at the KidWind challenge, generating more than 600 joules in a high-speed wind tunnel. A joule is a standard unit of energy in electronics and general scientific applications.
Some members of Off the Grid have been participating in KidWind since they were in middle school, well before Apex Clean Energy announced plans to build a 25-turbine industrial wind farm on a ridgeline in northern Botetourt County.
Plans for real wind turbines — nearly as tall as the Washington Monument — in their back yard motivated the students to learn more about the technology.
"They realized that this could be a career path for them, and they wouldn't have to go to the Midwest, now that the industry is moving here," Grimshaw said.
In March, Apex received a permit from the Virginia Department of Environmental Quality, the last major regulatory approval it needed for a wind farm that it expected to generate enough electricity to power as many as 20,000 homes.
The Charlottesville company says it hopes to begin construction by the end of the year on what would be the first commercial wind farm in Virginia.
Apex supported the local KidWind delegation, contributing money toward travel expenses for the team's trip to California.
"Their creativity and problem-solving on the day of the competition won out over teams from across the country, and it's incredibly exciting to see local students from Botetourt County leading in such a big way," Apex spokesman Kevin Chandler said.
Starting in November, the Off the Grid team spent three to eight hours a week on their turbine project, juggling it with school, sports and work schedules.
Jonathan Leonard and Josh Grimshaw recently graduated from Lord Botetourt High School. Jacob Leonard and Tucker Grimshaw attend Lord Botetourt; Thomas Laughridge is a student at James River High School.
Based in St. Paul, Minnesota, KidWind has been helping students and teachers learn about wind energy for 15 years. Its competitions are sponsored by a number of wind energy companies and organizations.