JONESVILLE — The desks in Lora Roop's classroom are arranged specifically to avoid the leaky ceiling's drip-drip-drip.
Students crowd on one side of the room opposite a growing collection of trash cans-turned-buckets.
Some days, it's a trickle. Others, "it's like a waterfall coming down."
On the worst days, water comes in through the windows, too.
When that happens, Roop's fourth- and fifth-graders know what to do.
"They go, 'Oh, we've got a mess. Let's mop it up,'" Roop said. "They're used to it."
When consultants evaluated Lee County's school facilities, Flatwoods Elementary, where Roop teaches, wasn't the building in the worst condition. That distinction went to the middle schools, including Jonesville Middle down the road, which has its own leaky roofs, broken single-pane windows repaired with duct tape and walls that have separated from the foundation.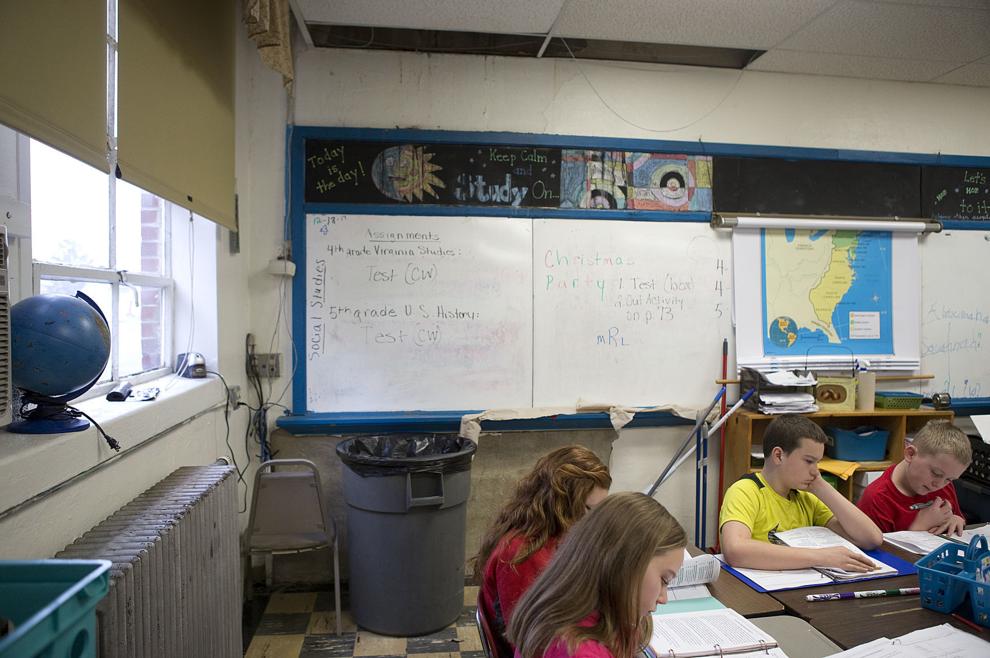 Across the U.S., the average age of school buildings is 44. In Lee County, the average is 65. Flatwoods was built in 1950 and Jonesville, 1957. Neither school ever has been renovated.
The condition of those buildings reflects limited budgets, not lack of care, Superintendent Brian Austin said.
"Our buildings are clean and our buildings are safe," Austin said. "But we've Band-Aided them as much as we can Band-Aid them."
The situation in Lee County is not unique in Southwest Virginia, where money for capital projects long has been squeezed by the spending capacity of its economically depressed communities.
In Pulaski County, where middle school classrooms lack air conditioning, students were dismissed early four days in a row in August because temperatures topped 90. In Bristol, one of its four elementary schools was deemed "functionally obsolete" seven years ago.
Neither is the problem isolated to Southwest Virginia. In a 2013 survey of schools in the state, 70 percent of those cataloged were older than 30.
"Each year, they become more outdated and less of a positive learning environment," Pulaski County Superintendent Kevin Siers said.
Cuts to state education spending since the recession have elevated some schools' needs to crisis levels, educators say. Districts once could count on state help for capital projects but that money largely has disappeared, putting Virginia in the bottom half of states for its share of construction funding, according to a 2016 report by three groups that study school infrastructure.
Schools aren't built to last forever — their useful life is limited, like any building. But the challenges in far Southwest Virginia are extreme, on a scale many aren't used to seeing outside the region, said Austin, who worked for Botetourt County schools before taking the superintendent post in 2016.
"I've been to some conferences where people are complaining about the age of their buildings, and they're 20 years old," Austin said during a tour of Jonesville with Principal Stacey Belcher.
"Bless their hearts," Belcher said, laughing.
Building spending bust
School construction spending in Virginia and elsewhere took a dive after the recession.
Before 2009, a few sources of state funding were available to help with capital costs.
A school construction grant fund boasted an annual budget of $28 million, offering districts an average of $202,000 a year. The state's Literary Fund was also a source of aid, providing direct loans of up to $20 million at subsidized interest rates based on a locality's ability to pay.
Projects at William Fleming High in Roanoke and Cedar Bluff Elementary in Tazewell County in 2008 were the last to benefit from the Literary Fund loans; no new loans have been issued since.
In the case of the grants and lottery support, state money was reallocated elsewhere. It's been near impossible for localities, at least those in Southwest Virginia, to fill the gap left by those cuts, Bristol Superintendent Keith Perrigan said.
"Localities can't make that money up," he said. "Or at least our localities can't make that up."
The post-recession years saw overall cuts to education spending, not just facilities. A 2015 Joint Legislative Audit and Review Commission study on K-12 spending found districts frequently made the first and deepest cuts to facilities spending in an effort to preserve money for instruction.
From 2005 to 2014, instructional spending fell by 1 percent, the study found. Spending on construction, renovation and debt plunged by 29 percent. Had that spending kept pace with inflation and enrollment growth, districts would have spent about $303 million more in 2014 on construction and renovation.
That mirrors the findings of a Northwestern University study published this month: Construction spending nationwide was cut disproportionately to instructional spending, making up roughly 47 percent of cuts despite accounting for just 5 percent of an average school budget.
The poorest districts spent the least on construction both before and after the recession, said Mary Filardo, the executive director of the 21st Century School Fund, a Washington, D.C.-based group that advocates for better school facilities. Even during the boom years before the recession, low-income ZIP codes spent about a third less on school construction, she said.
"Things were booming," Filardo said. "Still, if you were poor, you didn't have it."
That's been the reality for years in Lee County, which built its newest school, Lee High, in the 1980s. The state picks up about 83 percent of education costs in Lee County because its composite index, a calculation of a locality's ability to pay, is the lowest in the state.
Since his hiring two years ago, Austin said, he and the school board have looked for efficiencies. The facilities study was designed to help prioritize what needs to be done.
Fixing Flatwoods, Jonesville and the nine other schools in the district — the best of which were deemed to be in just "fair" condition — would cost about $104 million, the consultants estimated.
The school district's annual budget is about $43 million.
Administrators and the board pared that estimate to a bond referendum proposal totaling $47 million. The plan was to close four elementary schools and replace them with two. The two middle schools would have closed, too, with the high schools taking grades 6-12.
The vote in November wasn't close: 90 percent voted against the referendum.
Austin said he is disappointed but understands why it failed.
"The composite index is reflective of the economic conditions of a locality," Austin said. "And I think people realized that and it was more of an investment than they individually felt like they could make."
School and county officials are moving forward to repair five roofs, and the board is updating its capital improvement plan to determine what will be fixed after that. With the failed referendum, though, state help might be the only option for repairing Lee's schools in anything other than a piecemeal fashion, Austin said.
"It's just going to be incremental progress," he said. "There's a lot of needs."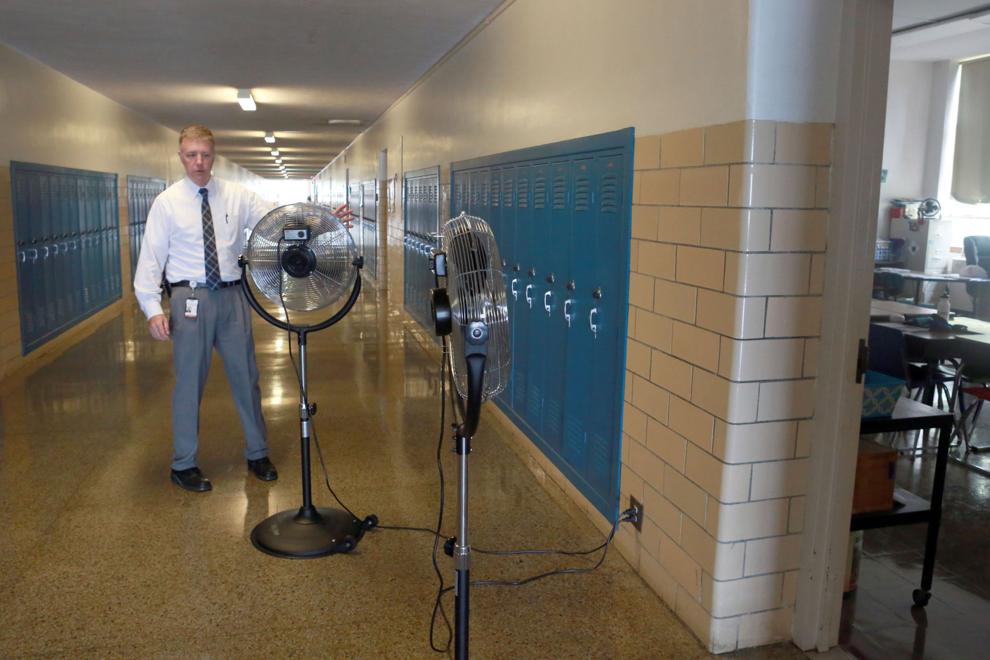 Conditions impact learning
Some Pulaski County middle school classrooms have just one electrical outlet.
When the schools were built — Pulaski Middle in 1928 and Dublin Middle in 1953 — builders couldn't and didn't anticipate 21st century technology needs.
Today, that's a huge limitation for teachers and students, Siers said. It has a direct effect on instruction, influencing how teachers teach and taking many activities off the table.
"There aren't enough outlets to do any technology-based activities," he said.
The building affects instruction in other ways, too: The roofs leak and walls had to been reinforced after they separated from the building. Without climate control, temperatures in classrooms are uncomfortable much of the time, cold in winter and hot in summer.
Last August, Siers conducted middle school room walk-throughs in the morning to gauge the temperature. One morning, classrooms registered at 85 before any students arrived. By early dismissal, temperatures had risen to the low 90s.
"You could walk through when those classes were going on and students really were just struggling to pay attention, and teachers were struggling to work through the lesson," Siers said. "The environment is so unpleasant."
Research shows a connection between school facilities and climate, and climate is a big factor in how well students perform academically, said Filardo, the national school facilities advocate.
Part of climate is physical, Filardo says — if the temperature is unbearable or air quality affects breathing, students and teachers' minds go elsewhere. Another part of climate is emotional: a building in poor condition tells those inside they are unimportant.
"If you're in a classroom where the roof is leaking, that communicates very strongly to you that this is not very important what's going on here," Filardo said.
The rest of Pulaski's schools are in significantly better shape than the middle schools, and the problems that plague the middle schools are less of a factor in other schools, Siers said. Accreditation is a struggle for the middle schools; Siers said he believes the buildings contribute to that.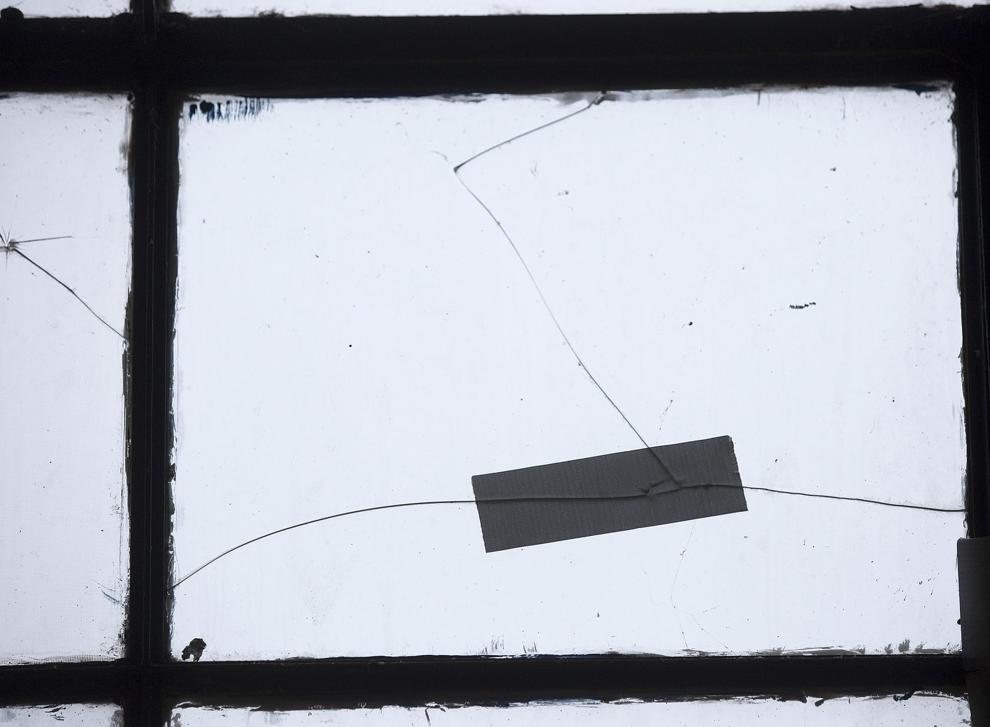 "We do relatively well at the elementary level and we do relatively well at the high school level, but our middle schools continually struggle with test scores and other areas of student achievement," Siers said. "You have to chalk that up to the learning environment because it's the same kids going through the school division. They don't suddenly forget how to do things or lose intelligence when they get to the middle schools. It's the impact of the facilities."
Teacher turnover, which can affect student achievement, is also a bigger problem at the middle schools, Siers said. In one of the two schools, about 20 percent of teachers leave each year.
Siers said he can't blame teachers who leave because they want to work in a better building.
"As a former middle school teacher, I would have preferred that, too," he said.
Last fall, Pulaski County voters approved a $47 million bond referendum of their own by a 2-1 margin. The campaign faced opposition from citizens concerned about the effect of higher property taxes. Construction on a new building that will be home to a consolidated middle school could begin later this year or in early 2019 — not a moment too soon, Siers said.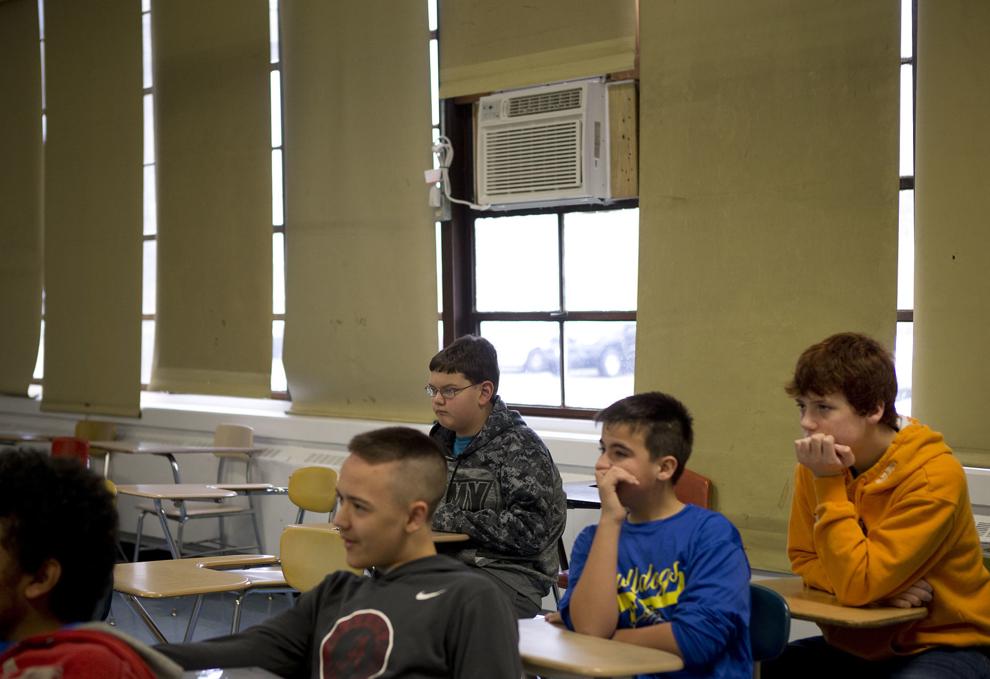 Some relief from Richmond
The states with the best track record on school facilities are those where the state plays the biggest role, Filardo said.
Wyoming became a national leader after poor school districts sued the state and won, she said. The courts said the state had an obligation to ensure adequate and equitable facilities, which led to the creation of a statewide authority that pays for all school construction.
States with school construction authorities frequently distribute money through a local match based on a district's ability to pay, similar to how Virginia distributes the bulk of its education funding.
That model tends to be more equitable than funding school construction solely through local sales or property taxes, Filardo said. Otherwise, poor communities fall behind because their fundraising capacity is lower.
"It's done really, really differently from state to state," Filardo said. "But what's not different is that where good work is being done on behalf of children and teachers, the state is involved."
In Virginia this year, the governor's proposed budget doesn't restore school construction grant funding or offer another remedy for districts' construction woes, but two legislators have advanced modest proposals designed to help the neediest communities.
The first, from Del. Terry Kilgore, R-Scott, would let districts spend year-end savings on debt service for construction without requiring additional spending from their localities.
For the past two years, Lee schools ended the year with savings of roughly $1.6 million and $1.1 million. Those savings could be used for capital projects, but most of what's needed in Lee County is too expensive to cover in a single year and would require bonds or loans — only currently state money can't be used for debt service.
House Bill 670 would affect just three places: Lee and Scott counties, whose superintendents lobbied Kilgore for the legislation, and Buena Vista.
"We're not asking for more money," Austin said. "We're just asking that if we can be frugal with how we spend it and still meet (the state's standards), can we count that?"
Kilgore said he's open to expanding the qualifications to include more districts.
Another bill, introduced by Del. Dickie Bell, R-Staunton, would establish a capital grant program to assist localities in "high fiscal stress." A few dozen districts could qualify for such a program, including many in Southwest and Southside Virginia.
Bell developed his bill independently of Kilgore at the request of Waynesboro officials, who put on hold plans to renovate the city's deteriorating 1930s-era high school because of cost.
House Bill 1431 calls for grants of up to $10 million to help struggling localities afford school renovation or construction projects. A local match would be required.
"We're just looking for some relief for them," Bell said.
Staff writer Carmen Forman contributed to this report.