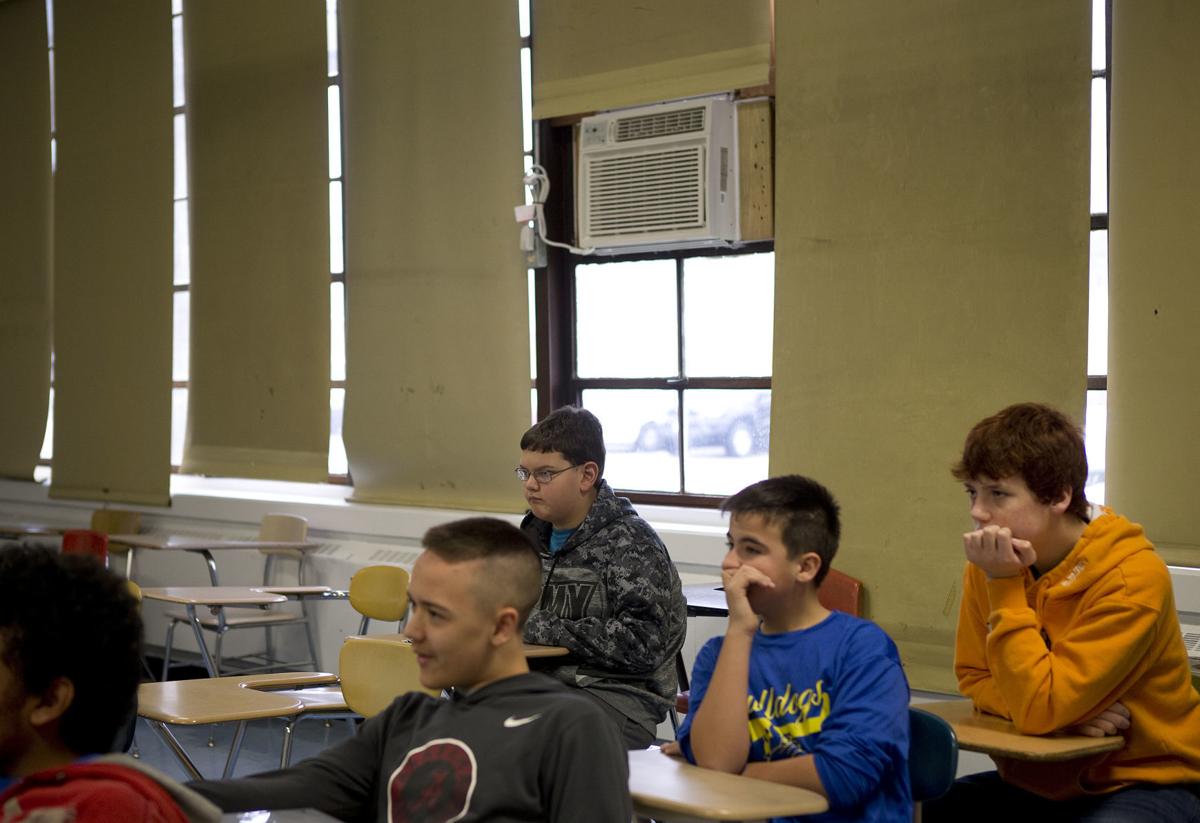 RICHMOND — In some public schools across Virginia, rainwater leaks into classrooms, teachers turn on dehumidifiers so posters don't peel off the walls, ceiling tiles are falling, mold grows in the walls and rats scurry around floors.
Schools — especially those in rural and urban communities — are crumbling, and school officials describe the situation as dire. More than a year ago, Sen. Bill Stanley , R-Franklin County, began leading an effort to do something about it. It didn't go far, and not many lawmakers rallied behind him.
"We have a constitutional obligation to provide a high-quality education to every child, regardless of their ZIP code or financial situation in life," Stanley said.
Stanley reintroduced the bills that failed last year, and a few other lawmakers have joined the effort to come up with ways to alleviate the financial stress of building and fixing schools. Proposals mostly look at the problem in the short term, although the conversation is building about needing to prioritize coming up with a statewide plan.
"We ought to be able to figure out a way to do better for our children and teachers," said Sen. Jennifer McClellan, D-Richmond.
School construction proposals
Gov. Ralph Northam bemoaned Virginia's "crumbling schools" in his inaugural address, but as he begins the third year of his four-year term, he hasn't made any significant proposals to address that problem.
Last year, he put $80 million into the Literary Fund to be used for loans for construction. It's just a small fraction of what is needed across the commonwealth to upgrade and replace schools, some of which were built before World War II.
There was no new proposal in the budget for school construction this year, and when Northam unveiled his proposed budget last month, he said the priority was on increasing teacher pay.
"We continue to need to look at the structure of our schools, renovating those that are already in existence and building new schools," Northam said. "As we move forward, that's a discussion we're going to need to have."
Stanley and other lawmakers are trying to keep that conversation going.
Stanley and a few other legislators toured schools more than a year ago to get a sense of the school conditions across Virginia. He got one proposal enacted into law last year to allow public schools with solar panels to sell their excess energy into the power grid.
His package of school construction bills this year includes putting on November's ballot a referendum that would ask Virginians whether they want the General Assembly to issue $3 billion in state general obligation bonds to go toward constructing or upgrading K-12 schools, creating a fund used to repair or replace roofs and requiring the State Board of Education to establish minimum standards for what a modern public school building should be.
McClellan's proposal builds off the idea of Stanley's special group to tour schools and come up with ideas. Her bill would establish the Commission on School Construction and Modernization, which will provide guidance to schools on school construction and upgrades as well as make funding recommendations to the General Assembly and governor. Among other tasks, it will assess school facilities, identify funding sources and establish best practices in modernizing schools.
"One thing that affects students' learning is the environment," McClellan said. "We can't ignore one of the largest factors, and we can't just leave it to the localities when they're struggling because of inequity."
Smaller, distressed rural localities have been rallying behind a bill from Del. Israel O'Quinn, R-Washington. He's proposing a smarter use of the Literary Fund money by putting it into an existing special fund used to provide grants for school construction that stopped being used when the recession hit. The goal is to encourage localities to make use of cost-saving measures and give priority to school divisions that have a low ability to produce outright the tens of millions of dollars needed to fix or build new schools.
"We're not asking for more money; we just want to use the money we have in a better way," O'Quinn said.
The Southwest Virginia delegation is also backing a bill from Del. Terry Kilgore, R-Scott, that would permit local school boards in certain fiscally distressed localities to expend up to 25% of the required local effort for basic aid for debt service on school renovation and construction projects.
"There aren't large dollar amounts attached to these proposals, so what these can do is provide some relief," said Keith Perrigan, superintendent of Bristol Public Schools and advocate for rural schools.
Sen. Tommy Norment, R-James City, handed his colleagues black-and-white photos showing mold growing inside a school in Gloucester County.
Norment presented a bill on Wednesday on behalf of Gloucester, which is seeking authorization from the General Assembly to increase its sales tax and earmark the revenues for school construction.
Gloucester Superintendent Walter Clemons told the Senate Finance and Appropriations Committee that the county's only high school is nearly 50 years old, the HVAC system isn't adequately heating and cooling the building, and there are plumbing issues and pipes bursting.
"We are facing a dire need to have the appropriate funding to renovate that school so that it's safe and orderly for our students," he said.
As time goes by, school conditions become worse, and the costs to fix them increase. Localities don't have time to wait for the legislature to come up with a statewide solution.
Last year, Halifax County was the first locality to receive approval from the legislature to hold a voter referendum on a 1% sales tax increase to raise revenue for school improvements. In November, 71% of voters approved it. Revenue will support either a new $100 million high school or spending $88 million to renovate the current one.
While coming up with the money to build and upgrade schools is a challenge across Virginia, rural areas struggle the most. They lack the corporate tax base, for example.
Perrigan said when he looked at the 75 rural divisions in a coalition of rural and urban Virginia schools, if they all raised their property taxes by one penny, that would raise a combined $19 million in a year. He said one affluent suburban locality could raise $24 million with a penny increase.
"Those of us in rural localities, we don't have the capacity through traditional means to generate enough revenue," Perrigan said.
Brian Austin, superintendent of Lee County Schools, said any school repairs have come from operational savings and excess revenue. That's how the district was finally able to fix an elementary school roof that was in such poor shape that when it rained, trash cans scattered around classrooms collected the water. The county has two more school roofs that need to be replaced.
"It's not so much about commitment, but a lack of ability," Austin said.
In Gloucester, a major renovation comes with a $70 million price tag. Clemons said the penny increase in the sales tax could produce an extra $400,000 a year.
Sen. Emmett Hanger, R-Augusta, said authorizing localities to do this gave him pause. He suggested increasing the statewide sales tax and then using a formula that determines a school division's ability to pay for education costs to divvy up the revenue. That would mean poorer localities would get preference for more money.
"Rural communities are suffering because of a lack of resources to fund vital services, notably education," Hanger said. "What we're doing here is kind of shooting ourselves in the foot by doing this hodgepodge."
Sen. Chap Petersen, D-Fairfax City, tried to get authorization for a sales tax increase in Fairfax County years ago, but his proposal got rejected.
"It seems to me at some point every county in Virginia is going to come in here wanting to do this at some point," Petersen said.
Danville as well as Henry, Pittsylvania and Mecklenburg counties all have requests in to get approval to increase their sales tax for school infrastructure.
"School construction and renovation is simply something we're going to have to look seriously at," Sen. Janet Howell, D-Fairfax, said.