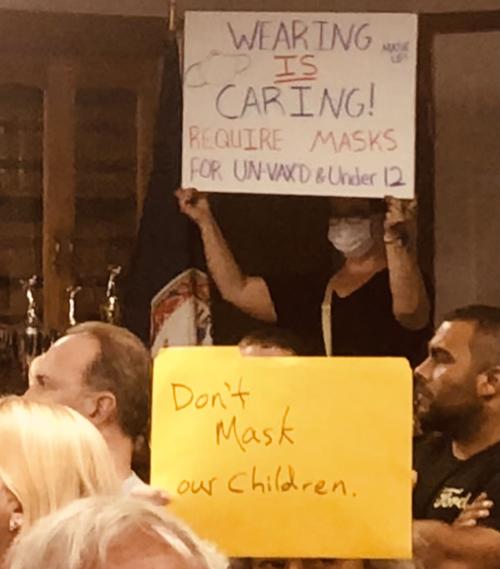 ROCKY MOUNT — The Franklin County School Board voted to leave it up to parents as to whether their children wear face masks on the bus and in the schools during a special meeting Monday night.
The decision passed 6-1, with Gills Creek District Representative Jon Atchue voting no and member-at-large Penny Blue absent.
For the past two months, crowds have packed the school board chamber to overflowing, with most of the speakers passionately condemning a combination of critical race theory, policies for transgender students and requirements for students to wear masks.
Monday, even though there wasn't a public comment period on the agenda, the chamber, which holds more than 80 people, was packed, with people in the audience holding signs that read "FREE OUR CHILDREN," "Masking Minors Is Child Abuse" and "Don't Mask Our Children." In the back of the room, one woman raised a sign that read "Wearing IS Caring! Require Masks for Un-Vax'd & Under 12."
"I'd like to know why there's no public comment tonight," demanded Boone District Representative Donna Cosmato. "We have the community here tonight and we are deciding on a matter of grave importance to them and their families."
She and Blackwater District Representative Arlet Greer said the board was violating its own policies by not allowing public comment, statements that drew applause from the audience.
They also maintained policy was violated when the board allowed a second item about granting an easement for a broadband cell tower at Callaway Elementary School on the agenda, as the meeting was originally intended to only address mask policy. Board Chair Julie Nix said the board was trying to hold a vote on the tower in a timely fashion after receiving a request for consideration from Franklin County Administrator Chris Whitlow.
The mood of the meeting remained tense as Jason Guilliams, the school system's director of operations, presented a recommendation from staff that mask wearing for students on school grounds be a matter of parents' choice, but mandatory on school buses.
When Union Hall Representative P.D. Hambrick expressed concern that having unmasked teachers instructing unmasked students will turn a classroom into a "Petri dish," that drew laughs of disbelief from some members of the audience.
When Atchue tried to make a case for mask wearing, angry shouts drowned him out. Nix had to pound her gavel to call the meeting back to order before Atchue could finish.
"Even though it's unpleasant to face the facts, I think we have to look at the reality of the whole situation, even outside Franklin County," Atchue said. "Cases around the country are climbing. Unvaccinated people are getting sick and dying, and most of our population is unvaccinated."
The majority of the board ultimately concluded that enforcing mandatory mask wearing on buses would be too difficult, especially if wearing a mask isn't mandatory on school grounds, which led to the modification of the staff proposal before the board voted. The crowd applauded the result.
"With that parent choice, let's give our citizens the benefit of the doubt that they'll do the right thing," Greer said.
"Parent choice is always the right way to go," said Teresa Pagen, whose grandson attends Callaway Elementary. She said that her grandson has expressed considerable discomfort after a day wearing a face mask. Given that schools have never before required such measures for colds and flus, with risks to young children from COVID minimal, "to me, it just don't make sense. "