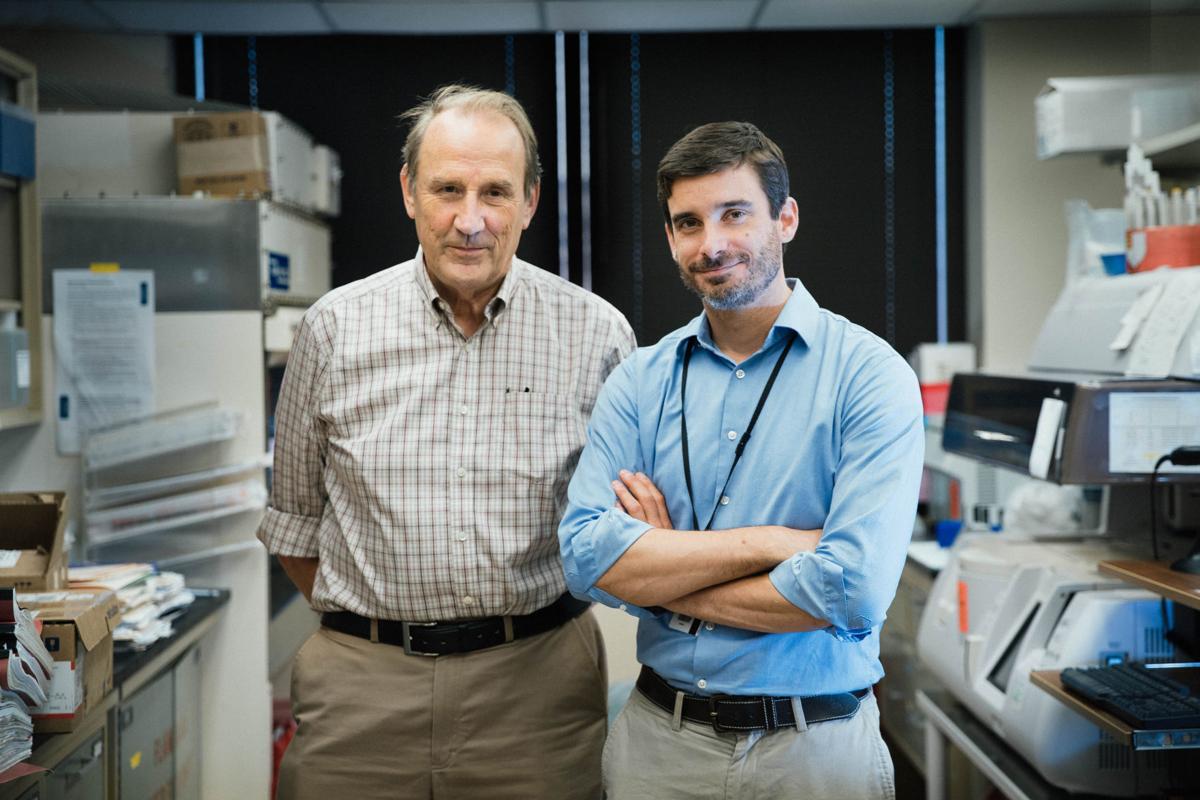 CHARLOTTESVILLE — Around 2000, Alun Ward realized his face would swell after eating red meat or foods cooked in beef oil. Gradually, he realized that milk products, certain pills and lanolin dryer sheets caused swelling and hives as well. But it wasn't until 2010 that he heard about red-meat allergies caused by tick bites.
Today, Ward and a growing number of Virginians avoid red meat. The allergy has been linked to the bite of the lone star tick, which is most commonly found in Virginia, Tennessee, southern Missouri and Oklahoma. A new study by a collaboration of University of Virginia allergists and cardiologists has cautiously linked that allergen to an increased risk of heart disease.
Even people who don't get hives, anaphylaxis or other allergic reactions after eating red meat can still be sensitive to alpha-gal, a sugar found in meat from mammals. That sensitivity, in turn, can be linked to increased plaque buildup in arteries. In fact, as many as 20 percent of people in Central Virginia could be sensitive to the allergen and at higher risk of heart attack and stroke.
"This is the first time anyone has said this," said Dr. Thomas Platts-Mills, the head of UVa's Division of Allergy and Clinical Immunology and part of the team that first identified the alpha-gal allergy in 2009. "That's why it clearly is a big deal, because if people get the same responses we did, it will be pretty important. But there are still lots of things we need to test and rule out."
Dr. Jeff Wilson, a researcher, said alpha-gal's presence in lipids encouraged researchers to look for impact on heart health.
"We think what's special about this allergen is that it's in a lipid form," Wilson said. "Most allergens are not intrinsically part of a lipid, but this is, and straightaway that made us start thinking about cardiology, because lipids are a major risk factor."
Ward said he hasn't faced heart problems. He said he feels the allergy has forced him to reduce his weight and eat a Mediterranean diet, which may stave off some other risks for heart disease.
"What's really interesting is that a lot of people have had this, like I have, for a long time, and are only now realizing what it is," said Ward, who lives north of Charlottesville . "It suddenly changes your lifestyle, and eating out is impossible."
Though other research has suggested allergy and asthma attacks can cause cardiovascular disease, researchers hadn't linked specific allergens to increased heart attacks or strokes.
Platts-Mills and a colleague, Scott Commins, first reported the red-meat allergy to alpha-gal about 10 years ago. After noticing several patients suffer heart attacks, Platts-Mills' team asked cardiologists if they would be interested in testing whether the sensitivity to alpha-gal could be connected to coronary plaque buildup.
"That's not how you do science, really," Platts-Mills said of the hunch that the allergy might be related to cardiovascular disease. "But it is how you get great ideas."
Researchers stratified blood samples from 118 patients who had undergone advanced cardiac imaging. Most people have some plaque coating their arteries, and that plaque can be stable or unstable. Unstable plaque is more likely to cause heart attacks.
"What we found in folks with alpha-gal is that they have more plaque and that it's more unstable, which is kind of a double whammy," Wilson said.
Twenty-six percent of patients within the study were sensitive to alpha-gal, though perhaps only 1 percent were likely to have an allergic reaction. In sensitive patients, plaque accumulation was 30 percent higher than in those without the sensitivity.
"There's multiple pieces of the puzzle that made us think we need to question the connection," Wilson said. "But if you look at the map of the range of the lone star tick and the alpha-gal allergy, there's really an uncanny overlap with the map of where bad cardiovascular disease is in this country."
The news could encourage clinical care that might be able to prevent heart disease, suggested Dr. Coleen McNamara, a cardiologist who worked on the study.
"This initial finding is the first to potentially implicate a specific allergen in cardiovascular disease and may have implications for novel approaches to prevent artery blockages based on personalized blood testing," McNamara said in an email. "However, this is a small study that reports on an association between the blood marker for sensitization to alpha-gal and indices of heart artery disease. Further study in larger cohorts from diverse geographic areas and more pre-clinical studies are needed to validate this finding and determine if causality exists."
Not every causal link between the tick bites, allergy and heart disease is firm, Platts-Mills cautioned. It's possible that the allergy is caused by a bacteria transmitted by tick saliva that causes the sensitivity to red meat to switch on. He's trying to create an incidence map of reported cases, even adding himself (after eating a lamb chop, Platts-Mills, who also has the allergy, gets a rash on his arm).
It's not clear whether other allergens could be related to plaque buildup, and the alpha-gal allergen needs to be tested on a much bigger sample population. But this, study, researchers say, gives them a path forward.
The study, titled "IgE to the mammalian oligosaccharide galactose-α-1,3-galactose is associated with increased atheroma volume and plaques with unstable characteristics," was published in "Arteriosclerosis, Thrombosis and Vascular Biology," a journal of the American Heart Association.