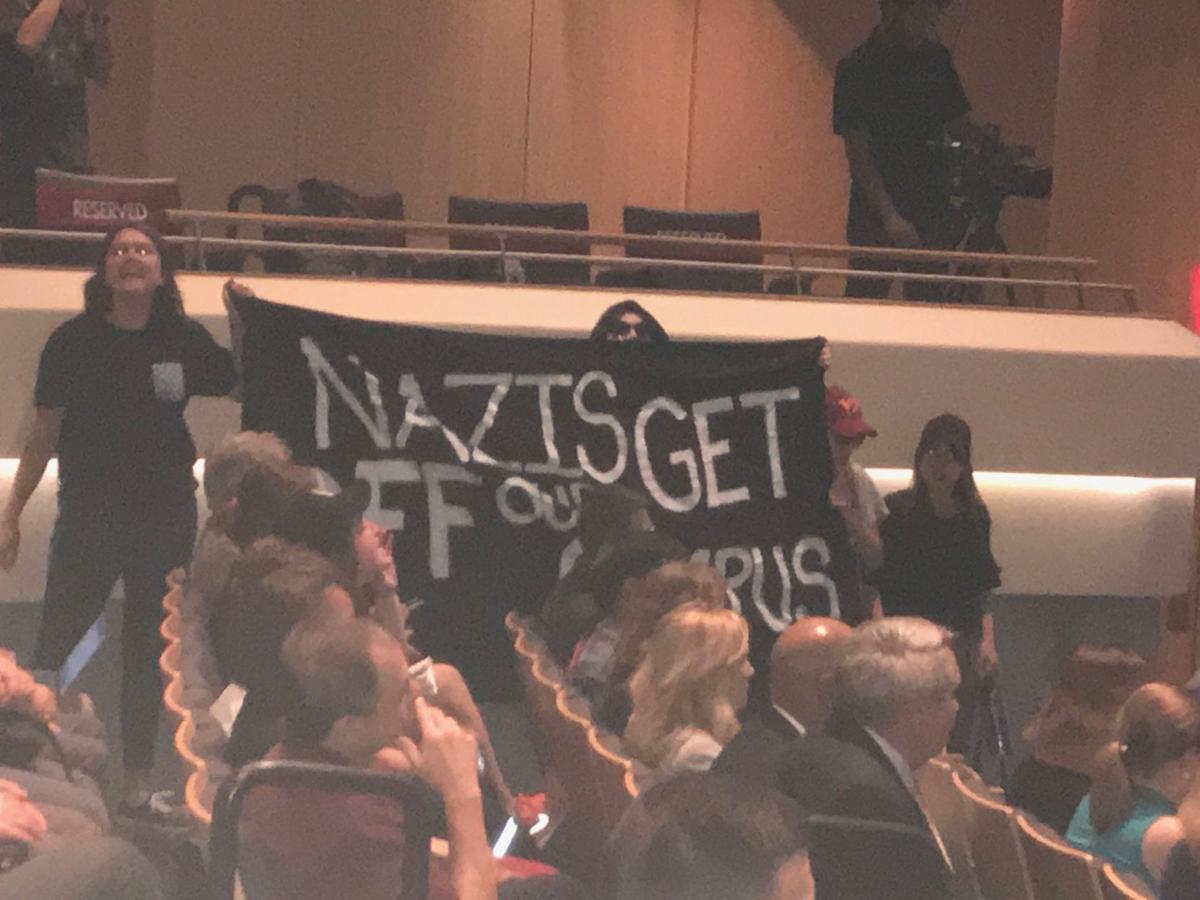 BLACKSBURG — Virginia Tech President Timothy Sands gave his second annual State of the University speech Friday, but it was temporarily interrupted by a group of students who decried the school for employing a man they allege to be a white supremacist.
About 10 minutes into Sands' address, one student in the crowd stood up, waved his arms and yelled "President Sands! Why do you employ a white supremacist? The student then yelled again, asking why the man is being allowed to work at Tech.
The Roanoke Times is not naming the employee in question because the newspaper had not independently confirmed his identity as of Friday evening.
Seconds after the first outburst, another pair of students rose from their seats on the opposite side of the Moss Center for the Arts auditorium and held a banner with the phrase "Nazis get off our campus."
As Sands attempted to power through his speech, they shouted over him and threw tiny white pieces of paper containing information on the employee.
As the group of about five students were escorted out of the auditorium by university security, they chanted. "No Nazis! No KKK! No Fascist USA!"
Among them was Tori Coan, who has filed a formal complaint against the man with the university's Division of Administrative Services.
"We have spent a month talking to administration, asking them where are our answers," Coan said. "We haven't had any action and we felt like the student body and the campus community had a right to know."
When Sands stopped his remarks, he said: "This is not the time or place for this," as the protesters were being escorted out of the arts center by security.
During his speech, Sands praised the school's community partners, boasted increased applications and enrollment numbers and pledged for a better and bright future of innovation.
"There are many reasons to be excited about Virginia Tech in 2017," he said. "Freshmen applications are on the rise. We have set records each of the last three years. This is because we are getting the word out. The outcomes for our graduates are outstanding, and we are offering degrees and student experiences that are tailored for this century. For example, we are leading Virginia in STEM-Health graduates, with 24 percent of the total for the state. This record interest has yielded a record entering class — bigger than we expected."
In a meeting with reporters after his speech, Sands confirmed he was previously aware of the protesters' concerns, but did not discuss what action the university may or may not take to address them.
"I understand the conflict of the principles that they are raising. I feel the same way," Sands said. "The specific concerns that they raised have to do with an individual who has professed on his own time through media his opinions, which are in stark contrast to our principles of community. We're working through that process."
Continuing, Sands said there is also the issue of freedom of speech.
"Certainly free speech, we all value that," he said. "We also want to maintain an inclusive campus. We have our principles of community that nobody signs on to. They are just principles. Those principles and the First Amendment sometimes collide. What better laboratory to work all this out than a university campus?"
But for Coan and the others who made a scene at the president's big event, such a collision is too dangerous to stomach.
"Did we learn nothing form Charlottesville?" Coan asked. "How can we stand here as an institution talking about post-Charlottesville? Charlottesville is here."
"Did we learn nothing from Charlottesville? How can we stand here as an institution talking about post-Charlottesville? Charlottesville is here." Tori Coan | protester