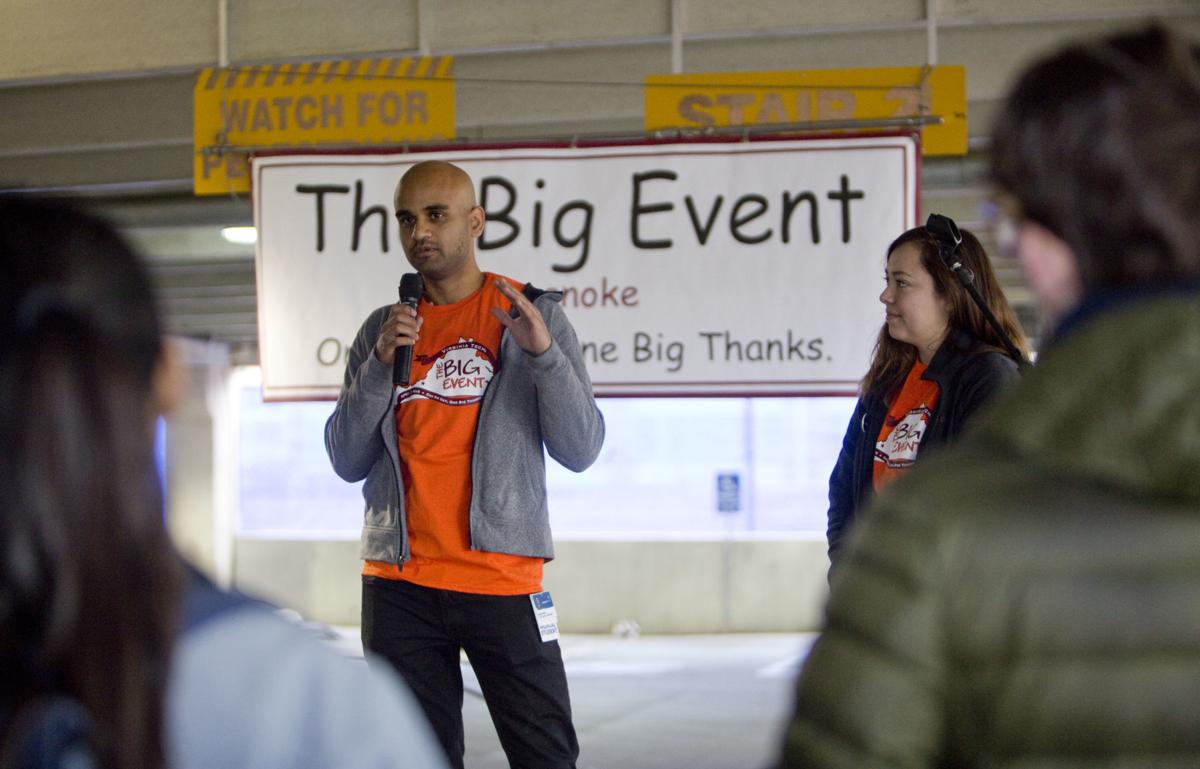 A 17-year Virginia Tech tradition extended its reach to Roanoke this year.
Tech's annual Big Event, a daylong initiative of philanthropy and community partnership, benefited several individuals and organizations in the Roanoke Valley on Saturday, thanks to the efforts of a small group of students at the Virginia Tech Carilion School of Medicine and Research Institute.
Gabby Carrillo, a California native who came to Roanoke to study biology at VTC, was the driving force behind establishing the day's Roanoke connection.
"We really wanted to do something to unify our students with the Roanoke community," Carrillo said. "Roanoke is a very special community. It's the reason I was attracted to coming here. Service is a good way to build your community and understand its needs and its story."
The 30 students, faculty and staff volunteers for the Roanoke-specific project donated time to 10 sites including the Roanoke Rescue Mission and Good Shepherd Lutheran Preschool.
Volunteers handed out food at the mission, cleaned up the Roanoke River and did yard work and landscaping for private citizens who had requested assistance.
"We want to thank you for realizing the importance of coming together and giving back to our community," Roanoke Mayor Sherman Lea told the group of volunteers during a kickoff speech in a VTC parking garage. "You will touch many people in a way that they have possibly never been touched before. We're proud of the work you're doing."
After his remarks, Lea joined the medical school's dean, Cynda Johnson, and the student organizers as they jumped to Metallica's "Enter Sandman," the rock anthem used to pump up Hokies fans during home football games.
Awaiz Kahn, another student organizer who attends Tech's medical school in Roanoke, explained that being connected to the main campus in Blacksburg is often on his and his classmates' minds.
"The people at VT are arranging for 6,000 people to do service today, and they were kind enough to make time for all of us," Kahn said. "It's nice that we were integrated into this massive event, as well."
Michael Friedlander, founding executive director of the research institute and vice president for health sciences and technology at Virginia Tech, applauded the graduate and medical students for their outside-the-box approach to community engagement.
"We've given them some support when we can, but they've really taken off," Friedlander said. "Roanoke is becoming a major part of Virginia Tech. It's not an afterthought. Look around and you see what's happened. Ten or 15 years from now, this [Roanoke campus] is going to look like a big part of Virginia Tech. More importantly, it's the culture and connection to the people in this community."