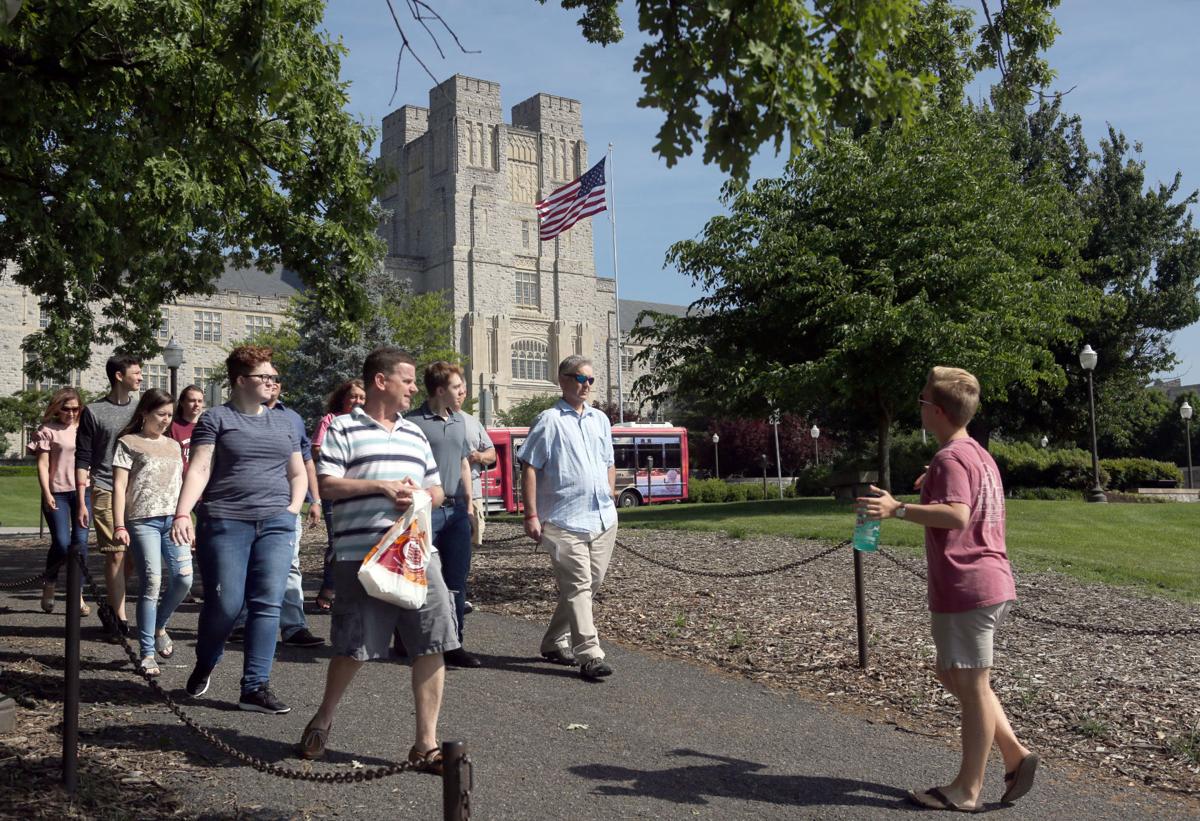 Virginia Tech is offering some incoming students money to not attend the university for up to a year — a move that comes in the wake of an over-enrollment crunch.
Tech's over-sized freshman class, which is anticipated to have more than 7,000 students, would strain the infrastructure of the university and town of Blacksburg, officials have said.
In an effort to ease that, Tech is offering a group of 1,559 incoming, in-state freshmen in specific programs financial incentives to skip the 2019-20 school year in Blacksburg — or at least a semester. The university has budgeted $3.3 million for the program.
Incoming students will be able to apply for the following three options:
GAP2020 — the Guaranteed Admissions Program will offer students a $1,000 scholarship renewable for four years to take a gap year. They will be guaranteed a spot as first year students in fall 2020.
GRANT2020 — the Guaranteed Admission Transfer Program will offer students tuition reimbursement if they take a year of classes at a Virginia community college and then transfer those credits to Tech to start in fall 2020. Tech will give students a tuition credit during their first year worth what the students paid to attend community college.
Experience 2020 — students can take classes during the summer of 2019 beginning July 9 tuition-free. The student can then enroll full time in either the fall or spring semester and take the other semester off. They would then enroll again in the summer of 2020 to complete a year's worth of classes.
Students have until June 6 to apply and will be notified if they're accepted for the option they requested by June 14. They were informed of the options in an email sent Tuesday evening.
"These special enrollment options... provide opportunities for getting an early start on college, taking advantage of alternative co-curricular learning experiences, and making the cost of a Virginia Tech education even more affordable," the email said.
The incoming freshmen are in-state students who have declared the following majors:
General engineering.
Mechanical engineering.
Aerospace engineering.
Biomedical engineering.
Biology.
University studies, essentially an undeclared major.
Exploring technologies, a subset of university studies.
Declining the options won't impact a student's admission status and the university will look forward to seeing them in the fall, the letter said.
"We're looking at multiple options for managing the over-enrollment," Tech spokesman Mark Owczarski said. "We want to offer students things that work for them."
State Council of Higher Education for Virginia spokeswoman Laura Osberger wrote in an email that agency officials are "not aware of any Virginia institutions that have offered financial compensation" for students deferring admittance in the past.
It is a first for Virginia Tech, Owczarski said. The university doesn't have any goals or expectations for a number of students who will accept the offers, he said.
After the university sees how many students accept, the school will "continue to make adjustments to our overall strategy," he said.
According to a consultant's report obtained via the Virginia Freedom of Information Act, Tech's goal was to have 6,600 first-year students in the fall.
As of that May 3 report, 8,009 had confirmed they planned to come to the university. Tech contracted with the firm — Ruffalo, Noel and Levitz — to produce predictive models to help with enrollment management.
The university anticipates there will be between 7,500 and 7,585 students when accounting for "summer melt" of students who go elsewhere. That would top a previous record set in 2017 of 6,836 students.
The reason for the significant difference in the freshman class numbers, a Tech spokesman has said, is more students accepted than enrollment officials expected. That's because a degree from the university is in high demand, Owczarski said.
He said excitement around the university's planned $1 billion Northern Virginia Innovation Campus, sparked by Amazon and announced last fall, is a likely catalyst.
The university has rescinded the requirement for first year students to live on campus. The school's standard occupancy is 9,471 beds with an additional 563 temporary beds available. The school is reviewing a way to add 200 additional beds.
Last month, Tech President Tim Sands tweeted that though the university is attempting to grow, the goal isn't to swell beyond 30,000 undergraduate students in the near future. Tech currently has 27,140 undergraduates, according to the university factbook.
"Heard a rumor (again) today that VT will grow to the size of Penn St. or Ohio St. (46,000 undergrads)," Sands tweeted in April. "Truth: 2 yrs ago, we decided to cap undergrad enrollment at 30,000 until 2023 (<2% annual growth rate) until VT and Blacksburg infrastructure is in place. Will reassess then."
The university received more than 30,000 applications for next fall in what it said was the most diverse applicant pool in school history. The school said the arriving class of students will be the second-most academically competitive class based on GPA and SAT scores.
Tech, though, used different metrics for this class. It was the first to be admitted using a uniform application process created by the Coalition for Access, Affordability and Success. University officials called it a more "holistic" approach that puts more weight on "non-cognitive attributes" and life experiences that come out in essays focused on resilience, leadership and service.
For more information, incoming students can visit Virginia Tech's website or contact admissions officials at enrolloptions@vt.edu or call the Virginia Tech Admissions office at 540-231-9797.