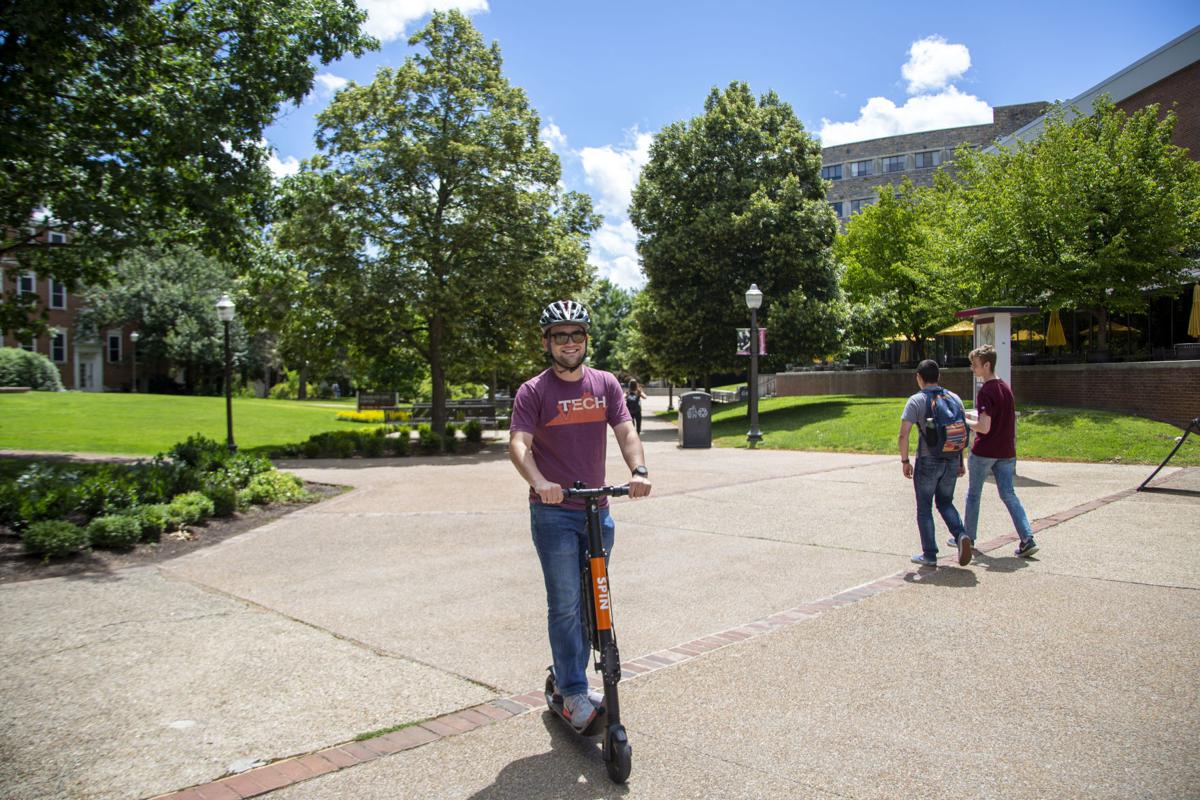 A fleet of 300 electric scooters will be rolled out on Virginia Tech's campus next month through a study by the university's Transportation Institute.
E-scooters from Ford Motor Company subsidiary Spin will be usable on Virginia Tech's campus starting at 7 a.m. until a half-hour after sunset, and will be removed at night and in advance of "high-traffic events" like football game weekends, graduation and during inclement weather. Their movement will be restricted to campus by a geofence that will cause them to slow to a stop when they leave Tech.
While increasingly popular across the country, scooters have been controversial, too, drawing complaints that they litter city sidewalks and are unsafe for users and pedestrians alike.
The scooters will be dockless, however. University policy will require users to park them either near bike racks or in other designated areas. Spin's phone app will prevent users from leaving the scooters just anywhere they want around campus.
The scooters will be treated similarly to bicycles, according to the university policy. People can use them on all roads, paths, grass and sidewalks, "with the exception of times when there is heavy pedestrian traffic on sidewalks and pathways." During those times, riders are supposed to dismount their scooters and walk. Scooters are barred from use in parking garages or buildings.
The Spin scooters will be on campus and ready to use Sept. 3, the date the company will host a kick-off and safety event. The scooters will cost $1 to unlock and 15 cents per minute while in use, according to a company spokeswoman. The company is already operating in more than 50 college campuses and cities.
Safety will be one facet of the Tech research, according to Mike Mollenhauer, director of VTTI's Center for Technology Implementation and chief investigator for the study.
Tech researchers will review footage from cameras on the front of 50 scooters as well as footage from up to 20 fixed cameras in public places around campus. The effort is to capture footage of human-scooter interactions.
The study "allows us to ride along with the rider and encounter what they encounter," Mollenhauer said.
The study period is slated to last 18 months, with scooters operational for a year.
"The resulting data will be used to assess impacts on safety, nuisance, and mobility, identify unique countermeasures to problems associated with e-scooter deployments where possible, and generate deployment requirements and guidelines for future open competition," according to a summary of the study published on the Transportation Research Board's website.
The $467,126 study is being funded by the Safety Through Disruption National UTC, a grant from the U.S. Department of Transportation's University Transportation Centers program, as well as by matching funds from Spin.
"We believe academic research is desperately needed in the micromobility space, and it has the potential to inform operations practices, hardware updates, and infrastructure improvements for years to come," Ted Sweeney, senior manager of Spin's Campus and Safety Policy, said in an email.
Virginia Tech Parking and Transportation Director Jeri Baker said she's excited to have the study and a measured approach to researching scooter usage on campus.
"The idea of having something that will get me across campus with a little less perspiration is exciting," Baker said.
Mollenhauer said researchers will visit the tape to look at how riders interact with the world around them, including regular infrastructure, other vehicles and pedestrians. Ultimately, he hopes the study will impact scooter policy in Blacksburg and beyond.
"This is a first step and evaluation of what the impact [of scooters] is on campus," he said.
The results of the study are ultimately intended to inform Tech's long-term plan for allowing scooters on campus.
Baker said she's unsure if the university will have scooters moving forward. But taking a measured, research-driven approach is certainly preferable to a "renegade drop," like has been performed by scooter companies in other cities. She said scooter companies have been interested in putting their scooters on Tech's campus since at least 2018.
Blacksburg doesn't have such a fee or any regulations, according to town attorney Larry Spencer. However, he said, the town is looking at potential regulations and town council will likely consider scooter rules in the fall.
Town scooter regulations won't impact the study, Spencer said, because the scooters will be confined to campus by a geofence and will be regulated by the university.
Spin won't pay a fee to operate on campus because of the company's participation in the study. However, that could change in the future when grant funding runs out, Tech officials said.
To learn more and to get the Spin app, visit spin.app.
Staff writer Matt Chittum contributed to this report.
Be the first to know
Get local news delivered to your inbox!