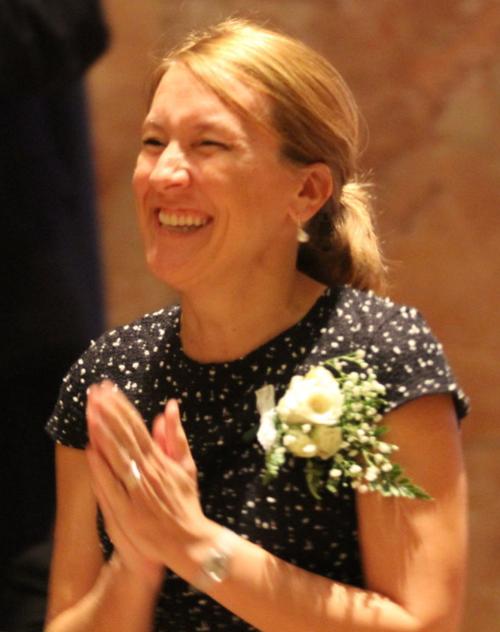 In her hotel room, Andrea Johnson had time to spare in the hours leading to Virginia's teacher of the year announcement. So she did what any teacher would do.
Then, the Salem High School English teacher earned an A+ of her own. Johnson won the top educator award, capping what she called one of the longest Mondays of her life with an unforgettable night.
"I never expected any of it," Johnson said Tuesday. "I think I'm still in a state of shock."
Johnson was one of eight regional finalists up for the state's 2020 teacher of the year honor.
Before a ceremony at the Virginia Museum of Fine Arts, Johnson spent most of the day answering questions. The Virginia Department of Education tasks finalists with speaking before an interview committee comprised of educational and business representatives, among other members.
Johnson said she was prepared but nervous. One question the committee asked dealt with how she would address teacher retention and recruitment. Virginia and other states across the U.S. are facing teacher shortages, as advocates push for better compensation and government support.
Johnson said she told the committee she'd focus on better policies, and working to inspire the next generation. The mother of two related a story about her fifth grade daughter, calling her a teacher in the making.
"We have qualified people out there," Johnson said. "We know we have teachers in our classroom. How do we change the discourse so that people can see a viable future in teaching?"
Johnson, 40, didn't start her professional career as a classroom teacher. A native of Smithfield, a town near Hampton Roads, Johnson earned a bachelor's degree from the University of Virginia and a master's in science from Virginia Commonwealth University.
Johnson worked as an educator at Airfield Conference Center and Southeast 4-H Educational Center in Wakefield.
"I grew up a 4-H kid," said Johnson, who credits the program for leading her on a successful path.
Johnson said she felt a calling to teach in a K-12 classroom. She earned the proper license through the state's EducateVA Career Switcher Program through the Virginia Community Colleges system. In 2011, she started teaching at Lakeland High School in Suffolk.
Johnson moved to the Roanoke area three years later to teach English at Andrew Lewis Middle and Salem High. In 2017, Johnson became chair of the English department at the high school, where she now teaches exclusively.
Johnson teaches 12th grade English and English 12 college prep. Her classes are a mixture of classical and contemporary literature. Three of the five are also career focused, Johnson said.
On Wednesday, Johnson will return to her classes. She's expecting the shock of winning to disappear in that moment.
"It will hit me tomorrow when I walk in my classroom and see my kids. These are the people who make me good at what I do," Johnson said. "Teaching is a joy, and it's joyous because of the relationships I'm privileged to build with students, educators and members of community."
The 2020 national teacher of the year will be announced next spring at a White House ceremony. Three previous Virginia teachers of the year, including Rodney Robinson a year ago — have been named national teacher of the year.