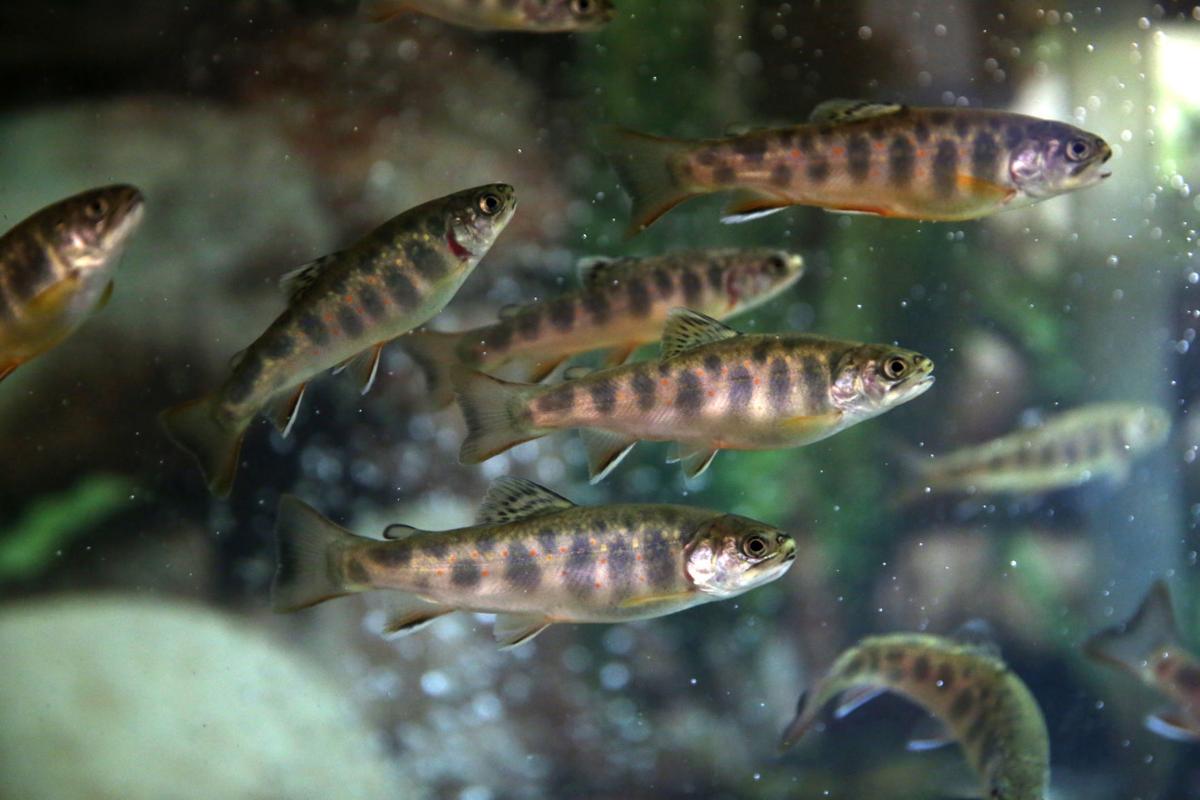 EAGLE ROCK — To earn release into Roaring Run, a fingerling-sized brook trout must defy the odds.
In nature, only 1 percent to 3 percent of eggs hatch and mature. The chances were only a little better for the eggs nurtured by Charlie Filer's earth science and ecology students, maybe about 10 percent.
Friday morning, the 27 survivors were scooped from the carefully regulated tank in Filer's Glenvar High School classroom and taken to Roaring Run in Botetourt County in a cooler.
Glenvar science club members balanced the cooler down a steep, muddy bank, taking care not to trip or tip it. At the edge of the creek, the brook trout — Virginia's state fish — were scooped up again, dropped this time into gallon-sized plastic bags for students to take turns releasing.
One by one, students walked with their trout to the river. Some walked straight to the edge, looking for pools of still water where they could ease the fish into the real world.
Others paused to document the occasion with a selfie, cellphone in one hand, trout in the other.
"You have to get the Snapchat and Instagram pictures out of the way first," Filer said.
He doesn't mind — 10 years after he first started the school's trout stocking program, Filer is just happy students want to share experiences like these with their friends.
"We took water quality samples in the lab. That's not what they're going to remember," Filer said. "They're going to remember being out here, being cold, and taking samples here. That's the most important part. Science is by doing. It's by being out here."
Glenvar is one of several dozen area schools that participate in a trout restocking program. Each fall, Glenvar picks up a few hundred trout eggs from the state hatchery in Paint Bank and, with guidance from the local Trout Unlimited conservation group, the growing process begins.
Brook trout are the only trout species native to Virginia, and they're perfect for classroom lessons because they're what scientists consider an "indicator" species, said Dave Mueller, a volunteer who worked with the Glenvar students to help raise their trout.
Brook trout survive only in cold, clean waters, so their presence is a sign of good water quality, and their absence indicates the opposite. Tests of Roaring Run by students on Friday showed near-perfect conditions for brook trout: Low in ammonia and nitrates and high in oxygen.
"Everything looks really good," Mueller said.
The trout appear in Filer's lessons frequently, a way to illustrate genetic variability, sustainability, population sizes and more.
This year's trout count was the lowest Filer has seen, but the fish made up for it in size.
"This is our worst year ever for numbers, but they're big," he said.
The science club gets the privilege each year of releasing the trout. Friday, they waxed nostalgic before setting them free and taking a hike along Roaring Run.
"We've grown up with these guys for so long and now we have to let them go," junior Jack Leonard said, slipping his bag into the cold water. "All right guys, take it easy."
Be the first to know
Get local news delivered to your inbox!