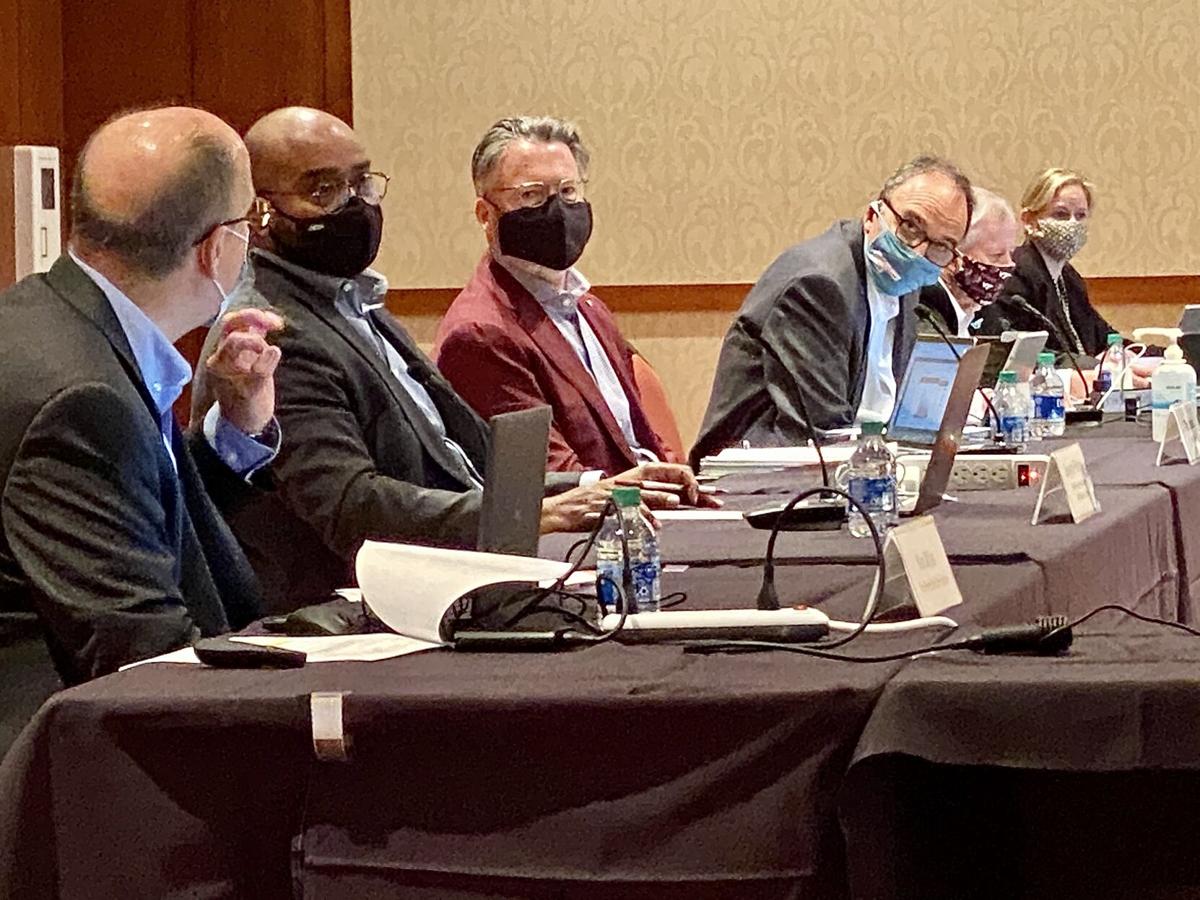 Virginia Tech earned a failing grade as the result of a study of how transparent its governing board is to the public.
Five universities received an "F" grade, with the highest grade a B+, in an assessment that college presidents pushed back on in a letter to the nonprofit based in Washington, D.C. The group, which has staff in Richmond and the Hampton Roads, largely advocates public policies to make college more affordable.
"Over the summer we had a student reach out to us who was trying to contact a member of her university's Board of Visitors, and she had trouble finding contact information, so that's really where ... a simple idea was borne out of," James Toscano, the nonprofit's president, said in an interview Wednesday.
Additionally, Toscano said, "The Covid situation spotlighted, at some universities, how important governing board decisions are when it comes to how they operate, how they deliver classes, whether in-person or online, and how much they're going to charge students."
The group announced the report Wednesday to coincide with the introduction of a bill in the Virginia General Assembly that addresses concerns about transparency among college governing boards. The proposed bill, H.R. 2120, would require boards to make meetings accessible to the public remotely and to post contact information such as email addresses for board members, among other policies.
"Service on a Board of Visitors for a Virginia public university is a highly coveted political appointment, but it is also a position of serious responsibility," Del. Mark Keam, D-Fairfax, and the bill's patron, said in a news release from the nonprofit. "Their decisions impact the lives of countless students, faculty, staff, and the broader university communities. At a time when the public's trust in our institutions is frail and taxpayers demand more from government, I believe our colleges and universities must reassure their stakeholders that they are committed to the highest standards of public service."
Virginia Tech failed at the nonprofit's measures of "member accessibility" and "board receptiveness" to public comment, and earned a C for "board transparency," the report says.
The audit dinged Tech for limiting public comment; not widely advertising public meetings in advance; and stopping its livestream of board meetings once it resumed in-person meetings in August.
Radford University received an overall C grade. The report gave Radford an A for "board transparency," an F for "member accessibility" and a D for "board receptiveness" to public comment.
George Mason University received a B+, the highest score among the 15 schools. Virginia Military Institute earned an F and the University of Virginia earned a B.
"The work we did in this audit was really exhaustive and very detailed," Toscano said.
Mark Owczarski, a Tech spokesman, said the university's response to the audit is captured in a Nov. 20 letter from the Council of Presidents — which includes the leaders of the state's public colleges — to Toscano.
"We appreciate your dedication to transparency and accountability, and share it, but it is worth noting that the criteria employed in your organization's assessment are not based on state law, and many of us have noted errors and omissions in your organization's review of our institutions' practices," the Council wrote Toscano. "PCAPT's lack of communication and transparency throughout this project, including a failure to engage with the board professionals on any of our campuses, has been disappointing and limits the credibility and utility of PCAPT's report."
Toscano called the Council's characterization "not true," and shared a Nov. 24 letter he sent to the Council's president. In the letter, he notes that Partners reached out to the universities' staff for feedback on an initial report.
"It was extremely disappointing that they would choose to play games rather than genuinely provide accurate information," Toscano said Wednesday.
His letter said the nonprofit would accept comments and clarifications on its audit until Dec. 4. In an email on Dec. 4, the Council's president simply replied, "Our significant concerns as outlined on November 20 remain," according to a copy of an email provided by Toscano.
Toscano said that some schools did reach out to his group with clarifying information, that led to their scores being changed in the final version.
Caitlyn Scaggs, a Radford University spokeswoman, said the university provided feedback late last year to the nonprofit, "including several factual errors and missing information," which were rectified in the report.
"As a public institution, Radford University is committed to accountability and transparency," President Brian Hemphill said in a statement. "As a University, we are deeply appreciative of the Board's efforts and ensure that their actions and deliberations are conducted and recorded in accordance with applicable laws and policies, including the Code of Virginia."