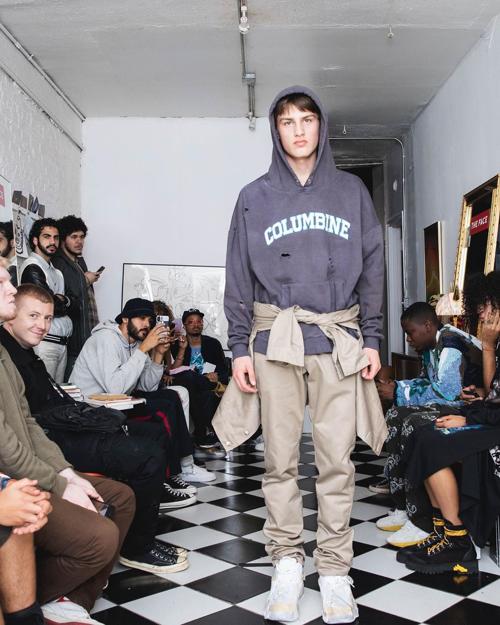 Virginia Tech and its students are pushing back against a fashion company that debuted a hoodie referencing the 2007 campus shootings at New York City Fashion Week.
The hoodie, posted on Instagram by the company Bstroy, which describes itself as a "neo-native menswear design house," is maroon and emblazoned with Virginia Tech across the chest. It features at least five designed bullet holes.
On Wednesday, the image of the hoodie was taken down from Instagram.
The company made similar hoodies referencing school shootings at Columbine and Marjory Stoneman Douglas high schools as well as Sandy Hook Elementary School. Images of those hoodies were still up as of Wednesday evening.
Virginia Tech asked the company to not sell the hoodie while condemning its existence and the photo that features it.
"This is not an endorsed university item, and we reject its message and imagery," Tech released on its Twitter account. "We've asked this item be removed & not sold as it represents an illegal use of our name. The community can assist by not sharing this image further and prevent this image from doing any further harm."
Tech spokesman Mark Owczarski called the shirt "tasteless."
He said the university had asked for any images of the hoodie to be taken down earlier this week because it represents trademark infringement.
He declined to comment further.
The Virginia Tech shootings on April 16, 2007, rocked the country when a gunman killed 32 people before shooting and killing himself. For more than a decade it was the largest mass shooting in modern American history, until it was eclipsed by the Pulse Night Club shooting in Orlando in 2016 that left 49 people and the shooter dead. That shooting was soon eclipsed by a mass shooting at a Las Vegas country music festival in 2017 that left 58 people and the shooter dead.
Many Tech students and community members took to social media to criticize the image.
Derek O'Dell, a survivor of the shooting who now works as a veterinarian in Vinton, said the hoodie riddled with fake bulletholes "crosses the line."
He said he generally is willing to talk about the shootings he survived. He even holds onto his jacket, which has three bullet holes though only one struck him, as a reminder of how lucky he was to survive the shooting.
"A conversation like this [about April 16th] is always good," O'Dell said in a telephone interview. "But this image isn't good. It creates a lot of negative emotions that was so traumatic for so many people."
Lily Fairweather, a Tech senior physics and political science student, said in a telephone interview that she and her peers were bothered by the imagery.
Fairweather's stepmother and aunt were both students at Columbine High School as well and to see the shootings represented in an offensive way stirred "an angry reaction," she said, because it was disrespectful.
"It [the shooting] is not all that Virginia Tech is," she said. "But it was significant and it still affects people."
Families and survivors of other school shootings were also critical of the posts.
"Under what scenario could somebody think this was a good idea?" tweeted Fred Guttenberg, whose daughter died in the Stoneman Douglas shooting. "This has me so upset."
Bstroy designer Brick Owens had posted a photo of all four hoodies on Instagram. On Monday, he posted a statement about its intent.
"Sometimes life can be painfully ironic. Like the irony of dying violently in a place you consider to be a safe, controlled environment, like school," he wrote. "We are reminded all the time of life's fragility, shortness, and unpredictability yet we are also reminded of its infinite potential. It is this push and pull that creates the circular motion that is the cycle of life."
Owens told the Today Show that the hoodies were meant to be a comment about gun violence. He said they were initially created for the fashion show and not intended to be sold, but because of the publicity they've gotten the company is now considering selling them.
Attempts by The Roanoke Times to reach Bstroy representatives and Owens Wednesday were unsuccessful.
Bstroy's co-founders, Owens and Dieter Grams, started their label in Atlanta in 2012. They gravitated toward designs that run dark. The brand once staged a fashion show in a funeral home, saying its clothes were designed for a post-apocalyptic world.
The Bstroy designers might have been trying to make some statement or start a conversation, the Tech student Fairweather said.
But how they got that message out there was too jarring to be effective in a positive way, she said.
"Intent doesn't always match your impact," she said. "I think they could've put their energies into having this conversation in a more productive way."
This report contains information from staff writer Matt Chittum and The Washington Post.