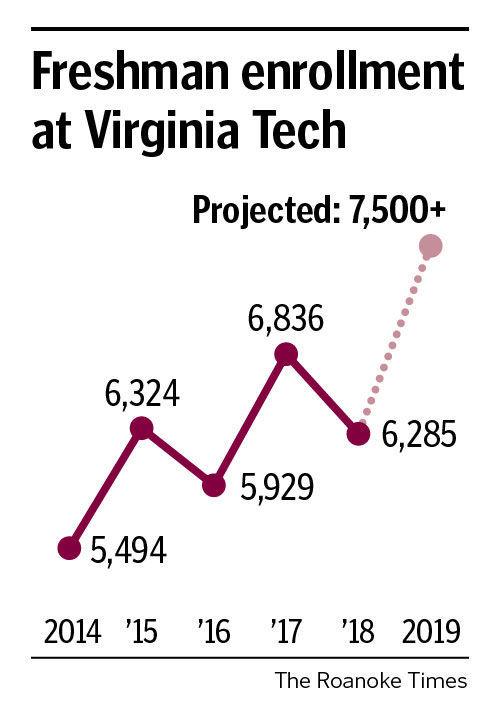 Virginia Tech projects its incoming freshman class will smash the record for its largest ever — a situation that has school and town officials scrambling in Blacksburg.
The fall 2019 freshman class, which Tech anticipates will be between 7,500 and 7,585, would top a previous record set in 2017 of 6,836 students. Tech previously announced that officials anticipated about 6,600 freshmen in the incoming class.
The university is dropping its first-year, on-campus housing requirement due to the high number, and town officials and faculty members are expressing concern about how the total student population at Tech will be adequately served.
The reason for the significant difference in the freshman class numbers, a Tech spokesman said Monday, is more students accepted than enrollment officials expected. That's because a degree from the university is in high demand, he said.
"More people said 'yes' than anticipated," university spokesman Mark Owczarski said. "It's a challenge, but it's a good challenge for Virginia Tech to have."
According to a news release, Tech hired predictive model agency Ruffalo, Noel, Levitz to help with enrollment management. Tech entered into a three-year contract worth $168,000 in 2017 to help model enrollment, according to a copy of the contract obtained via the Virginia Freedom of Information Act.
Owczarski wrote in an email the university is satisfied with the firm's work.
The university has already rescinded the requirement for first year students to live on campus. The school's standard occupancy is 9,471 beds with an additional 563 temporary beds available, according to Owczarski. The school is reviewing a way to add 200 additional beds.
According to a letter sent by engineering education professor Marie Paretti to fellow members of the Tech Faculty Senate, the university should've seen the numbers coming.
"Frankly, it is unacceptable to me to hear anyone in the administration suggest that these numbers are unexpected," she wrote.
She wrote that a colleague in the College of Engineering had predicted more than 2,600 new freshmen, an oversized class for that college, based on the numbers from the university and shared that with administrators. The prediction was ignored, she wrote.
She wrote that the increase in students would create unnecessary strain on Blacksburg.
"As the Faculty Senate, I believe we need to hold the administration accountable not only for the over-enrollment itself, but for the persistent disregard of faculty and staff on the ground who saw this coming and tried repeatedly to raise concerns and be proactive," she wrote.
Paretti declined an interview request, referring questions to a university spokesman. Faculty Senate President John Ferris did not return a message seeking comment.
The town of Blacksburg has braced for growth, Mayor Leslie Hager-Smith wrote in a statement, with town council approving "thousands of beds of student housing in the last few years," and "buying new buses and planning new routes."
However, she wrote, she is "very concerned about the Town's capacity to house and transport all of these new students," especially in light of a section of Terrace View and Sturbridge Square student housing complexes soon temporarily coming out of commission because of redevelopment.
"The student experience at Tech, and quality of life in Blacksburg are the reasons that Hokies express some of the highest alumni loyalty in the nation," Hager-Smith wrote. "Will the next cohort of incoming students have the same kind of positive experiences?"
Maintaining a quality student life is of the utmost importance to Tech officials, Owczarski said.
The university will work with students on providing as much housing as possible on top of allowing first-year students to live off campus. Owczarski said the school has plans in the works to aid in a housing crunch and to help faculty as they teach more students.
Tech will share those plans publicly as the fall semester approaches.
"We are now focused and engaged in managing the success of this admissions cycle and developing strategies necessary for the support and education of a higher-than-expected number of new students," Tech Provost Cyril Clarke said in a written statement.
Last month, Tech President Tim Sands tweeted that though the university is attempting to grow, the goal isn't to swell beyond 30,000 undergraduate students in the near future. Tech currently has 27,140 undergraduates, according to the university factbook.
"Heard a rumor (again) today that VT will grow to the size of Penn St. or Ohio St. (46,000 undergrads)," Sands tweeted in April. "Truth: 2 yrs ago, we decided to cap undergrad enrollment at 30,000 until 2023 (<2% annual growth rate) until VT and Blacksburg infrastructure is in place. Will reassess then."
The university received more than 30,000 applications for next fall in what it boasted was the most diverse applicant pool in school history. The school said the arriving class of students will be the second-most academically competitive class based on Grade Point Average and SAT scores.
Tech, though, used different metrics for this class. It was the first to be admitted using a uniform application process created by the Coalition for Access, Affordability and Success. University officials called it a more "holistic" approach that puts more weight on "non-cognitive attributes" and life experiences that come out in essays.
The application is designed to aid lower-income and first generation students in applying to college by improving ease of applying and accessibility to financial aid. It focuses on essay questions that ask about resilience, leadership and service.
That led to the most diverse application pool in school history. The incoming class will also likely be the most diverse, featuring increases in first generation, African American and Hispanic students. The university has long had a goal to have 40% of its student population come from underrepresented communities by 2022; right now that number is 36%.
Be the first to know
Get local news delivered to your inbox!