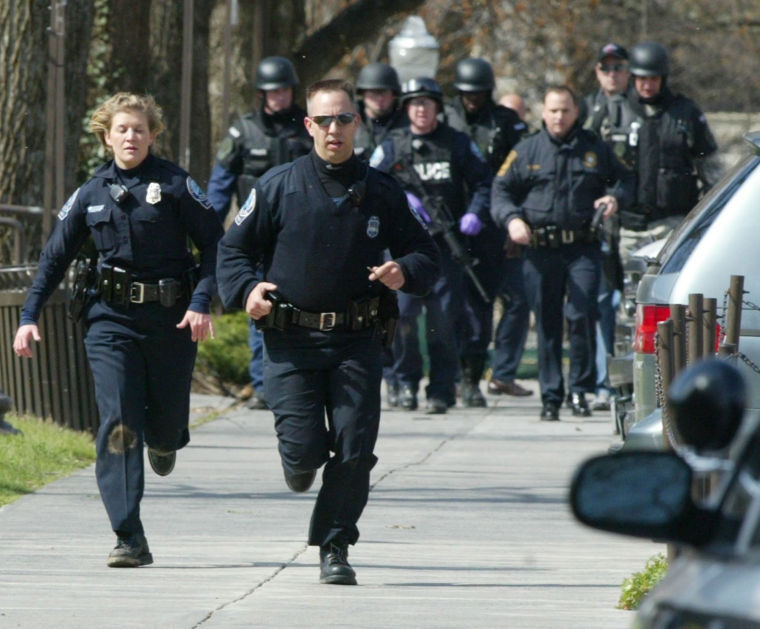 Kristina Anderson played dead. She tried not to breathe. With two bullets in her back, she tried not to move. Her classmates around her in Room 211 of Norris Hall coughed and cried. Cellphones rang.
The gunman came and went from the classroom, continuing to shoot people. On his third return, he killed himself.
Eleven French students and the professor were killed in that room at Virginia Tech. In total, 32 students and faculty were slain and another 17 were wounded on April 16, 2007.
Anderson was a sophomore. After surgery to remove her gallbladder, and then physical therapy and counseling, she graduated on time.
Two years after the shooting, she started to share the story of how she survived that 10-minute nightmare. Anderson, 29, launched the Koshka Foundation in Northern Virginia and has traveled the country providing education about the personal and institutional roles in preventing and responding to violence. Koshka means "little kitten" in Russian, and Anderson's mother uses it for her as a term of endearment. Her family moved to the U.S. from Ukraine when Anderson was 8.
Anderson's voice is a gripping one in the campus violence preparation movement that emerged following the rampage at Tech, which ushered the nation into the harsh reality of violence on college campuses.
"Part of my goal is to advocate and help others not find themselves in similar situations," Anderson said. "What happened at Virginia Tech was a horrible event, but there are lessons we have taken away from it and shared."
The mass shooting called attention to several deficiencies at Virginia Tech — delayed campuswide emergency notification, lack of a threat assessment team, students and faculty uninformed about how to respond to a shooting incident — which are now considered the standard of campus safety nationwide.
Since the shootings at Tech, more than a dozen active shooter incidents and numerous other mass-casualty episodes have struck college campuses, requiring schools to review and adapt their security measures to stay ahead of the next planned attack.
"April 16, 2007, was the day that the world of college and university campus safety changed forever," said S. Daniel Carter, a campus security consultant with a long history with the Tech shootings.
In 2007, Carter worked for the nonprofit Security on Campus, and under the auspices of that group he filed a complaint with the U.S. Department of Education against Tech over its handling of the tragedy. The complaint alleged that Tech violated the federal Clery Act, which requires that timely warnings of safety threats be issued to campuses. After several appeals, Tech in 2014 paid $32,500 in fines to the Education Department for Clery Act violations.
"I give credit to the family members and survivors who never gave up and fought tirelessly for these improvements, making the world a better place," Carter said. "That, to me, is the living legacy: that these lives lost, the 32, were not in vain."
Even before the atrocity at Virginia Tech, campuses had begun adding police forces, security measures such as swipe systems to enter dormitories, and campus alert systems. But the most difficult part of preparing for or preventing the next mass shooting is how idiosyncratic they can be — they're rare events driven by individuals with specific reasons.
Virginia Tech Police Chief Kevin Foust said sometimes people forget that college campuses are just a microcosm of the rest of society.
"The awful, heinous crimes that happen outside our campus can also happen here," he said. "A college campus is not immune to the evils out there in the world, unfortunately. There's no place like that."
The most glaring issue addressed in the official report on the April 16 shootings done at the request of then-Gov. Tim Kaine was the delayed emergency notification to the campus community.
Tech administrators did not send a campuswide alert that two students had been killed at West Ambler Johnston Hall until 9:26 a.m., more than two hours after the fatal shooting. About 15 minutes later, the mass shooting began inside Norris Hall.
Virginia Tech has consistently argued that it followed all federal rules for timely warnings that were in effect in 2007. But Carter said regardless of the university's position, other colleges across the country re-evaluated how they handled alerts.
"National standards did change, legally and, more importantly, the public expectation changed forever," Carter said. "Warnings were expected to get out more quickly."
As technology has evolved, schools have purchased advanced communications systems. With the press of a button, a college can notify people via text, email, phone call, social media and pop-ups on computers and television screens.
"It's critical to get information to people in whatever means they consume it," said Ara Bagdasarian, co-founder and CEO of Omnilert, a Leesburg emergency alert system provider with more than 800 clients. "It's also about redundancy. So what if you get a text, but your phone is on mute? You need to use as many channels to notify people as possible."
Omnilert's founders created its communication system in 2003 after reading about the 1986 rape and murder of Jeanne Clery, a 19-year-old student at Lehigh University in Bethlehem, Pennsylvania. They wanted to figure out a better way to quickly and clearly disseminate critical information to people on campuses and in the communities.
Foust said Tech's VT Alerts notification system, which is tested twice a day, is reserved for emergencies only. The system was launched a few months after the April 16 shootings as an expansion to its alert system that included more means to reach people.
"When you get a VT Alert, we tell people, 'Not only do we mean it, but we really mean it,' " he said.
The state report also pointed out that students, faculty and staff had not been taught how to respond to active shooter incidents. An increasing number of training programs advise students to evaluate their own options to run, hide or fight.
Virginia Tech's incoming freshman class participates in an emergency preparedness presentation that goes over various safety concerns, such as bomb threats, fires and active shooters, and how they should respond.
This is what Tech shooting survivor Anderson spends most of her time educating people about through the Koshka Foundation. She encourages people to be aware of their surroundings: If there's an active shooter, can you barricade the door or can you break through a window to escape?
In addition to her work with the Koshka Foundation, she's a co-founder of LiveSafe, an Arlington-based company that produced a mobile application that provides safety information and a real-time communication line between students and police. The purpose is to encourage people to share suspicious information and to give them tips on what to do in emergency situations. Tech is among numerous schools that have adopted the app.
"I think one of the biggest lessons we learned from Virginia Tech was that when it comes to prevention and response to situations like active shooters, you cannot separate the school from the people," Anderson said. "They need to receive an education and clear guidance on what to do and know it's their responsibility to be aware of their surroundings and share information."
Sue Riseling, executive director of the International Association of Campus Law Enforcement Administrators, said one of the biggest challenges in campus security is the individual "angry person" who may be hard to detect.
"Those people make university policing very difficult," said Riseling, former police chief of the University of Wisconsin-Madison Police Department. "What happened at Virginia Tech was a terrible tragedy, but it ended up being an incredible catalyst for changes that have made people much safer and have resulted in people getting help."

The official report noted that Virginia Tech did not have a threat assessment team, which is a collaboration of various campus groups — police, student affairs and counseling services, for example — that use intensive efforts to identify troubling behavior and potential violence and take steps to get people help. Tech was criticized for missing many warning signs about the student gunman and failing to connect the dots and intervene before the shooting.
Gene Deisinger, who directed Tech's assessment program after the shooting, said institutions are starting to work on how best to determine whether their programs are effective since it's hard to establish if or why something violent didn't happen.
"A lot of people who are thinking about using violence, and even those taking steps to prepare for it, do not in fact ultimately carry it out," he said. "So we can't use the presence or absence of violence as the primary meaningful outcome variable."
He said teams can evaluate their efficacy by looking at other measures, such as whether someone's behavior has continued to escalate or not or whether a person actively participates in counseling services.
While there was a proliferation of threat assessment teams across the country after the Tech shootings — Virginia, for example, requires such programs in K-12 and higher education — Deisinger said one error he sometimes sees is that colleges only assess the students, and not the faculty or staff, who can bring domestic violence to the workplace.
Another way colleges and law enforcement have been trying to stay ahead of the next threat is keeping their eyes on each new violent episode across the world to glean lessons they can use to improve their prevention and response strategies.
Around the same time a student opened fire at Umpqua Community College in rural Oregon in October 2015, leaving 10 people dead, Hollins University finalized plans to stage an active shooter training scenario on its small Roanoke County campus. By December, simulated shots rang out across the Hollins campus as the Roanoke County Police Department, Fire & Rescue and other agencies practiced how they would respond to an attack in locations across campus.
Smaller, more rural campuses that don't have a sworn police department typically rely on a strong relationship with local law enforcement. Kerry Edmonds, vice president for finance and administration at Hollins, said the training was valuable to stay ahead of the evolving threats campuses face.
"Testing the systems in place and coordinating together with the local authorities and first responders is important," Edmonds said. "We know what to expect from them, they know what to expect from us, and the more we practice, the better we can be."
Deisinger said the most disabling thing for a school is "getting caught in the unknown unknowns," or violence no one could conceive of.
"We should never fool ourselves into thinking we can prevent every bad act," he said.
What happened at Virginia Tech was the kind of event that rattled a lot of colleges, Deisinger said, because they realized they weren't prepared to respond to something similar. What schools can do is to improve their security measures so they at least have the opportunity to prevent the kind of violence they don't know yet exists, he said.
"April 16 is a part of Virginia Tech's history," Foust said. "We will never forget what occurred on April 16. We will never forget the sacrifices that were made and the suffering of the families of those left behind. We continue to work toward a better future, and we are always looking to improve ourselves."