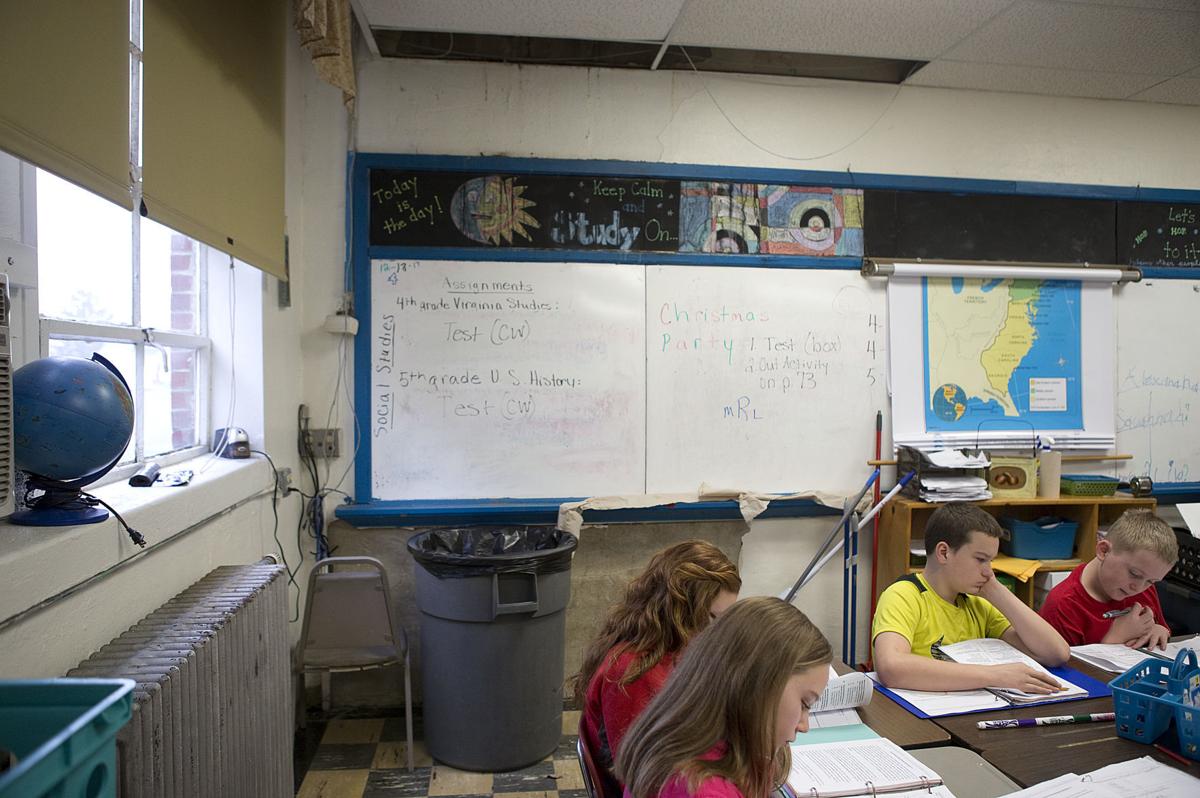 RICHMOND — After another year of state legislators talking about how important it is to help localities repair and replace crumbling public schools, they aren't headed toward putting money toward the problem.
Sen. Bill Stanley, R-Franklin, brought back a bill for the third year in a row to set up a fund that school divisions could tap into to address to fix roofs and other infrastructure. The bill the Senate passed Tuesday doesn't have any money allocated to the fund.
"It's about time the General Assembly understand that we have a huge, multibillion dollar problem in front of us," Stanley said.
Sen. Creigh Deeds, D-Bath, said he's tired of hearing all of the talk about fixing schools but no willingness to spend money to do it.
"Something like this is critically important to the communities I represent," Deeds said. "And they get excited anytime they hear anybody talking about it, but it doesn't include money. We're dancing around the head of a pin. We're not doing anything."
Deeds proposed increasing the statewide tax on individual incomes above $150,000 per year from 5.75% to 5.9%. He said the revenue — about $134 million generated in fiscal year 2021 — would be split between raises for law enforcement and funding for school construction.
"This bill is my effort to put real money behind both of these issues," Deeds said.
Sen. Janet Howell, D-Fairfax, chairwoman of the powerful Senate Finance Committee, told Deeds during a committee meeting that she has "real urgency" around the issues he raises, but she doesn't want to make "piecemeal" changes to tax policy. She plans to form a special joint subcommittee to examine the state's income tax and whether it can be made more progressive by tying tax rates to how much income people earn.
Schools across Virginia — especially those in rural and urban communities — are crumbling. In some schools, rainwater leaks into classrooms, teachers turn on dehumidifiers so posters don't peel off the walls, ceiling tiles are falling, mold grows in the walls. In some cases, Virginia schools even face rat infestations.
"It's absolutely horrible what these children are exposed to," Sen. Dave Marsden, D-Fairfax, said.
Del. Israel O'Quinn, R-Washington, is carrying a bill of his own to set up an empty fund to support school construction needs. He just needs his colleagues working on the budget to put money into it.
After the recession, spending on school construction and other areas in Virginia dropped. Before 2009, a few sources of state funding were available to help with capital costs. For example, a school construction grant fund boasted an annual budget of $28 million, offering districts an average of $202,000 a year.
Localities shoulder the burden of building schools. The poorest local governments already have the least amount in their budgets to go toward school infrastructure needs, so the schools get worse.
Del. David Bulova, D-Fairfax, voted against O'Quinn's bill in committee, questioning where the money would come from and whether the legislature could come up with enough to meaningfully tackle the problem.
"We're potentially shifting what has long been a local responsibility to the state having a share of that," Bulova said.
Gov. Ralph Northam, who bemoaned the commonwealth's "crumbling schools" in his inaugural address, got the legislature to agree to his proposal last year to direct tax revenue from future casinos to school construction. It could be a few years before the five casinos are operational, but they would generate an estimated $114 million in annual revenue for schools.
In the meantime, localities in desperate need of cash to upgrade and replace schools are asking for the General Assembly's permission to raise their own sales tax.
In the past two years, six rural localities that sought that permission put it to the voters: should the sales tax increase by no more than 1%, with that revenue going toward school construction projects? In those localities — Charlotte, Gloucester, Halifax, Henry, Northampton, Patrick — residents voted yes.
Isle of Wight County asked the legislature this year for permission to do the same. The county administrator said the school division needs two new elementary schools, and increasing the sales tax would mean not having to increase the real estate tax as much.
On Tuesday, the Senate initially rejected allowing the Isle of Wight voters to decide whether they want to increase the sales tax. All the Democrats supported the bill, while most of the Republicans were against it. But the Senate then decided to delay a vote on passage until Wednesday.
Halifax County was the first to get this ability from the legislature. Superintendent Mark Lineburg, superintendent of Halifax County Public Schools, said the sales tax increase — which 71% of voters approved to last through 2051 — allows them to raise about $3 million each year. He said the locality has five aging elementary schools it needs to deal with.
"It's been a huge lift to our county," Lineburg said.
Lineburg said numerous localities have reached out to him to learn more about the decision to do this because they're interested in increasing their sales tax as well. Lineburg said the General Assembly should allow all localities the option to do this.
Sen. Emmett Hanger, R-Augusta, opposed localities increasing their sales tax one by one and favored a more comprehensive approach to raising the money.
"We'll need to address this issue at some point," Hanger said.