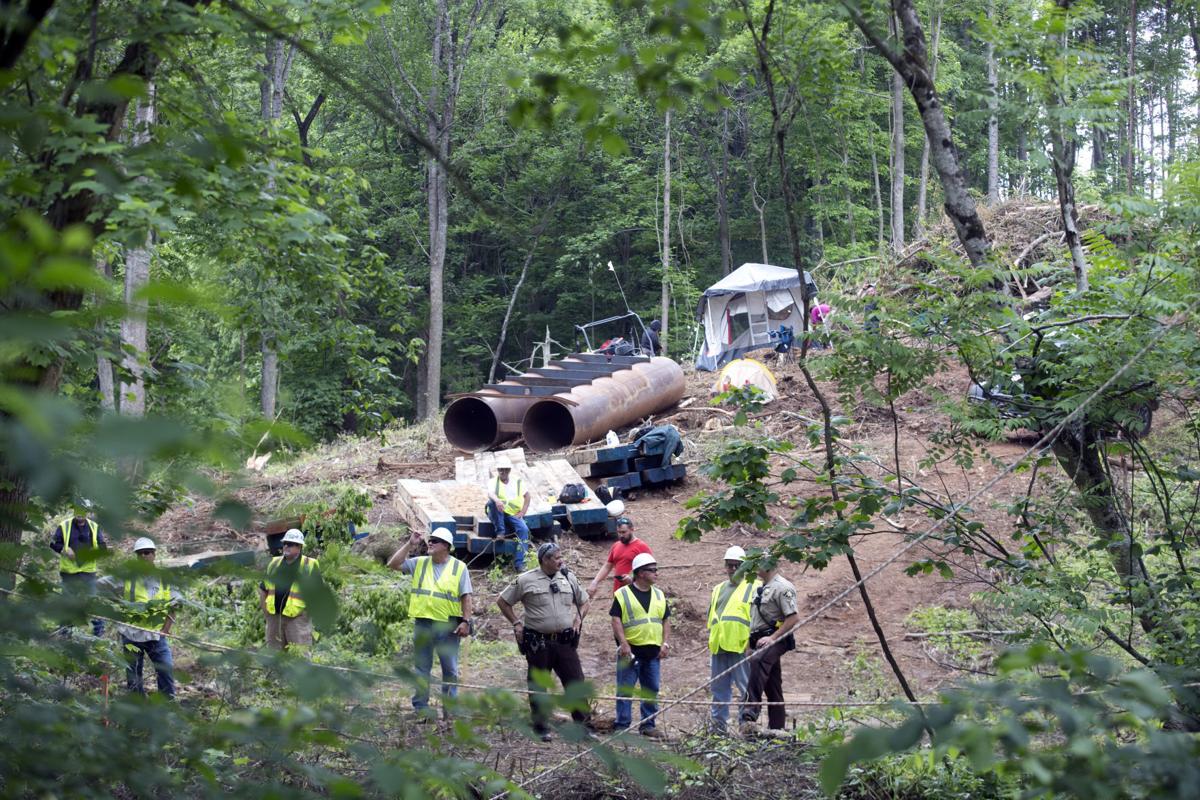 Franklin County plans to ask the Mountain Valley Pipeline to cover public safety costs it has incurred as a result of the project.
The idea to bill the pipeline's builders stemmed from a meeting between pipeline and county officials to discuss public safety. After concerns were raised that an influx of calls to law enforcement during construction would pose a financial burden to the county, a pipeline representative suggested such costs be passed on to them, according to multiple county officials in attendance.
Supervisors Ronnie Thompson and Mike Carter, both opponents of the pipeline, attended the meeting. Thompson recalled being told the pipeline "was to never cost the municipality anything when it came down." He took that to mean Franklin County can bill Mountain Valley for associated costs, and directed county staff to look into doing so.
County Administrator Brent Robertson characterized comments made at the meeting as more of a conversation than a formal agreement. He said the county's approach to billing Mountain Valley for such costs is still evolving.
For example, county staff and the board of supervisors have yet to discuss whether they will seek to recover only law enforcement's overtime expenses, or all expenses incurred by responding to pipeline-related calls. The "crux of the discussion," Robertson said, will be whether officials consider the response from law enforcement to fall within the realm of everyday responsibilities or something extra.
Natalie Cox, a spokeswoman for the Mountain Valley Pipeline, did not say whether the company would reimburse Franklin County for such expenses.
"There have been no formal arrangements for reimbursing any locality along the MVP route for public safety-related expenses associated with construction of the project," she wrote in an email.
Franklin County has not yet sent an invoice to Mountain Valley . Robertson said it will do so once the expenses reach a certain threshold, though county staff must still determine what that is.
In the meantime, the Franklin County Sheriff's Office is keeping a log of pipeline-related calls. From March to mid-June, the sheriff's office spent about $7,000 on pipeline response, according to Maj. Mike Bowman. He said the cost is calculated based on the hourly rate of the deputy who responds to the call, or the overtime rate. Just under $2,000 of the total consists of overtime pay.
Deputies have responded to calls both from citizens and pipeline workers. Complaints vary from trespassing, to traffic, to brandishing firearms, Bowman said.
The sheriff's office does not take a position on who should cover such costs, Bowman said, and will leave that to the board of supervisors and county administrator to decide.
"We're here to protect both sides and making sure that peace is being kept," Bowman said.
Franklin County Public Safety will also track pipeline-related calls, but director Billy Ferguson said the agency has yet to field any.
"We will attempt to recoup our costs if we have any, but we haven't had any so far," he said.
Thompson, the Boone District supervisor, said he doesn't believe taxpayers should pay for police, fire or rescue response related to the project. It makes sense to ask the company to pay for emergency response, Thompson argued, because without the pipeline, these calls wouldn't be coming in.
If the company declines to pay up, Thompson said he won't hesitate to call and say "Hey, what's the deal here?"
Carter, the Rocky Mount District supervisor, said he's glad the county is attempting to recover the costs, and he'll be interested in seeing whether Mountain Valley reimburses them.
"I would like to see MVP put their money where their mouth is," he said.
Carter had a simple explanation as to why he feels Mountain Valley should cover the cost of law enforcement's response: "They're creating the problem."
He advised other counties to follow Franklin's lead.
Roanoke County may. Assistant County Administrator Richard Caywood said it's something officials are evaluating. If they did attempt to recover costs from Mountain Valley Pipeline, it would likely be related to law enforcement.
Caywood said the county would be focused on out -of -the -ordinary, sustained expenses tied to a particular event, rather than each individual pipeline-related call that demands a response from law enforcement.
Caywood cited the 34-day protest in which Theresa "Red" Terry and her daughter Theresa Minor Terry occupied trees in an effort to block the pipeline from cutting across family land on Bent Mountain as a prime example. Response by county police cost just under $92,000. Caywood said a good chunk of it — approximately $53,000 — was overtime pay.
Such an event has a significant impact on the budget, Caywood said, whereas an officer spending an hour or two responding to a call does not.
"The issues that took place there at the Terrys' were out of the ordinary and they tied up a lot of people for a significant period of time," he said. "We could kind of directly capture and point at that."
The Montgomery County Board of Supervisors does not currently plan to make a similar effort because the sheriff's office has yet to rack up overtime hours in relation to the pipeline, said Chairman Chris Tuck.
At a recent board meeting, supervisors asked the sheriff whether he needed more manpower to respond to pipeline-related calls. They were told the department had been able to manage thus far with it existing staff working regular hours.
"The sheriff indicated at this point in time there were no additional costs that he had incurred," Tuck said.
Meanwhile, Mountain Valley is trying to recover some unexpected costs of its own.
The company is seeking just over $18,500 from Franklin County landowners Ian and Carolyn Reilly to pay for attorney's fees and expenses.
In the motion requesting that the fees be reimbursed, Mountain Valley argued it would be "a proper remedy for the Reillys' willful disobedience of the Order."
Be the first to know
Get local news delivered to your inbox!