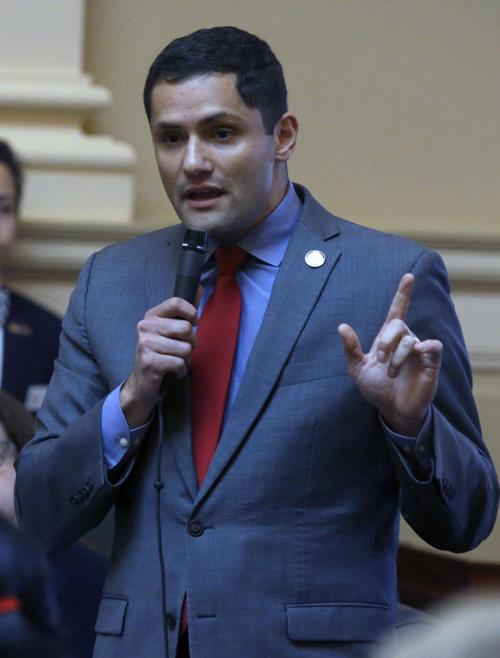 RICHMOND — Matthew Savage was able to testify to a House committee because his Fairfax County high school has a policy to excuse students for participating in a civic activity.
Savage, the chairman of the Virginia Young Democrats Teen Caucus, was speaking in support of a bill to ensure more students in Virginia have that same ability. The bill from Del. Sam Rasoul, D-Roanoke, would require the Virginia Department of Education to establish guidelines so that middle and high school students who are absent from school to attend a civic or political event can receive an excused absence.
"This bill will energize students to get involved with politics, and that's good for the commonwealth and the country," Savage said.
The bill passed the House floor Friday on a vote of 62-37. It heads to the Senate for its consideration.
Rasoul said that not all school divisions have adopted specific policies to provide for excused absences for students to participate in political and civic activities.
"Some of the best educational experiences happen outside the classroom," Rasoul said.
Josh Lyon, secretary of the Teenage Republican Federation of Virginia, said this policy would help encourage young people form a habit of civic engagement early that will last into adulthood.
"In rural areas, voter apathy runs rampant because many citizens feel forgotten and left out," Lyon said. "By allowing young people to get involved in the political system without being penalized with an unexcused absence could go a long way toward breaking that cycle of voter apathy in rural areas."
Facial recognition technologyThe House passed a bill to set up barriers to law enforcement agencies using facial recognition technology.
The technology allows law enforcement to match a picture or video of someone's face to databases of photos. While law enforcement officials argue that facial recognition can improve public safety, the technology has set off controversy in recent years over concerns about privacy and false matches.
The bill from Del. Lashrecse Aird, D-Petersburg, would prohibit law enforcement agencies from adopting the use of the technology unless the local government body authorizes it. Campus police also couldn't use it unless the college or university's governing body gave permission.
The bill unanimously passed the House Thursday and heads to the Senate.
The Joint Commission on Technology and Science is going to study the technology, which could lead to the use of it with regulations or an outright ban.
In the meantime, Aird said her proposal adds limits until that study is completed. She said there are too many unknowns about how the technology works, how law enforcement is using it and its flaws. She also said it's important that communities are aware that their law enforcement agencies are using it.
Asian and African American people were up to 100 times more likely to be misidentified with the technology than white men, according to a 2019 federal study.
"The technology is not ready for prime time," Aird said. "There is a lot of work that needs to be done before these databases can be used so they don't bring harm to communities of color."