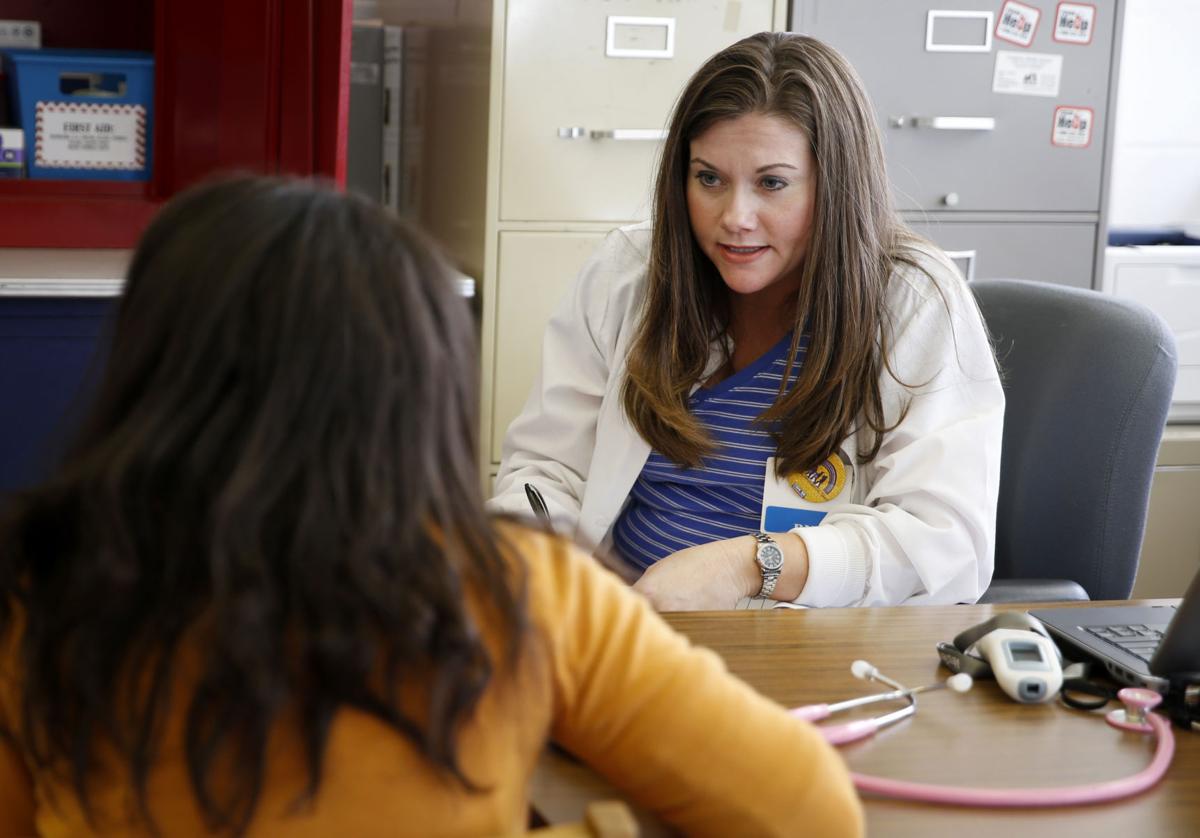 When Dana Hollifield moved to Virginia in 2014, the plan was for her to continue working as a school nurse.
But unlike her previous state, Massachusetts, Virginia didn't require every school to have a nurse on staff.
That was a problem for Hollifield. A big problem.
Because Virginia didn't require nurses at each school, she was asked to help others — nonprofessionals — treat students dealing with Type 1 diabetes, seizures, severe allergies, asthma and other ailments.
"I had to walk away from working as a school nurse in Virginia, because I didn't feel like I could protect my [students] and I did not feel like I could protect my license," said Hollifield, who quit in 2016 and now is an at-home pediatric nurse.
Nurses, students and a legislator from Stafford County have joined forces to try to make sure every child in the state has access to a nurse while in school.
The effort is being led by Del. Mark Dudenhefer, R-Stafford, who has sponsored legislation calling for every school board to employ at least one nurse at every elementary, middle and high school, or one for every 550 students.
The bill, HB1757, was advanced out of the Elementary & Secondary Education Subcommittee on Wednesday and will be heard by the House Education Committee today.
Nurses, Hollifield said, are essential given all the ailments students face. They see everything from a child getting sick in class to a diabetic student whose blood glucose must be monitored and insulin dose adjusted.
Nurses also are the first medical professionals on site when there is an emergency and, in high-poverty areas, may be the only exposure to health care for some young people.
Hollifield said having "unlicensed, unregulated laypeople" dealing with complicated medical procedures could have disastrous results.
"I said no," Hollifield said of handing off duties to those who aren't fully trained. "I can't do that."
According to the Virginia Association of School Nurses, the state has one school nurse for every 829.7 students.
The issues students face when there is a lack of nurses extends beyond having access to medical care, parents say.
Molly Alonzo has two daughters with Type 1 diabetes attending Fairfax County schools. She said multiple issues have arisen because of the low number of nurses in the county.
Alonzo and her husband, James, moved to the county five years ago from California, where the girls had a registered nurse at their schools.
"We thought it would be a simple matter to continue their support in Virginia," Alonzo said. "We even made an additional endocrinologist appointment to make sure we provided Fairfax County Public Schools with an order from a local doctor. However, within four months, we discovered that (the district) was not providing this support, and in many cases actively opposing it."
In a presentation last April, Fairfax's health department reported that "each year the number of students with a health condition increases" while the "nurse-to-student ratio worsens with the increasing number of students."
The presentation showed the county has 65 nurses — and 200 aides — serving about 185,000 students at 196 schools. About 27 percent of the students in Fairfax have a health condition.
Alonzo said while aides at schools are trained to support students, they aren't prepared to handle some of the more complex issues that might arise.
For kids, not having a nurse on staff creates a whole other set of issues.
Corinne Alonzo, 13, said that because there was not a nurse available to treat her diabetes, she was forced to sit and watch while other children in her third-grade class ate snacks at birthday parties.
Teachers would place her treat in a plastic bag and send it home with her.
Not being able to participate, she said, made her feel isolated from other students, a feeling that was only made worse in fifth grade when teachers would segregate students by medical conditions on field trips.
The state Board of Education, which is working with Dudenhefer, is recommending to the General Assembly that the Standards of Quality be revised to require one full-time school nurse for every 550 students.
Dudenhefer originally sought one nurse for every 1,000 students, but later amended the bill.
To help offset the cost of hiring the additional nurses, Dudenhefer has filed a $1.8 million budget amendment.
Because the state is beginning the second year of a biennial budget, the subcommittee, with Dudenhefer's consent, amended the bill to make it effective July 2018 rather than July 2017. This extra time would allow lawmakers to figure out the funding.
But the Virginia Association of School Superintendents argues that the bill, while increasing the cost on school districts, will be very difficult to put in place.
They say many areas, particularly in Southwest and Southside Virginia, are dealing with nursing shortages. How, the association asks, is the district supposed to find nurses when hospitals are having a difficult time finding staff?
"How am I going to fulfill the requirement of one per building when the hospital can't fill its own requirements for nurses? There's some very definite concern," said Thomas Smith, the legislative liaison for the association.
"I won't argue the importance of school nurses. I had them as a superintendent, and I think they play a good function," he said.
"But there are difficulties with implementation when we don't consider availability of staff and funding. And for that reason, we're opposed to this bill."