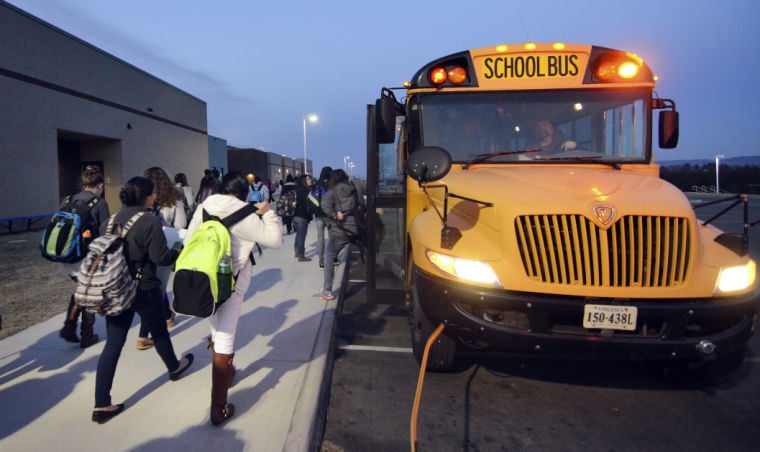 CHRISTIANSBURG — The Montgomery County School Board voted 5-2 early Wednesday morning in favor of a plan that will bring students back to class with conditions on Sept. 8 and that establishes numerous measures for mitigating the spread of COVID-19.
The marathon meeting, which started early Tuesday afternoon, mostly tackled the reopening, an issue that has sparked debate and controversy among school districts across the country.
The board's entire reopening discussion involved a more than hourlong back-and-forth on the school year start date alone. Most members eventually agreed on Sept. 8 as the first day of school.
The initial proposal was to start the school year on Aug. 13, but several board members balked at the potential dangers of the date.
"I am generally … a risk taker, but in this case I feel I do not want to take the risk," said Sue Kass, who was one of the two board members who voted against the reopening plan. "My concern is if we get started and all of the sudden we have to stop, then we got to go back. Now you got sick students, some sick teachers. It's going to make implementation even more difficult."
While he voted in favor of the overall plan, board member Mark Cherbaka was specifically against the reopening date. In fact, he said he doesn't find it prudent for students to return prior to mid-September.
"I don't like any one of those options," he said, referring to the eventually approved Sept. 8 date and other proposed dates of Aug. 13 and Aug. 27.
School board member Marti Graham, however, said the expertise shared by local health officials provided reassurance for the reopening dates that were considered. She also voiced concerns about a delayed start affecting the welfare of certain students.
"I feel like the task force that we have is going to take care of us. They will do their best to contain things as quickly as possible," Graham said, referring to a group formed to handle the local COVID-19 pandemic response.
Board member Dana Partin echoed some of Graham's points about the expertise from local health officials.
"If I thought it was unsafe for me to send my own child back, I wouldn't," Partin said.
Partin also commented on how local COVID-19 numbers have been more favorable than in other regions such as Northern Virginia.
Partin initially favored the Aug. 13 reopening date, but later supported Sept. 8 as part of what she said was a compromise.
Students with Montgomery County schools won't be allowed to return all at once.
The approved reopening plan will let 50% of pre-K to 12th grade students attend class on four half days a week. The few other groups that will be allowed to return under the same conditions include students without access to the district's mobile wireless network.
The board's passage of the reopening plan comes about a month after the elected body passed schedules for when students will be allowed in schools.
The schedules call for elementary school students to attend half days, with half of the students taught in the morning and the other half in the afternoon.
For middle and high school students, the schedules call for two in-person class periods a day, alternating morning and afternoon sessions every other day.
When not in the classroom, those students would take online courses from home.
The schedules also call for all schools to be closed on Wednesdays for deep cleaning, teacher workdays and other activities.
Families can choose between in-person and remote schooling.
In the reopening plan approved Wednesday morning are requirements regarding the wearing of face masks, which both administrators and school board members said have been determined to play a key role in lowering transmission of COVID-19.
Face coverings — MCPS officials describe these as masks and shields — will be required of all students. Staff will be required to wear coverings around students and around other staff when a 6-foot distance can't be kept.
During the discussion on face coverings, school board member Penny Franklin said much of the research and expertise has determined that "base covering is what's controlling the virus."
Board member Jamie Bond, however, did raise concerns about compliance among younger students.
"What is going to happen to that 4-year-old who continuously takes his face mask off?" she said.
Responding, Jason Garretson, the MCPS director of student services and safety, said Bond's question was fair. He said efforts will be made to try to ensure compliance. He said the district faces similar challenges when it comes to getting younger students to stop habits such as nose-picking.
Another condition is that parents and staff will be required to complete a safety commitment form at the start of the school year indicating that they'll conduct a health screening prior to, respectively, going to work or sending children to school.
The form asks that certain obligations be followed each day. Among the obligations is parents ensuring students are free of COVID-19 symptoms prior to attending school each day. Among the symptoms listed in the form are fever, chills, cough, difficulty breathing, loss of taste or smell, muscle aches and vomiting, all of which the document states have been listed by the Centers for Disease Control and Prevention.
Franklin, who voted against the reopening plan, took issue with the section regarding health screenings and voiced doubt over whether some parents will be honest.
"I'm not going to vote on this because I think that's a joke," she said.
Her comment was in specific reference to how each safety measure in a draft of the plan came with different options, each of which required consensus before they were worked into the final plan.
The board on Tuesday evening also heard from local officials involved with the local health task force, including Blacksburg Police Chief Anthony Wilson and New River Health District Director Noelle Bissell.
Bissell said the number of local COVID-19 cases is anticipated to rise within two to four weeks after Virginia Tech and Radford University students return to the area. She said it's unclear if there will be a major surge in cases, but that numbers will "absolutely go up."
Bissell said one of the task force's duties has been efforts to mitigate the college students' interactions with the area's higher-risk population.
For example, that has included working with the students to identify alternative ways to shop, an issue that can bring them within proximity of at-risk groups, she said.
"We have to accept that there's going to be some sustained community transmission," she said. But "the goal from the get-go was to prevent transmission from overwhelming our health care systems."
Bissell, who raised the importance of measures such as face masks, voiced optimism toward the MCPS reopening plan.
"I think your plan to space the students, have hand-washing, hand sanitizers … is going to cut things way down," she said.
Bissell said she understands the concerns of school board members who are apprehensive about the upcoming reopening. But she said the issue must be put into perspective.
Bissell said media and social media sites have been unhelpful with the panic surrounding COVID-19, which she added carries a death rate of less than 1% for people under 70 years of age.
Bissell's comments became a point of contention later among some board members, with Kass saying that some of the health official's points seemed more like views and judgments rather than facts.