Master Deputy Antonio Hash emerged as the victor in Tuesday's two-man primary race for Roanoke sheriff.
Hash, 41, claimed nearly 54% of the vote total posted in the public primary to pick the Democratic nominee for the city office, with all precincts reporting.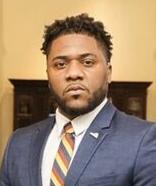 No Republicans or independents have announced a run for the seat, making Tuesday's primary winner poised to become the city's next sheriff.
Hash is a 13-year veteran of the sheriff's office. He's currently a school resource officer and previously worked as a corrections officer, court bailiff and accreditation team member with the agency.
A Roanoke native, he's also a founder of an organization, UBU, that does service work in the community.
Hash couldn't immediately be reached by phone late Tuesday. In a video posted online that morning urging voters to head to the polls, he said he'd be a progressive voice in office.
"Today, we make history. Today, we make a new mark for our city," he said.
The two-man race for the Democratic nomination also included retired Lt. Lee Hill, 50, who's also a Roanoke native and a veteran of the sheriff's office.
Hill said he was at peace with the outcome and wished all the best for Hash.
"I thank every Roanoke City citizen who came out to vote," he added.
Roanoke's sheriff heads an agency that is responsible for the city jail, courthouse security and civil document service.
The office oversees a staff of more than 200 and an inmate population that can number around 600 people on an average day.
The new four-year term for the seat starts in January after the general election in the fall.
On the campaign trail, Hash called for reviving the agency's citizens academy and starting a quarterly community forum. He said his credo was: We can do it better together.
Hash also spoke of the importance of mental health services in the jail and of transition services to help people leaving custody.
Tuesday's vote tallies will be reviewed and certified by the electoral board in the coming days.