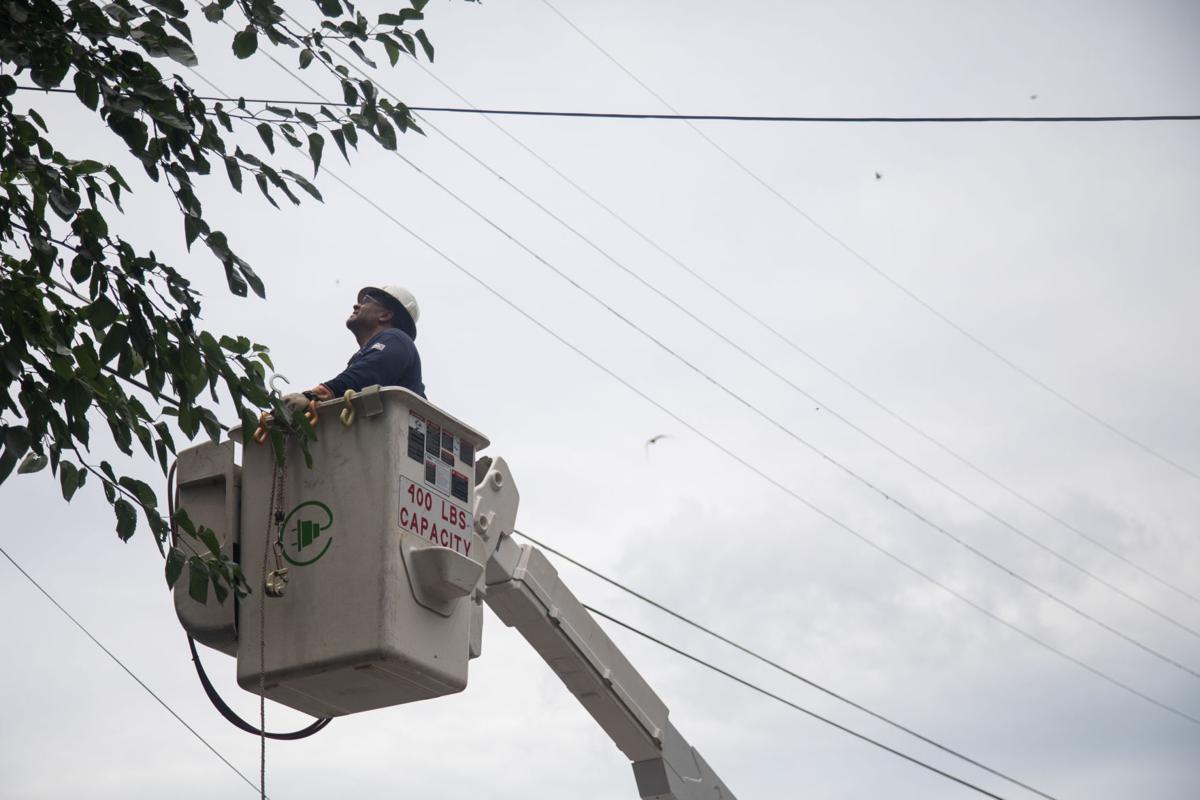 Appalachian Power Company plans to make transmission line upgrades along a 12-mile stretch in Lynchburg and Bedford County.
The Reusens-New London Transmission Line rebuild project would replace electric transmission structures that have existed since the 1940s, upgrading and strengthening the transmission system and increasing electric reliability. Upgrades also will bring equipment into compliance with the National Electrical Safety Code, according to a news release from APCo.
APCo's upgrade project application must be approved by the Virginia State Corporation Commission before commencing. If approved, construction is expected to start in summer of 2022 and be completed by the end of 2023.
"We're really working to try to increase the reliability in Central Virginia," said APCo spokesman George Porter, based in Roanoke. "Our local group is always monitoring the reliability of our transmission lines throughout our service territory. Every year, we always have projects we have in mind that we want to look at and try to increase their reliability."
Existing wood poles will be replaced with steel poles, according to APCo's plans. The poles are currently made of wood approximately 80 years old, and Porter said steel should improve their durability through storms and other natural phenomena that can affect power.
The company hopes upgraded steel poles also may reduce outage times, Porter said, since outage sources can be pinpointed more precisely with technology on the steel poles instead of crews having to spend time searching out the problem on site.
The new poles will be the same height as the existing poles.
Upgrades will begin at a substation located on Old Trents Ferry Road in Lynchburg and head south for about 12 miles, crossing Boonsboro Road, U.S. 221 and U.S. 501 before ending at a substation off Thomas Jefferson Road in Bedford County.
Property owners who might be affected are invited to a virtual open house at AppalachianPower.com/Reusens-NewLondon. Also available on the site is a fact sheet and project map, with a place for citizens to reach out with questions or concerns.
APCo will mail informational packets to landowners in closest proximity to the planned construction, Porter said, those living within about a 50-foot radius of anticipated construction sites. He estimated some 250 property owners would receive mailed packets.
Normally, Porter said, the power company hosts one or two open houses in person where residents can meet representatives and address questions or concerns. However, with the novel coronavirus pandemic and public health regulations to juggle, APCo had to adjust and seek an alternative way to facilitate communication.
"It's definitely been challenging, because we take pride in our open house process," Porter said. "With the pandemic, we've had to try to be more creative — as everyone has — in how we can still communicate with the public."
He said by using the virtual open house, apps and ads, the company hopes to raise public awareness and draw customers to the project site to learn more. Porter added virtual meetings could be arranged with customers who desire a face-to-face talk addressing questions related to the project.
Bedford County administrator Robert Hiss said the county has not received comments or concerns from county residents about unreliable power but said county staff is aware and supportive of the planned project after meeting with APCo project managers. A large portion of the county is serviced by APCo, he said.
"I think any time infrastructure and such can be upgraded and improved, that's good for our community," Hiss said.
APCo project managers also met with the interim city manager and community development director in Lynchburg to discuss the project, Porter said.
"We are excited about the investment that AEP is making in the reliability of the power grid in the community, and also the changes they are doing to the actual structures," said Kent White, community development director in Lynchburg.
Porter said power would not be interrupted due to construction once the anticipated project is underway. No new poles will be erected; only property owners with poles already existing on their property will see construction on their land.
APCo does not yet have a project cost estimate, Porter said. Figures should come closer to when the application is filed with the State Corporation Commission. Assuming the project is approved and proceeds, APCo customers can expect to see a small increase in their bills to the company to help cover project costs.
"We don't have those specifics now, but it's normally dimes, not dollars," Porter said Tuesday.
Get local news delivered to your inbox!
Subscribe to our Daily Headlines newsletter.