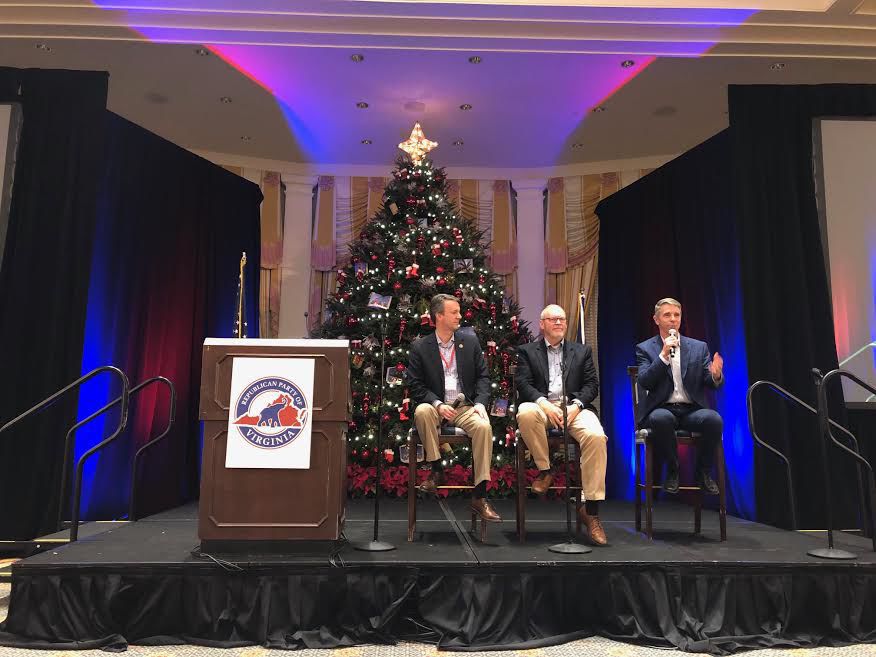 HOT SPRINGS — It's been one month since Republicans suffered defeat at the ballot box that resulted in Democrats taking control of the General Assembly, and they're drinking a lot of booze in the remote mountains of Bath County.
In rooms throughout the Omni Homestead Resort on Friday night, macaroons and cream puffs covered tables as a few hundred Republican activists filtered in and out to mingle with their peers. In one room, they sipped liquor brought from the distillery owned by the wife of Rep. Denver Riggleman, R-Nelson.
Across the hall, they drank martinis at the marTINA bar named for Tina Ramirez, who is running for Congress. On the other side of the resort, they cracked open bottles of beer and took turns shooting Nerf guns for a chance to win prizes like a Scott Taylor for U.S. Senate camouflage hat, or pens shaped like bullets.
At the annual gathering known as the Republican Advance — intended to signal they don't retreat — Republicans were eager to put their losses behind them. The weekend started out enjoying one another's company at parties, and then, the morning after, having tough conversations about the future of the party.
"Are you ready to start winning again?" Del. Todd Gilbert, R-Shenandoah, asked about a hundred people Saturday morning at a breakfast.
There was light cheering and applause.
"I don't believe you," said Gilbert, who is the outgoing majority leader in the House of Delegates and incoming minority leader in January.
Gilbert said he hates to have to chastise his fellow Republicans, but he said there has been too much in-fighting that has been detrimental to the party when they should be focusing their fight on the Democrats.
"We've got to get back to a place where we're not fighting with each other," Gilbert said.
The electoral hangover for Virginia Republicans has been reoccurring for the past few years.
Republicans haven't won a statewide race in a decade. This year, they lost their majorities in the General Assembly, so now Democrats control the legislature and the three executive branch offices.
Republicans started 2016 with a comfortable 66-34 majority in the House of Delegates. After the election of President Donald Trump, their seats slipped to 45. Democrats have a 21-19 advantage in the state Senate.
Last year, they dealt with a controversial U.S. Senate run from Corey Stewart, a divisive politician who associated with white nationalists. Republican Ed Gillespie came close to defeating U.S. Sen. Mark Warner, a Democrat, in 2014. Several Republicans, including Taylor, have already lined up for a chance to take on Warner next year.
They also lost three congressional seats to Democrats last year. Numerous Republicans have announced they're going to compete to win those back. Dels. Nick Freitas, of Culpeper, and John McGuire, of Goochland, as well as Ramirez, who runs a religious nonprofit, are seeking the Republican nomination to challenge Rep. Abigail Spanberger, D-Henrico, a moderate from a Trump-friendly district who flipped a red seat with the help of suburban women voters.
As a suburban, Hispanic woman and single mother, Ramirez believes she is especially suited to reach those prized voters, who tend to be affluent and white. She's worried about rising health care costs. As a former public school teacher, she cares about children receiving a quality education and providing the support schools need.
"I can't speak to all suburban women in the district, but as one myself, I want people to stop wasting money and treating people like a piggy bank," Ramirez said.
Meanwhile, in a neighboring district, Republicans have been feuding internally about Riggleman officiating a same-sex wedding over the summer. Riggleman, who has a libertarian streak, inflamed social conservatives and drew himself a primary challenger, Bob Good. The fighting has spilled into the public with party votes to censure Riggleman, who has stood by what he did.
"Our message has to be positive, and we need to be solution-based," Riggleman said. "We also need to make sure we bring everyone into the party, be 'big tent,' and make sure we're about individual liberty and deregulation, what makes conservativism what it is. I think what you're seeing now is a readjustment. Instead of being the party of 'no' or pushing back on every single issue, we need to find common ground as we head into a new era for the Republican Party of Virginia, and I'm excited to try it."
Various people in positions with the state party have departed in the past few years, mostly recently John Findlay, the state party's executive director, who is leaving at the end of the year.
So things aren't going so well for the Republican Party of Virginia.
Party activists had various thoughts as to why Republicans have been losing in Virginia. They said they haven't been effective with their messaging and tailoring it to different voters. They're struggling with how Trump fits into their strategy, especially in the suburbs, where he's particularly unpopular.
"It's a combination of things, and there's no magic solution, but we need to figure out a way to start moving the ball down the field and not just sit in the locker room," said Jennifer Brown, the chairwoman of the 6th Congressional District Republican Committee in Western Virginia.
Attendees went to breakout strategy sessions like "Trump the Race Card," "Winning with Women" and "What Happened in 2019? A Candid Conversation with our Candidates."
At an event at the Virginia Press Association on Thursday, a journalist asked Jeff Ryer, the press secretary for Senate Republicans, to explain the party's decline in recent years and what the future holds. Ryer and people in the audience uncomfortably laughed at times.
Ryer noted the team sport atmosphere of politics now and the decline of split-ticket voting. Following last month's election, of the 140 seats in the General Assembly, there are only four seats in which the legislator is of the opposite party the district voted for president in 2016.
He said issues do still matter, and he cautioned against Republicans primarily basing their strategy on Democrats slipping up.
"There will be a change, and it will revert back when the opportunity is there," Ryer said.
Susan Swecker, chairwoman of the Democratic Party of Virginia, said a strong two-party system is important to a healthy democracy in Virginia.
"I think it's sad that we're laughing about the Republican Party of Virginia," she said.
Republicans in Bath County were anxious about what having so little political power will mean in the near future, but they were resolved to maintain an unwavering voice for their values until the political winds blow in their favor again.
"I do believe good days are yet to come, but we're going to have to weather a storm," Gilbert said.
Activists said they were walking away with a renewed determination to be better organized, run more candidates and figure out ways to work with one another without coming apart at the seams over an issue that divides them.