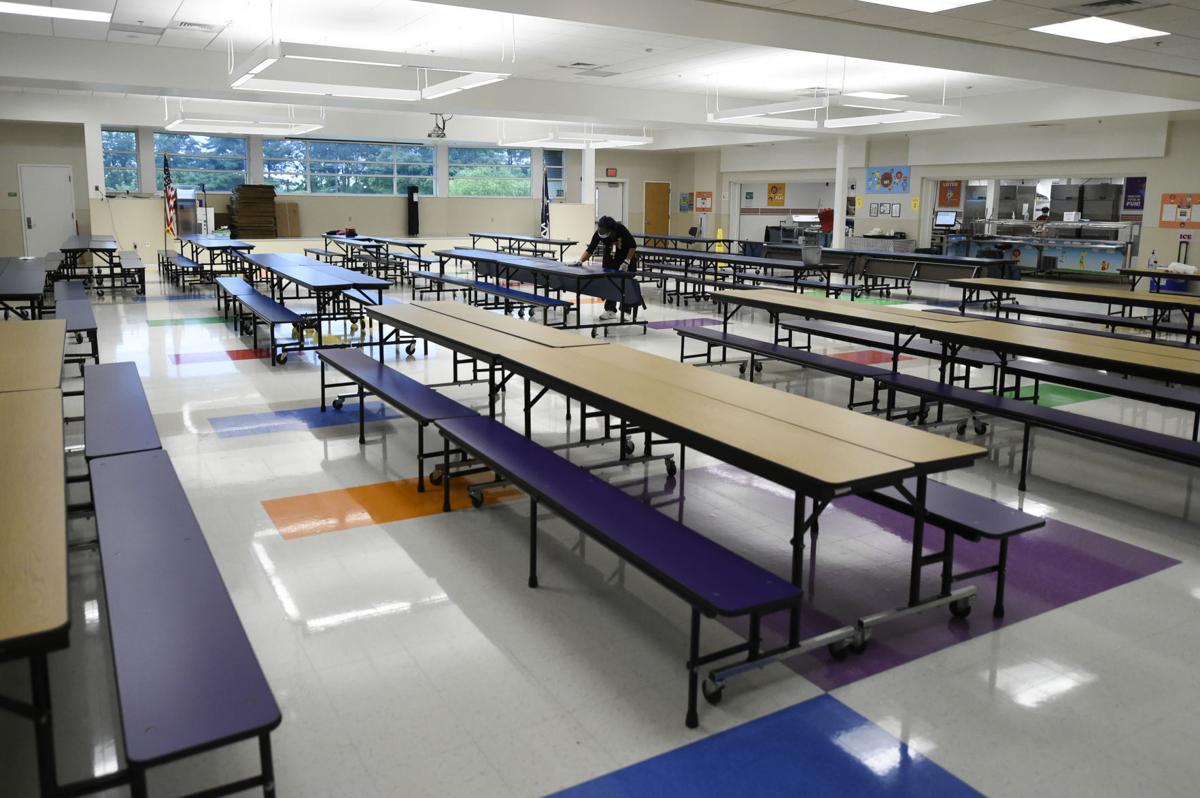 Roanoke and New River valleys school districts have started to report a handful of COVID-19 cases as students and staff settle back into the classroom. Classrooms have remained open in nearly every instance.
Botetourt County's Buchanan Elementary School on Monday moved one class online until Sept. 28 following a probable COVID-19 case that has "the possibility of multiple close contacts within the classroom," according to a letter sent to parents. Also, Montgomery County Public Schools has moved fourth through 12th grades online through Sept. 28, not as a result of positive cases but to preempt a projected spike in the area.
Montgomery County reported one case Monday, at Gilbert Linkous Elementary. The division also had a positive case in late August at Auburn High School before the school year started, according to its COVID-19 dashboard.
Botetourt County Public Schools has reported three cases. Two have been at Buchanan Elementary, one reported on Aug. 28 of an employee of an outside organization, and the other Monday. A Lord Botetourt High School student has also tested positive, according to a letter sent Monday to families.
In each instance of a positive case in schools, contact tracers work to identify whether the person who tested positive had close contact with others. "Close contact" is defined as being closer than 6 feet for at least 15 minutes, according to the Virginia Department of Health.
The Roanoke and Alleghany Health Districts notify families of students who may have been exposed to the virus.
Roanoke County and Roanoke have reported six cases each since classes began Aug. 24 and Aug. 31, respectively.
Since then, four more cases have been reported. Students at Bonsack Elementary, William Byrd Middle and Cave Spring Middle and a staff member at Penn Forest Elementary have tested positive.
The majority of Roanoke students are participating in virtual learning for the first nine weeks, but a limited number of students are in the classroom. One Fallon Park Elementary student has tested positive, according to spokesman Justin McLeod. Five staff members have tested positive: two at Lucy Addison Middle, one at James Breckinridge Middle, one at William Fleming High and one at Round Hill Elementary.
All six Roanoke cases included "possible exposure to others," McLeod said Monday.
Salem has reported three cases since classes began Aug. 31, according to spokesman Mike Stevens. The first case was reported Sept. 7 at Salem High School. On Monday, the district notified families of two more cases, another at Salem High and one at South Salem Elementary. The letters did not identify whether the positive cases were students or staff.
Franklin County has two staff members who tested positive, Superintendent Mark Church said on Tuesday. Three students have also tested positive, but they have not been in school, Church said.
Craig County has reported no cases since class began Aug. 31, according to school board clerk Sonja Switzer. Floyd County has reported two cases, both at Floyd High, since classes started Aug. 11, according to social media posts notifying parents.
Radford Superintendent Rob Graham said by email Tuesday that the school division has had "no COVID-19 cases contracted or transmitted within our schools."
Radford students were back in school Monday under the division's hybrid plan after a temporary move online. Classes went fully virtual Aug. 25, prompted by a social gathering that did not conform to health recommendations and included students, parents and school staff. The division chose to remain online longer as cases continued to rise in the city.