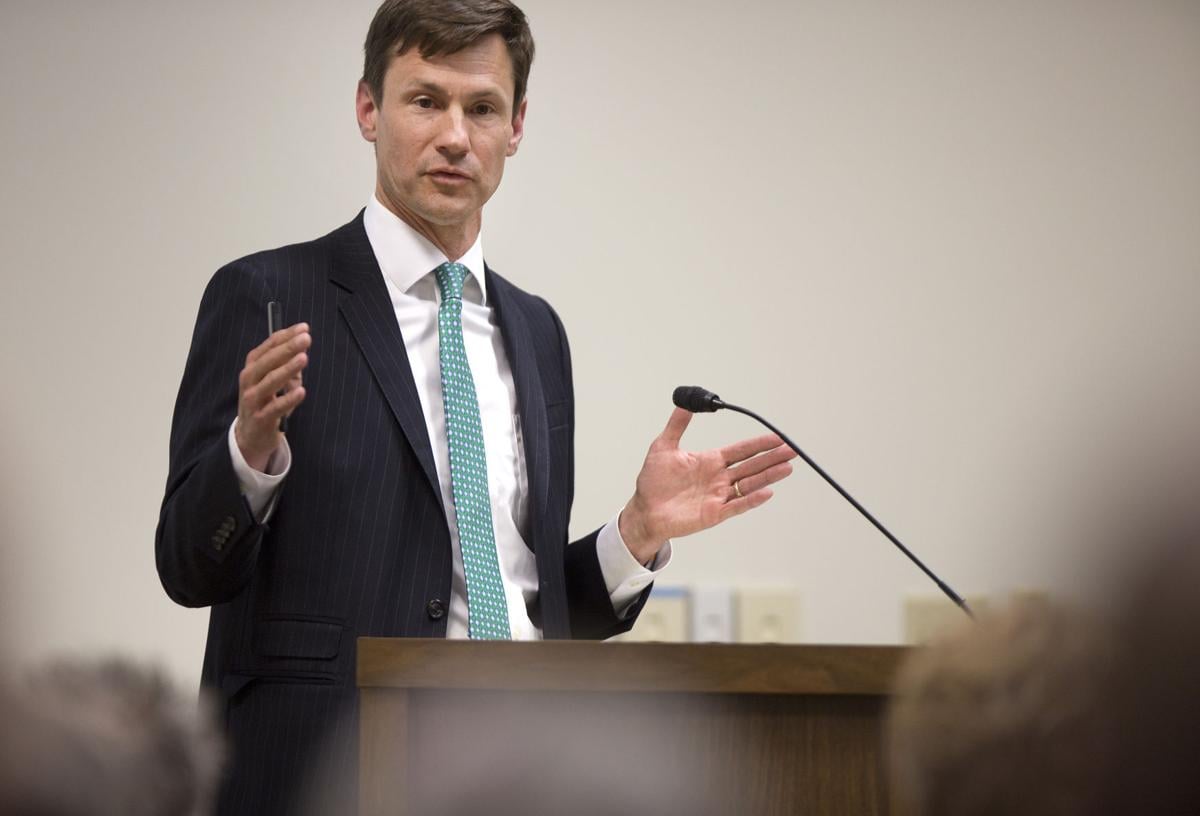 A developer has reintroduced a Brandon Avenue housing proposal similar to one Roanoke officials rejected.
As he did when the project failed in 2017, Robert Fralin proposes building four apartment buildings along Brandon Avenue between Brambleton Avenue and Main Street. The new version of his project, submitted June 1, also proposes town houses farther back, with Murray Run running between them and the apartments.
The tree-covered acreage sits about a third of a mile west of Towers Shopping Center. Fralin has bought the nearly 8 acres of land since his first development proposal went down to defeat by a city council vote.
Fralin did not respond to a request for comment and further project information.
"Say NO to 54 apartments and 15 town houses at 0 Brandon Avenue," says an online petition at change.org.
Chris Chittum, the city's director of planning, building and development, said he was not aware of any differences between the first proposal and the latest one that could address the objections raised in 2017.
The city planning commission is scheduled to hold a public hearing on the proposal at 1:30 p.m. Aug. 9 at the Noel C. Taylor Municipal Building. Planning staff are expected to release a written report during the week before.
City planners will receive written comments from the public and other interested parties emailed to planning@roanokeva.gov. Or, members of the public may appear to speak directly to the planning commission in August. COVID-19 restrictions that forced planners to meet on Zoom are likely to have been lifted by then.
In 2017, neighborhood organizations in Wasena, Raleigh Court, Grandin Court and Old Southwest, in addition to the city council, opposed Fralin when he first came forth with development plans for the property. They raised concerns about traffic at the intersection at Main Street, noise, loss of property values, and the placement of apartments near existing single-family homes.
City planning staff recommended the project be approved but were overruled.
State law allows a party denied a rezoning request to resubmit the project after waiting at least a year.
Fralin said previously that the existing zoning would allow construction of at least 33 houses — single-family detached dwellings — but he needed the zoning changed to allow the 54 apartment units he sought in 2017. After the project was defeated, a company official said in a prepared release that a new version would be presented more in line with what the community would accept.
"We are eager to work with the community and the City to put forth a plan that is more aligned with the City's interest," Brian McCahill, chief operating and chief financial officer for R. Fralin Companies, said in the 2017 statement. "We are open to different uses including commercial office and for sale housing. We are fortunate to have an unlimited timeline to meet the goals of all stakeholders. However, we are fully prepared to develop the property by right and will do so if we cannot come to a reasonable solution."