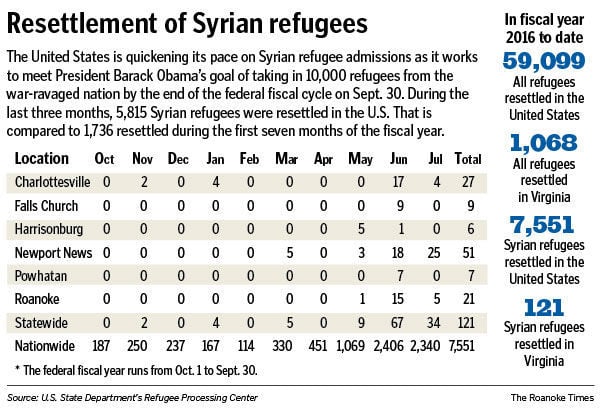 After a sluggish start, the United States has ramped up its number of Syrian refugee admissions, putting it within reach of meeting President Barack Obama's goal of taking in 10,000 Syrians by the end of the federal fiscal year.
The surge has included resettling 21 Syrian refugees in the Roanoke region over the past three months, a significant uptick from last year's total of just two admissions.
Roanoke has long been a hub for arriving refugees, with more than 800 accepted in the past five years, according to U.S. State Department data.
The acceleration of Syrian refugee admissions nationwide comes after Obama pledged to do more in the face of the deepening humanitarian crisis abroad.
The president, who plans to host an international summit on the refugee crisis next month, vowed to take in 10,000 refugees from war-racked Syria by Sept. 30. The commitment was announced weeks before the November attacks in Paris set off a heated political debate over refugee admissions and national security.
Work to meet the goal was slow initially, with federal authorities citing in part the need to comply with a multilayered vetting process that can take up to two years to complete.
But earlier this year, the administration beefed up staffing for the screenings and opened up more processing centers — a "surge operation" that started bearing fruit in May when 1,069 Syrians were resettled in the United States, compared with 1,736 admitted during the seven months prior.
The influx has continued over the objections of Republican leaders who fear the screening process is vulnerable to exploitation by Islamic State forces.
"No matter how many additional staff the Obama administration puts towards vetting, Administration officials, including FBI Director [James] Comey, have stated that the U.S. government does not have the resources and dramatically lacks the necessary information to fully vet Syrian refugees," said U.S. Rep. Bob Goodlatte, R-Roanoke County, chairman of the House Judiciary Committee.
Comey testified last year that there are "certain gaps" in the data available out of Syria, which has been ravaged by a five-year civil war and where the U.S. doesn't have the same on-the-ground network as other conflict zones like Iraq.
Goodlatte — whose committee led unsuccessful efforts to tighten the approval standard for Syrian refugees last winter — continued to call for a "pause" in Syrian refugee admission until security concerns are allayed.
The refugee debate has played out at all levels of government as world leaders scramble to respond to the millions displaced by the Syrian fighting.
To date, more than 4.8 million Syrian refugees have been registered by international authorities, fueling what's been described as the worst humanitarian crisis since World War II.
The White House has tried to ease concerns about the U.S. vetting process — organizing briefings for state governors last fall and stressing that refugees face closer screening than any other category of immigrants. The process includes in-person interviews, multiple background checks and collection of fingerprints and other biometric information. Syrians are subject to additional scrutiny.
By the end of July, or 10 months into the current federal fiscal year, a total of 7,551 Syrian refugees had been granted entry to the U.S. The vast majority of those arrived during the post-surge months since May.
Virginia resettled 121 of the arriving refugees. The highest numbers were sent to Newport News (51) or Charlottesville (27). Roanoke ranked third statewide.
Last year, Roanoke found itself thrust into the middle of the refugee debate after then-Mayor David Bowers came out in support of halting Syrian refugee intake and drew a controversial parallel to the U.S. internment of Japanese nationals and U.S. citizens of Japanese descent during World War II.
The statement spurred widespread condemnation and an apology from Bowers, a Democrat, who called the comparison an "unwise and inappropriate" mistake.
Current Mayor Sherman Lea, also a Democrat, said Roanoke has long prided itself on being a welcoming city and will continue to do so.
"We try to be as open and friendly as we can to everybody who comes into our community," he said. "We're a diverse city."
The debate over refugee screening procedures goes beyond the scope of local authority, Lea added, and the city will abide by the decisions of federal officials.
The recent rise in Syrian refugee resettlement locally has unfolded quietly. Del. Greg Habeeb — who helped shape a state bill on the issue during the 2016 session — said he's heard little about it in recent months.
Habeeb, R-Salem, reiterated that he believes the U.S. has a role to play in the refugee crisis as a global leader but that must be balanced with protecting citizens at home.
"I love that people want to come to America. I think it shows America's greatness, in part," said Habeeb, who is of Syrian ancestry on his father's side and whose district became home to the first Syrian refugees resettled in Southwest Virginia last year.
"I think it's fantastic, if we can properly vet folks," he added, citing the concerns stirred by last year's remarks from Comey and other high-level U.S. officials. "If they can fix the holes in the system, that's great."
Republicans in the House of Delegates introduced a handful of bills earlier this year to restrict state support for resettling refugees from Syria or other global hot spots. The bills were dropped amid uncertainty about whether refusing services for some would mean forfeiting up to $2 million in annual federal aid Virginia gets for its work with all refugees.
Decisions about where to place arriving refugees are made by federal authorities in consultation with state officials. In Roanoke, the new arrivals are quietly beginning the work of rebuilding their lives, taking language and cultural orientation classes with help from Commonwealth Catholic Charities, a nonprofit that coordinates local refugee support services.
The nonprofit, citing client confidentiality, said Wednesday it couldn't release detailed information about the refugees from Syria. But the families are faring well in their new homes, it said.
"For years, Roanoke has been supportive to refugees and provided care, friendship, employment and understanding," Commonwealth Catholic Charities wrote in an emailed statement. "These families are learning English, American culture and preparing to start employment. Their adjustment appears to be going well."