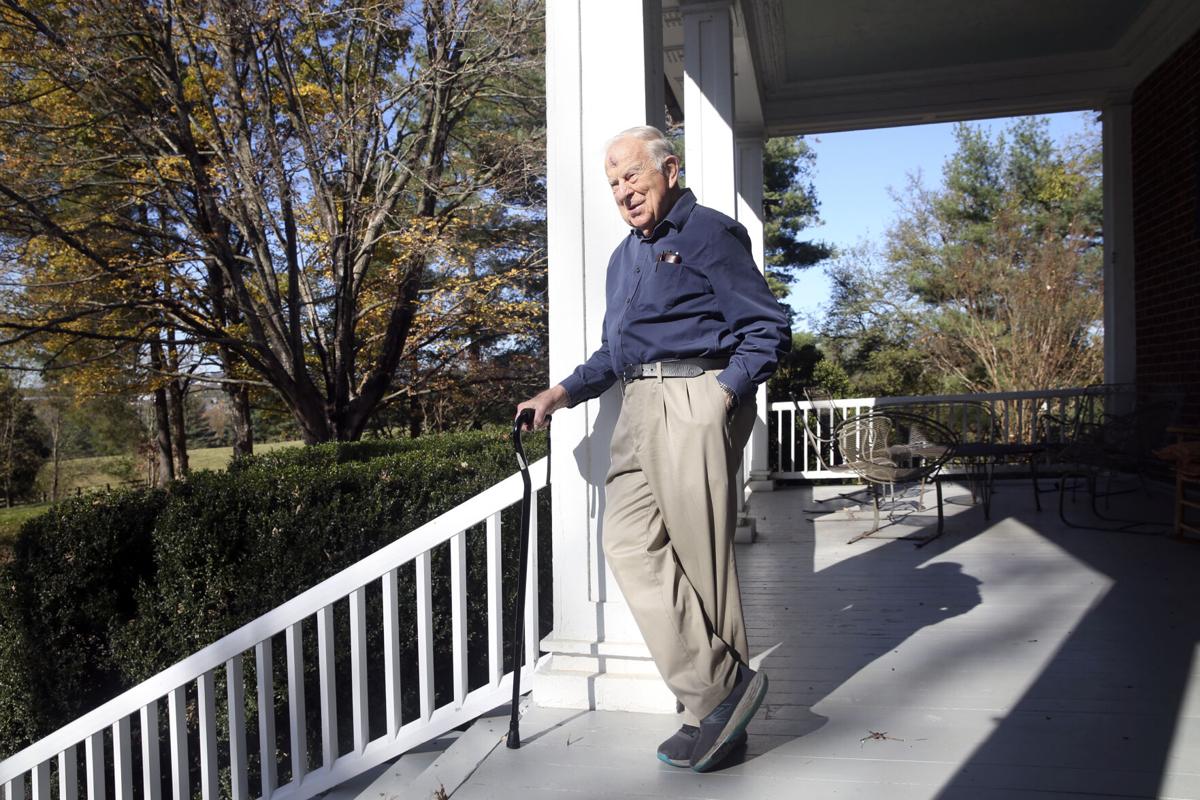 There ain't but one thing that I think that I done wrong
I liv'd that sportin' life, my friend, most too long …
Folks will pursue the sporting life at all manner of venue. One such Roanoke Valley stretch of competitive acreage enjoyed recent scrutiny here.
That sparked the interest of a reader who wanted to know more about a former owner of the Read Mountain-shaded real estate where Ole Monterey Golf Club just began its second century of operation.
Q: That land was once owned by a man named Yelverton Oliver. Is it true that he was subsequently forced to relinquish ownership of the property because he lost it in a card game?
A: As the blues singer suggested, wagers gone wrong have led countless sufferers to misery.
Yelverton Neal Oliver (1808-1857), the sporting type if there ever was one, is in no position to share his views on the topic of high-priced bets. Even so, we may deduce that he cast more than a few wagers involving substantial stakes.
The question about whether Oliver forfeited the family farm on an unfavorable poker hand was posed to a subsequent owner of the same house the gambler built on that property. Not only does George Kegley live at Monterey, the Greek revival Oliver had constructed, but the current resident is also an authority on local history.
"The house was built in 1845," Kegley said. "About 10 years after it was built, Oliver ran into financial problems and sold it to the Read family."
If a gambling debt forced the sale, no specific evidence comes readily to hand. Kegley, a wealth of earlier information about the golf course and adjoining properties, shed no further light on the subject of bad bets, if there were any to begin with.
The notion Oliver was a gambling man is far from far-fetched.
The sporting life led Oliver to become an important early American thoroughbred horseracing impresario. Among his achievements in the then fledgling industry was building pioneering racetracks in Virginia, Kentucky, Ohio, Alabama, and Louisiana, according to researcher Amanda Bishop Burns at the Website Find a Grave.
A hard-working and enterprising young man with deep family roots in the eastern Virginia planter aristocracy, Oliver was the 21-year-old postmaster of Big Lick in 1831 while simultaneously serving as co-proprietor of a racetrack in Bedford, then going by its first name Liberty. Two years later, as recounted by Annie Johnson at neworleanshistorical.org, he was treasurer of the newly formed Lynchburg Jockey Club in addition to being operator of that city's track.
Oliver came by his passion for the ponies naturally. Of his hometown Clare White wrote: "Horse racing was a favorite sport in the valley and had been ever since the place was settled."
Horsemen competed at an oval later repurposed as Evergreen Cemetery. Another track was near where the Roanoke Civic Center now does business. Malcolm Campbell, one of the first 18th century settlers here, owned that track. His estate included a princely 58 horses, White observed.
Oliver was renowned as a horseman and breeder to such a degree that he came to be known as the "Napoleon of the Turf," White tells us.
Speaking of the autocratic Frenchman, Oliver's work in Louisiana was likely his most significant contribution to the antebellum turf scene.
Contemporary New Orleans press accounts had it that by opening the Eclipse Course at nearby Carrollton in March 1837, Capt. Yelverton N. Oliver of Virginia had "cast the seed of enterprise on the rich alluvial soil of Louisiana" to reinvigorate a sport that had languished in that part of the world, Johnson wrote.
With the ample assistance of a convenient and newly opened rail line from the city 5 miles down the river, a huge gallery was present for the inaugural Eclipse race meeting that included entries from across Louisiana as well as Alabama, Mississippi, Tennessee, Georgia and Virginia.
"The public may probably never have it in their power again to witness such sport (!)," read the event's promotional literature.
Six days of racing followed with individual purses as rich as $2,000, making the prize money in line with other top national tracks. The spectacle "ushered in a new era for the Southern turf," Johnson wrote.
One of Oliver's innovations there was to be the first operator "anywhere" to fashion a track surface from a blend of sand, sawdust, and soil. The goal was to allow racing in any season in the soggy bayou country. That was a success, but the track was so fast that the veracity of speed records there was often questioned.
At Louisville, his Oakland Race Course opened in 1833 with a three-story clubhouse, stables for 120, and a barn-full of debt, according to Elijah McKenzie at Broken Sidewalk.
Struggling financially at Oakland six years later, Oliver staged a $14,000 match race between thoroughbreds Grey Eagle and Louisiana's Wagner that was billed as "the greatest race west of the Alleghenies" in hopes of stemming the bookkeeping tide. The race was a thriller witnessed by thousands but the track still closed in the 1850s.
Matter of fact, about the same time as the sale of Monterey to the Reads.
Sometime before that, Mrs. Oliver had written her husband in New Orleans to inform him she had wearied of living in what had come to be known simply as "the house on the hill" and had instead christened it Monterey, presumably in honor of Gen. Zachary Taylor's 1846 Mexican War victory. Kegley has seen the letter.
The Oliver family graveyard with 11 graves on the original Monterey property was disinterred and moved to Mountain View Cemetery in Vinton in 1997 to make way for the Roanoke Center for Industry and Technology. Examined by TRC Garrow Associates archaeologists, Yelverton Oliver's final resting place was discovered to be different than the other 10.
The man of the family's casket was not the wood of the other ones but instead mummy-shaped and cast iron. When opened, the occupant was found to be well-preserved, his thick dark beard and blue shirt in good condition.
"Waxy flesh covered his face and hands, and his teeth a dull yellow were intact," the report stated. The leaves on his burial boutoniere were still green.
There was no mention of gambling receipts tucked into his pocket.
If you've been wondering about something, call "What's on Your Mind?" at 777-6476 or send an email to whatsonyourmind@roanoke.com. Don't forget to provide your full name (and its proper spelling if by phone) and hometown.