LEXINGTON — Speaking in an auditorium full of Virginia Military Institute cadets, Vice President Mike Pence reiterated a message that President Donald Trump "reveres the men and women of our armed forces."
Pence delivered his remarks at the nation's oldest state-supported military college on Thursday, the day before the 19th anniversary of the Sept. 11 terrorist attacks. He honored the memory of the VMI graduates who died fighting in Afghanistan and Iraq in the years that followed.
"We will never forget or fail to honor the graduates of this institution and all of those who have served and fallen in service of the United States of America," Pence said. "We're grateful to them."
Pence went through various examples of ways he said Trump has supported the men and women in the armed forces.
The visit to Lexington came on the heels of a report about disparaging remarks Trump reportedly made, saying U.S. service members killed in combat are "losers." The Atlantic published the anonymously sourced article last week citing several instances of such remarks.
In one example, the Trump administration canceled a visit to the Aisne-Marne American Cemetery outside Paris in 2018 because of bad weather.
"Why should I go to that cemetery?" Trump said, according to the report. "It's filled with losers."
Subsequent reporting by other media outlets, including the Associated Press, has backed up some of the assertions, which Trump, a Republican battling for reelection against Democratic candidate Joe Biden, vehmently denied.
"President Donald Trump reveres and honors members of armed forces and their families," Pence said Thursday.
The vice president said Trump gave the troops a pay raise. He backed a large increase to national defense spending. He created the Space Force, the sixth branch of the U.S. Armed Services.
"We've made the strongest military in the history of the world stronger still," Pence said.
He praised Trump for ordering air strikes in Syria following a chemical-weapons attack and ordering the killing of Gen. Qasem Soleimani, Iran's most powerful commander.
"For all those gathered here who will answer the call to serve, or are active duty military, or are among us and looking on, I can tell you firsthand, in President Donald Trump, you have a commander in chief who will always have your back," Pence said.
Pence said he's been with Trump when the president's been on the phone consoling family members of service members who died. He described a story about being with Trump at Arlington National Cemetery on Memorial Day and talking to a mother who asked the president to remember her son.
Pence gave advice to the cadets to have discipline and approach their call with humility. Anna Armfield, a cadet at VMI, said Pence's address reinforced why she is commissioning in the Navy.
"He had some really good advice, and I'm going to take that to heart," she said.
While the Atlantic article made Trump's attitude toward the military an instant campaign issue, it wasn't the first time Trump has spoken ill about those who served in the armed forces. While talking about former Arizona Sen. John McCain, a Navy pilot and prisoner of war during the Vietnam War, Trump said in 2015 that he prefers veterans who weren't captured. When McCain died in 2018, Trump waited two days to lower flags to half-staff and issue a formal statement.
Outside Cameron Hall, where Pence spoke, a small group of protesters held signs saying "Vets 4 Biden" and "Do not support a president who does not support our military." Lexington resident Michael Gilmore carried one that said VMI does not equal "sucker" and "loser."
"VMI graduates have died while serving this country, and none of them were losers or suckers," said Gilmore, who served in the Navy, has a son-in-law on active duty, and a son who served in the armed forces. "What the president said made my stomach crawl."
hr vicepresidentpence p01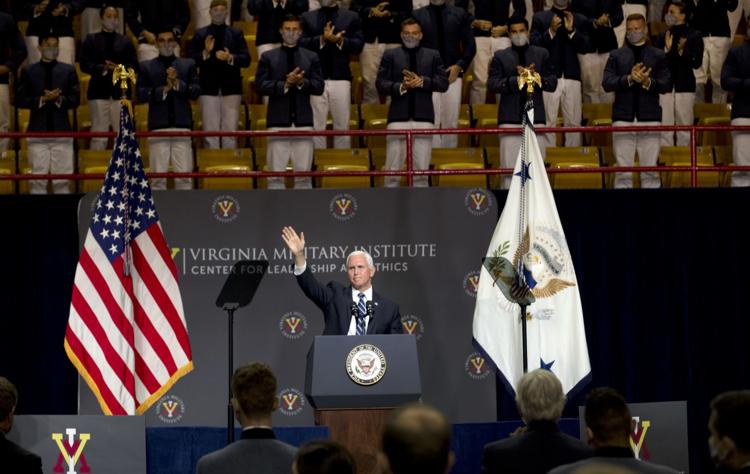 hr vicepresidentpence p02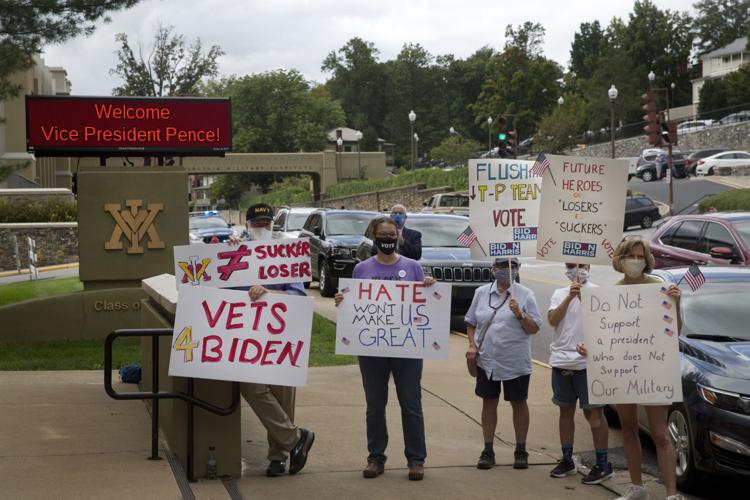 hr vicepresidentpence p03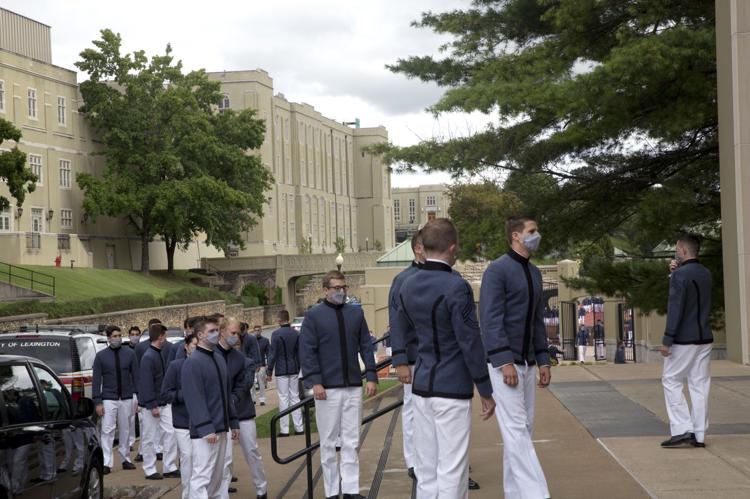 hr vicepresidentpence p04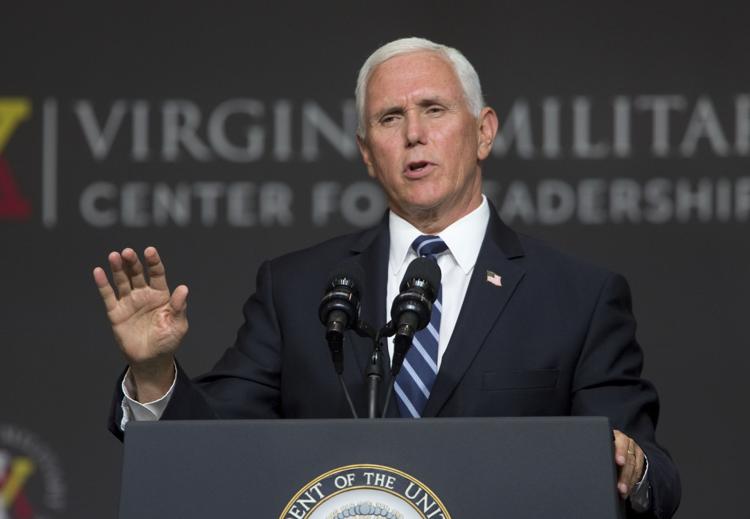 hr vicepresidentpence p05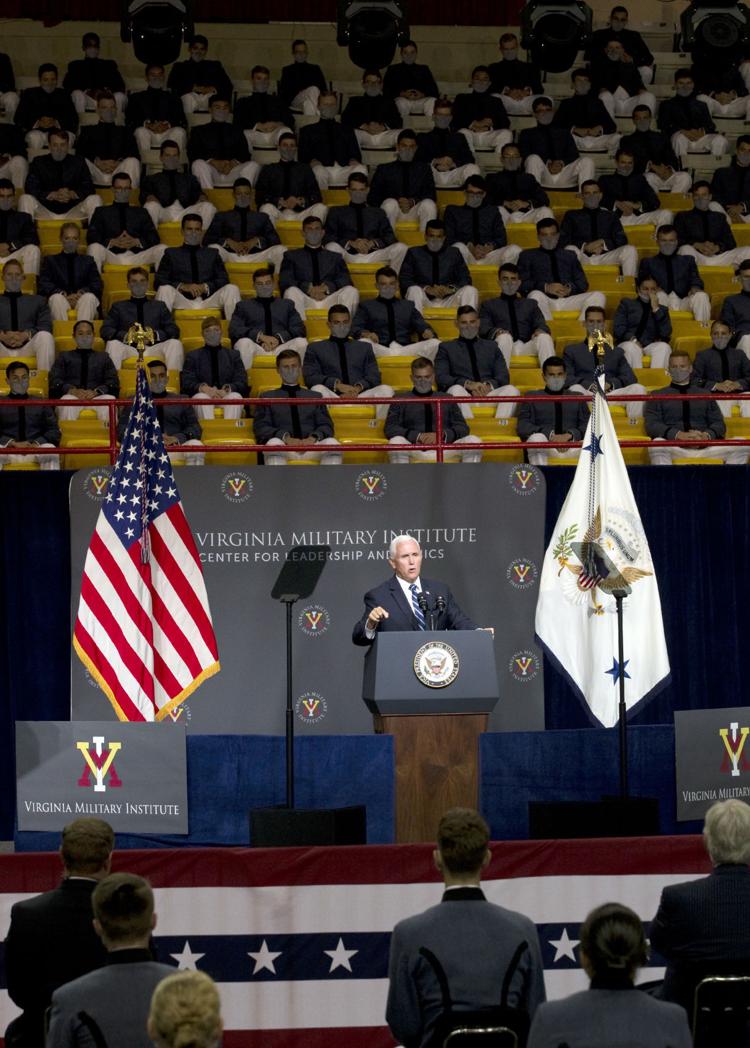 hr vicepresidentpence p06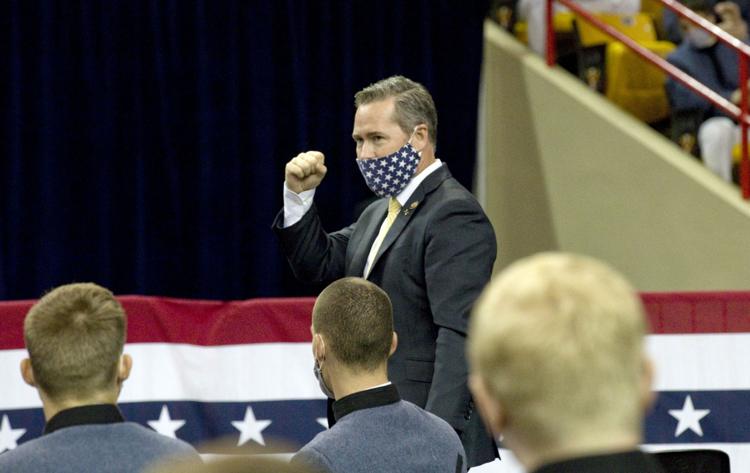 hr vicepresidentpence p07
hr vicepresidentpence p08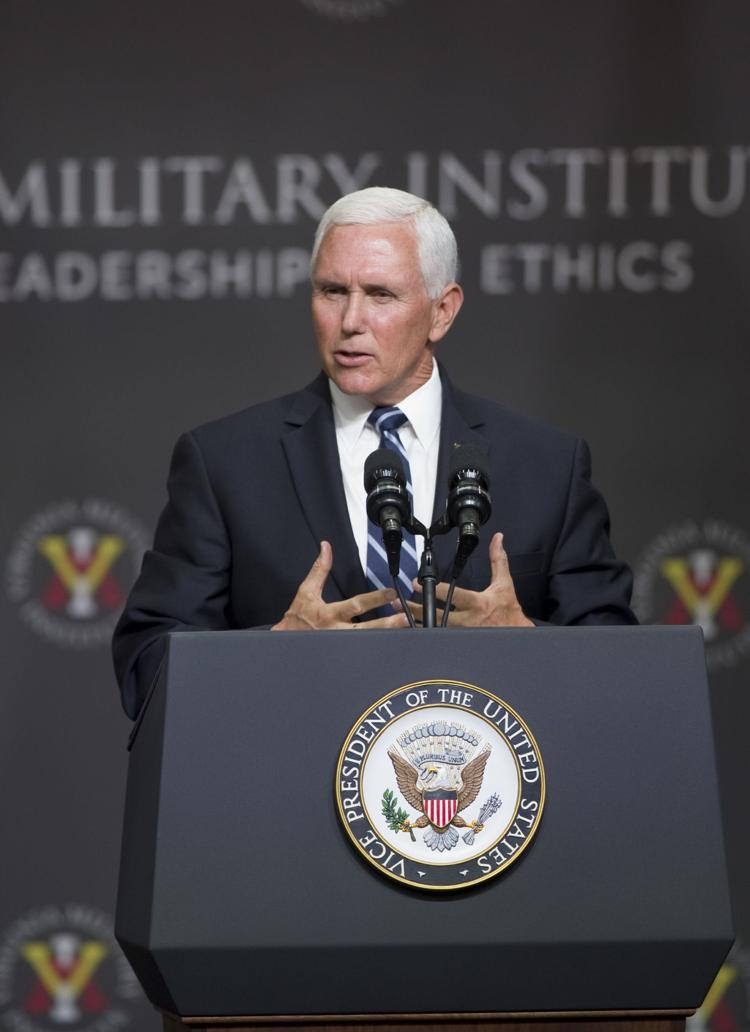 hr vicepresidentpence p09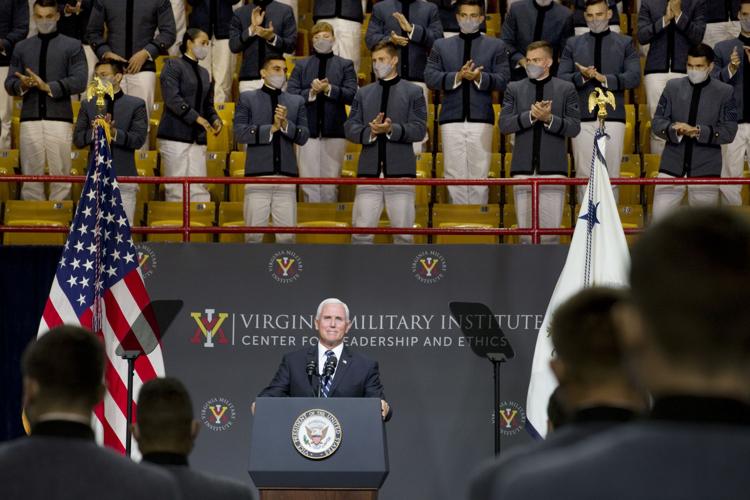 hr vicepresidentpence p10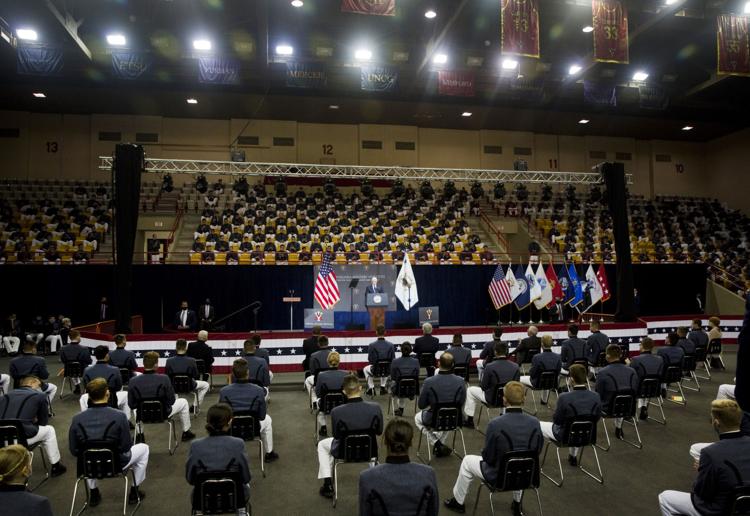 hr vicepresidentpence p11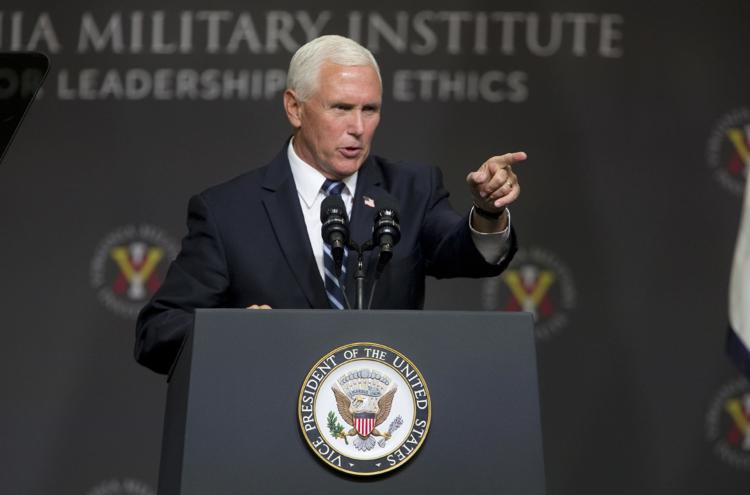 hr vicepresidentpence p12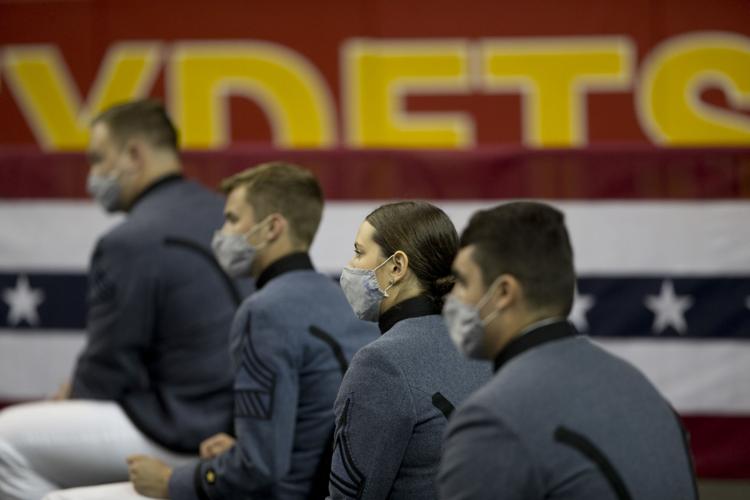 hr vicepresidentpence p13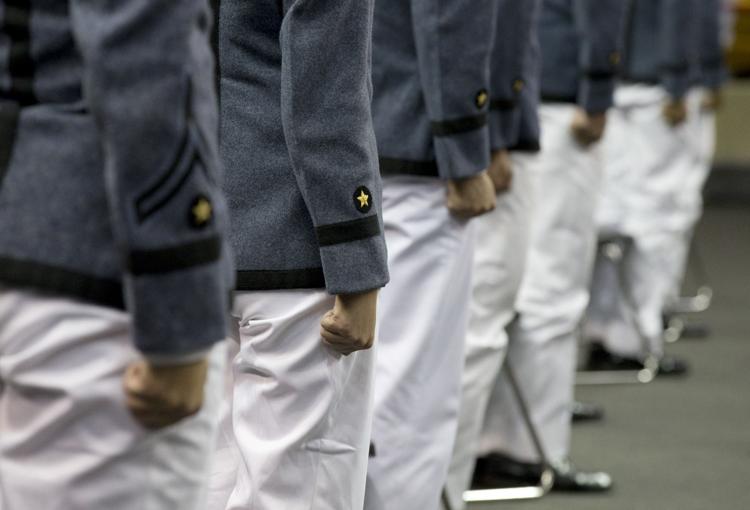 hr vicepresidentpence p14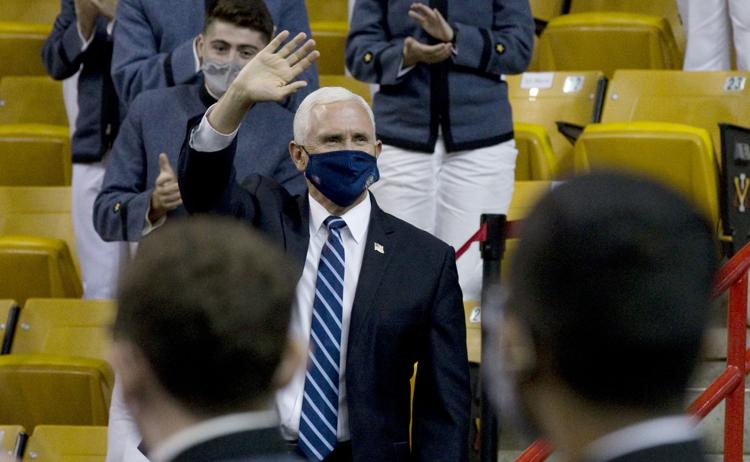 hr vicepresidentpence p15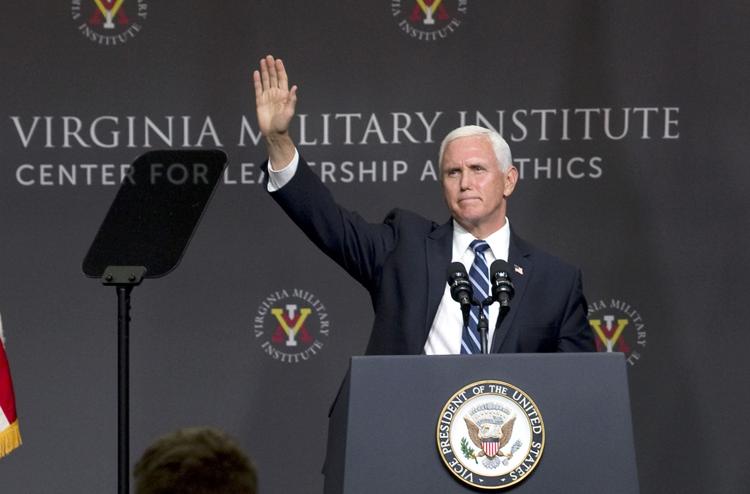 hr vicepresidentpence p16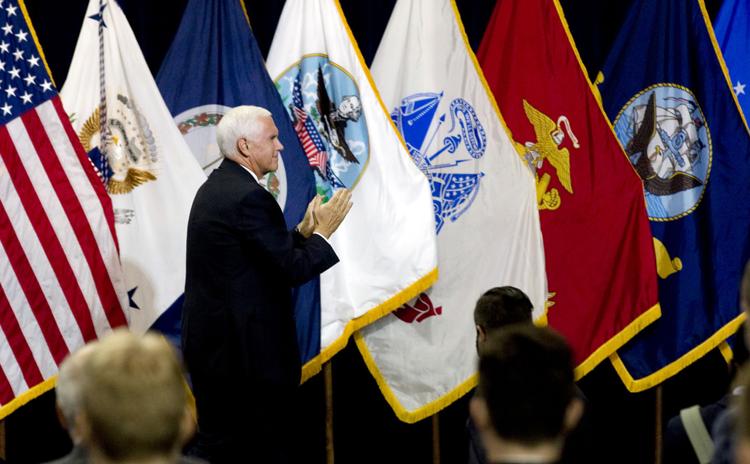 HIDE VERTICAL GALLERY ASSET TITLES
Be the first to know
Get local news delivered to your inbox!