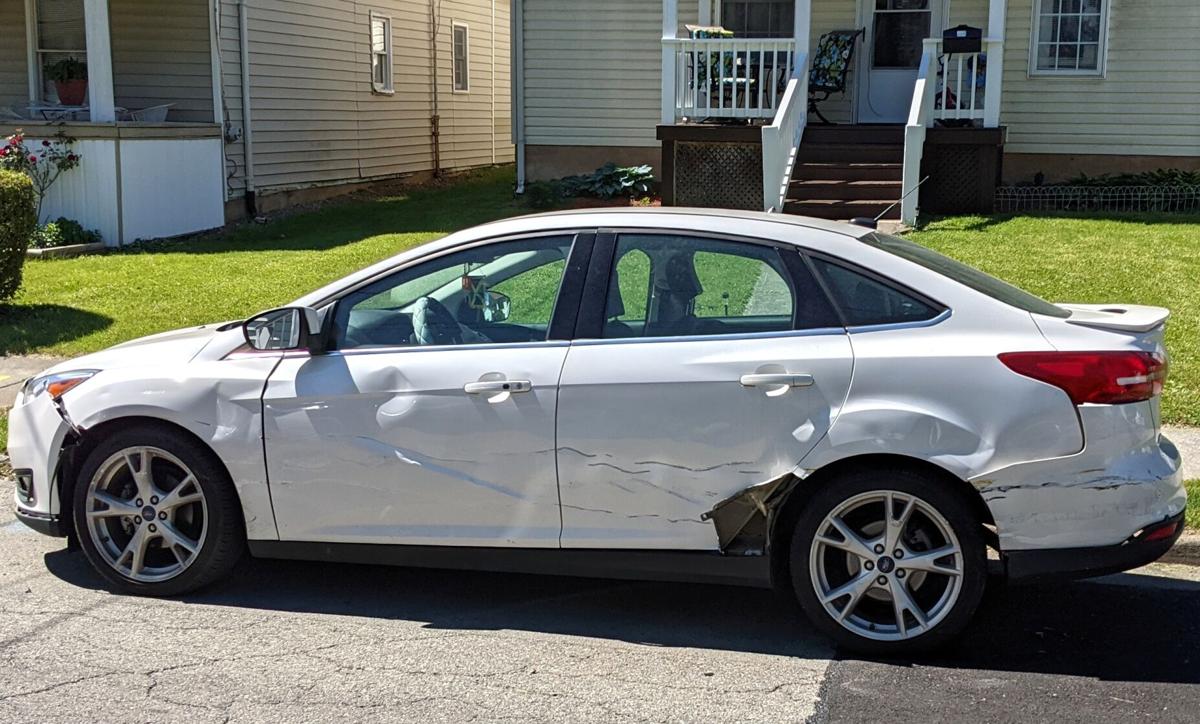 A little more than a month ago, I told you the story of Linda Jones and her smashed car. On May 10, a Roanoke garbage truck creamed the entire driver's side of her 2016 Ford Focus sedan while it was legally parked outside her home in northwest Roanoke.
At that time, Roanoke police estimated the damages at $1,000. The city turned the matter over to its claims adjuster, the Virginia Association of Counties Risk Pool, aka VACORP. Meanwhile, attorney Jeff Krasnow, a Roanoke trial lawyer since 1972, agreed to represent Jones pro bono (without charge).
We have a few new developments in this more-than-month-old case. Fasten your seat belts, because there's a lot to take in.
Krasnow had the car towed to Crotts Bros. Garage in Salem. It's been in business for more than 70 years and has an A+ rating from the Better Business Bureau. Owner W.G. Crotts said the estimated repairs will cost $8,035.77, not counting towing and storage.
"That will return it to its pre-existing condition, the way it was before the accident," Crotts told me. "Could it be fixed cheaper? Sure, but it won't be a quality repair."
Wednesday afternoon, Jones' car was still at Crotts on Eighth Street in Salem, where storage fees are mounting. Crotts said Jones' insurer — National General Insurance Co. — had agreed to pick up those.
VACORP evaluated Jones' claim. Under a legal doctrine known as sovereign immunity, VACORP denied the city is liable for the accident, said City Attorney Tim Spencer.
According to Virginia state law, such a determination is necessary for Jones to begin to seek compensation through uninsured or under-insured motorists coverage that's part of her policy with National General.
"It has been taken care of by her insurance company," Spencer told me. "We're [the city's] going to send her a check for her deductible," which is $500. That's "so the citizen isn't out-of-pocket on anything," he added.
Although National General has assigned an adjuster to Jones' claim, the matter is hardly settled.
"We have not come to any resolution," Krasnow said. His last conversation with the adjuster, Darren Cates, was Wednesday morning.
National General declared the car totaled, and the company initially offered Jones $8,635.33, Krasnow said. Jones rejected the offer because it wasn't close to comparable values Krasnow researched on her car. It's a 2016 Ford Focus S sedan with a "Titanium" trim package, the highest-level trim available.
"I told them 'Your offer is based on a phantom vehicle that doesn't exist in this market,'" Krasnow told me.
Next, the company offered $10,472.54, the lawyer said. Jones also rejected that, too, because the lowest price Krasnow could find in this market for a comparable car with comparable mileage was $15,995.
"The value I think she's entitled to is the value of the car at the moment it was damaged," Krasnow said.
An odd factor that's come into play in this dispute is the current used car market. Prices have skyrocketed because of the COVID-19 pandemic. It shut down factories that produce computer circuits used in new cars.
As a result, new cars are in limited supply and more buyers are turning to used cars. So the prices on used cars have jumped. That's what happens in a free market economy when you have more buyers chasing a fixed amount of goods.
"You can't buy a car today for what it cost two years ago," said Crotts, who also owns a used car lot.
Krasnow said that National General told him its offers were based on Kelly Blue Book values for Jones' car. I contacted the claims adjuster, Darren Cates, to confirm that but he didn't respond to an email I sent Wednesday.
My own research on Kelly Blue Book put the "fair market range" in Roanoke for Jones' car at $11,026 to $13,181. That website also put the "typical listing price" for a comparable car at $12,639.
Krasnow said if he doesn't get a suitable offer by Friday, he'll file a lawsuit against National General in Roanoke General District Court. That could happen as early as Monday, he added.
And if that's how it ultimately goes, Jones' own insurance company will be in the strange position of defending the city against an action brought by one of National General's own customers. And the insurance company will have to hire a lawyer to represent it in court.
In the meantime, Jones been without a car for more than a month. She's been paying acquaintances for rides for herself and her son. And she's still making loan payments on the Ford Focus, even though it's been declared a total loss.
"She's the victim," Crotts told me. "Her car was sitting in front of her house, just where it was supposed to be, when this happened. I'm hoping for the best for Ms. Jones."