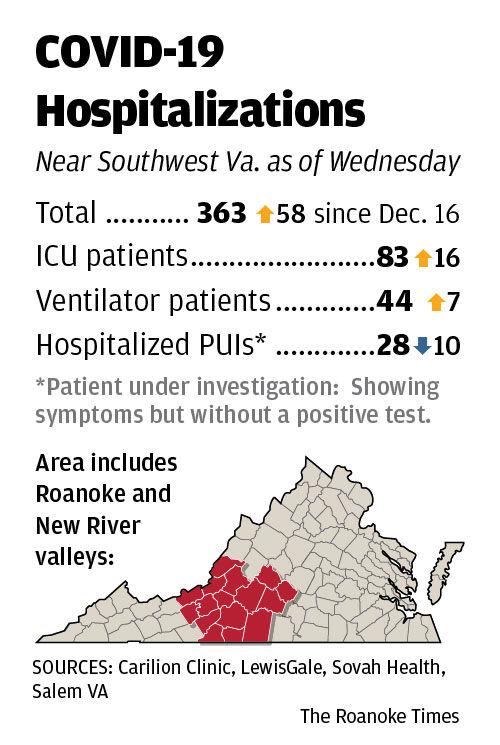 The New River Valley's health director urged residents not to hold large gatherings over Christmas as the department on Wednesday received its first doses of a vaccine for COVID-19.
"I'm imploring people to really carefully rethink our holiday plans," Dr. Noelle Bissell, director of the New River Health District, said on a conference call Wednesday with reporters.
"We can still make changes. We still have time to kind of help change the course of things and tame the pandemic."
As with localities nationwide, the New River Valley has seen a spike in coronavirus cases following the Thanksgiving holiday.
"Obviously, the concern is that we will have another bump with the next holiday over the next few weeks," Bissell said. "Our health system is stressed. … Cases are rising significantly everywhere."
As of Wednesday, 2,232 Virginians with COVID-19 were hospitalized, the most since the pandemic began, the Virginia Hospital and Healthcare Association reported.
Residents should continue to wear masks and distance themselves physically from others. But with the first rollout of vaccines, Bissell said, there is "light at the end of the tunnel for this pandemic."
The Virginia Department of Health's office in the New River Valley received 600 doses of COVID-19 vaccine Wednesday.
Staff planned to start vaccinating frontline emergency workers, including EMS crews and VDH nursing staff, on Wednesday and over four days next week.
"I'm going to take it, because I am actually out there testing, so I am considered frontline," Bissell said. "I'm going to take it either today or one day next week."
Already, hundreds of workers have been vaccinated between the two hospital systems — Carilion Clinic and LewisGale Medical Center — that serve the New River Valley.
"Our health care systems are seeing higher numbers than when they first polled their staff to see who would get it, so I think that is really encouraging," Bissell said when asked about reports in national media about some hospital and nursing home staff expressing wariness over getting the vaccine. "I think it's really positive that we're seeing people get vaccinated and not have adverse reactions."
Bissell anticipated that the state will be in the first phase of administering the vaccine for several weeks. Residents and staff of long-term care facilities are also part of the initial phase.
But the department is already planning how it can distribute the vaccine to the next group, which includes those over the age of 75 and those working in education.
While federal guidelines don't break down education among faculty, staff and students, Bissell said students would probably fall under the less-prioritized general community.
Virginia Tech, Radford University and New River Community College in Dublin have put out surveys to employees to see how many of them are interested in getting the COVID-19 vaccine, she said.
Tech has not asked any individuals to receive the vaccine and would not say whether any members of the president's cabinet have been vaccinated already, Tracy Vosburgh, a university spokeswoman, said in an email Tuesday.
Tech President Tim Sands "has confidence in the vaccines and is an advocate for the full rollout of the vaccine for the health of our community," Vosburgh wrote. He will take the vaccine at the appropriate time, "given the needs of others."
The Health Department on Wednesday added vaccine data to its online dashboard, which will be updated daily with information about the number of vaccines distributed and administered in the state.