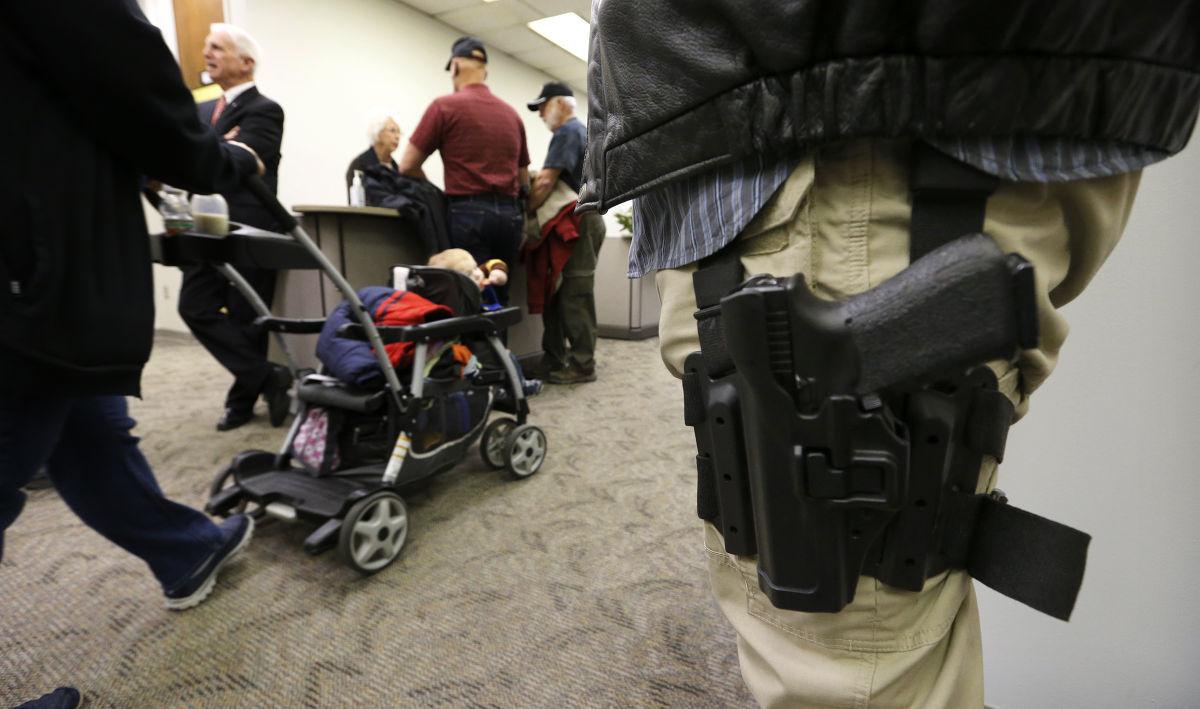 Blacksburg Town Council is set to act on a proposed ordinance to ban the carrying of firearms inside public buildings and on streets being used for festivals, among other places.
If passed, the ordinance would make Blacksburg one of just a handful of Virginia localities that have taken such action—something that localities can now do based on a local option measure passed by the General Assembly earlier this year and that took effect in July.
The council could take a vote on the matter at its Jan. 12 meeting.
Other localities that have approved the measure are Fairfax and Arlington counties and the cities of Charlottesville and Falls Church.
"I think it just makes common sense," said Blacksburg Mayor Leslie Hager-Smith. "There are already prohibitions in courthouses and in schools. This just adds a few more public spaces.
"It's certainly something our residents have asked for over and over again."
Prior to the new law, Roanoke City Council had for years asked the General Assembly to give it the authority to bar certain loaded weapons in City Hall. The city in 2016 unsuccessfully sought an outright gun ban.
While Roanoke has yet to introduce a new ordinance on the matter, the city in its 2020 legislative agenda included a request for a law that gives local governments the authority to ban firearms in public buildings. The Roanoke council had also previously made that request.
Hager-Smith said the aim of the proposed measure is to improve safety for Blacksburg residents.
"You don't need a firearm to pay your water bill," she said. "You don't need your firearm to sign up for volleyball or to play dodgeball."
Violations of Blacksburg's proposed ordinance would be treated as class 1 misdemeanors. Individuals that would be exempt from the ordinance would be military personnel acting in the course of their duties, sworn and retired police officers, private security hired by the town and people engaged in certain historic reenactment activities.
Blacksburg's leaders have had a complicated relationship with pro gun groups.
Last year, Downtown Blacksburg Inc. denied the Virginia Citizens Defense League a booth for the annual Steppin' Out festival, a move that drew criticism from the pro gun organization.
DBI explained that it was part of a restructuring of the popular festival's mission and that other political groups were denied booths, too.
Some Blacksburg officials have criticized groups such as VCDL, which they view as taking advantage of the town's tragic history.
"Literally and figuratively, this community is targeted by people who are happy to make political capital out of re-traumatizing our residents," Hager-Smith said, referring to the 2007 Virginia Tech shooting. "They obviously choose Blacksburg because of our history."
"It's petty politics. Here we go again," said VCDL President Philip Van Cleave, adding that his group has never caused issues at Steppin' out.
Van Cleave said he's not sure what problems the town has had on its properties that pushed demand for the ordinance.
"This is not about safety. This is not about liking somebody's civil right and trying to restrict it," he said. "Where is the problem? What are they solving? What would this change that has happened over the years?"
The proposed ban currently has support among other Blacksburg council members.
Councilman Jerry Ford Jr. said the town isn't attempting to go after lawful gun owners. He said he understands their views.
"My feeling with the ordinance is that we want to remain respectful of our region and the rural heritage," said Ford, a gun owner, "and we acknowledge that heritage includes hunting and shooting sports."
Ford said all lawful gun owners he's met are responsible and law abiding citizens. He, however, said he understands the natural discomfort some feel.
"If I don't know someone personally, I tend to feel uncomfortable around them if they are armed," Ford said. "It's that lack of comfort I believe we're trying to address with the ordinance."
It's unclear if other governments in Montgomery County will pursue a similar measure.
A few county supervisors said on Wednesday that they have not discussed the matter.
Supervisor Sherri Blevins, a Republican and a staunch backer of gun rights, said she would be open to hearing about the issue.
"That would be something that I would need to look at," she said. "But I am pro gun. I would not want to take away anyone's rights. But I do understand there are situations for the safety of the general public."
The county Board of Supervisors, which has a 4-3 GOP majority, was one governing body last year that turned down a proposal to declare the locality a Second Amendment sanctuary. Supervisors ultimately passed a measure in general support of the amendment.
At least one member of Christiansburg Town Council—Steve Huppert—is voicing interest in pursuing a similar measure to Blacksburg.
"I think it's a way to go myself. I don't think we need to have guns in there, at all," said Huppert, who has advocated for gun control measures. "It's a good idea. Maybe we should consider following Blacksburg, just to have both towns agreeing on the same thing."
Huppert said his main issue is the carrying of certain automatic weapons, which he doesn't view as necessary for the general public.
"Those weapons are for combat, not for your backyard," he said.
Huppert is a Vietnam War veteran, having served in the Army with the 101st Airborne Division. He said he was in Vietnam from 1968 to 1969, where he was combat platoon leader for seven months.
"I've dealt with weapons probably more than anyone else in this county," Huppert said.
Other members of Christiansburg Town Council couldn't be reached for comment Wednesday.