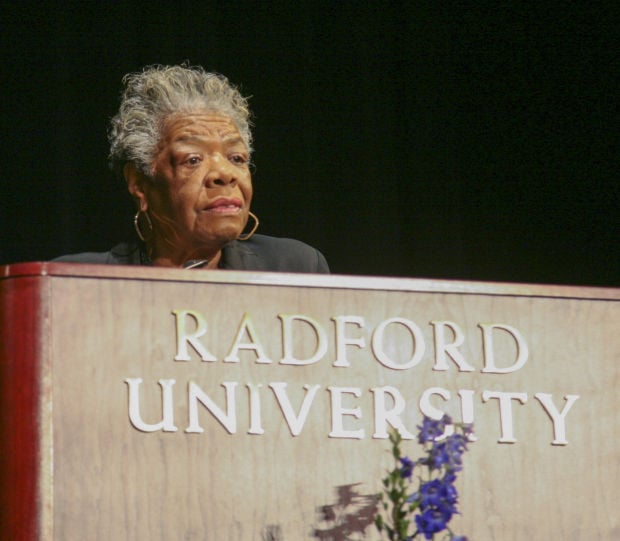 Poet, memoirist and professor Maya Angelou was remembered Wednesday by those at Virginia Tech and Radford University who were touched by her words, her teaching and her friendship.
Angelou died Wednesday at her home in Winston-Salem, North Carolina, where she held an endowed professorship at Wake Forest University since 1982.
Angelou had been in frail health for some time and had used a wheelchair during a talk she gave at Tech in 2012 in honor of her friend, author and Nobel laureate Toni Morrison.
Poet and Tech professor Nikki Giovanni — who has been friends with both women for many years — organized the event, titled "Sheer Good Fortune: Celebrating Toni Morrison."
Angelou "was determined to come, but she had to leave early," Giovanni said by phone Wednesday while traveling. While her death is sad, Giovanni said, her memory inspires "only good feelings."
Angelou's passing allows "us to go back and look at the life, look at the spirit," Giovanni said.
The central lesson of that life was the power of art to transform adversity. Angelou was an actress and a singer long before she joined the ranks of Giovanni and other black female writers with the 1969 publication of her first memoir, "I Know Why the Caged Bird Sings."
That book describes the poverty and segregation black people endured in Arkansas, and chronicles the rape Angelou endured at about age 7 at the hands of one of her mother's boyfriends.
Angelou told her family what had happened to her, and charges were brought against the man. He was later killed, and for years, Angelou said, she dared not speak for fear of the power of her words.
That time of imposed silence shaped Angelou into the performer and the writer she became, Giovanni said.
"She absorbed stories," Giovanni said. "She acted out the life she wanted" in her own mind.
Angelou's stage presence, her singing, her facility for words and for languages — she could speak several — all in some way were born out of that hard time, Giovanni said.
Giovanni said Angelou's love of life was infectious for her friends, making her the perfect person to visit to dispel a bad mood, or to move past a difficulty.
"I learned a lot from her about the importance of attitude," Giovanni said.
Angelou spoke at Tech at least three times, including a 1993 keynote address given after her performance of the inaugural poem, "On the Pulse of Morning" at the swearing in of President Bill Clinton.
In 2008, Angelou gave a talk for the university's Martin Luther King Jr. celebration, and met privately with survivors of the April 16, 2007, campus shootings. That year she said the legacy of those survivors is "the magnificence of the human spirit."
She talked about the courage, kindness and generosity that were evident after the shootings.
"I realized that you here — this school, this town, this state — showed us what a rainbow in the clouds really is," she said at the time.
Angelou also had ties to Radford University. During 1989-90, she was a distinguished visiting professor there, giving a course titled "Liberation and Literature."
Longtime Radford English instructor Jim Minick was a first-year graduate student at the time, and enrolled in Angelou's course.
"Her voice, it sang when she talked," Minick said. "She was brilliant at bringing in the threads of all the things were reading."
Minick went on to become not only a teacher, but a published poet and memoirist in his own right. Minick's first published piece, however, was an essay he wrote for Radford's university magazine based on Angelou's class.
Beyond writing, Minick said, Angelou helped shape his teaching in one important way.
"One of the things she taught us that I still use today is: One of the greatest gifts you can give to someone is to remember their name," Minick said. "She did that for us, and I try to learn everybody's name by the first class."
Radford journalism graduate Brian Hom — now a freelance writer in Missouri — didn't take Angelou's class that year. He was her waiter at the Radford Macado's, and looked forward to serving her and a group of friends on most Wednesdays.
"They would take a back table, eat and have a meeting for a couple of hours," Hom said. "She was regal. Soft-spoken, but with power."
It wasn't until later, after college, that Hom read Angelou's work, he said.
Her passing "made me sadder than I expected," he said. "It really made me think back. My exposure to her was brief and fleeting, but I really enjoyed watching the prominence she grew to after that time."
Angelou returned to Radford in 2006, along with other distinguished visiting professors for the inauguration of President Penelope Kyle, the university's first female leader.
"When she spoke, she captivated the audience," Kyle wrote in an email Wednesday. "She was so eloquent, her every word evoking emotion in that audience that I will never forget."
Part of the inaugural program was a symposium on "Women's Leadership in a Global Society," moderated by Kyle. As one of the panelists, Angelou talked about the importance of learning to improve the lives of girls and women.
"There's a world of difference," Angelou said, "between being educated and being trained."