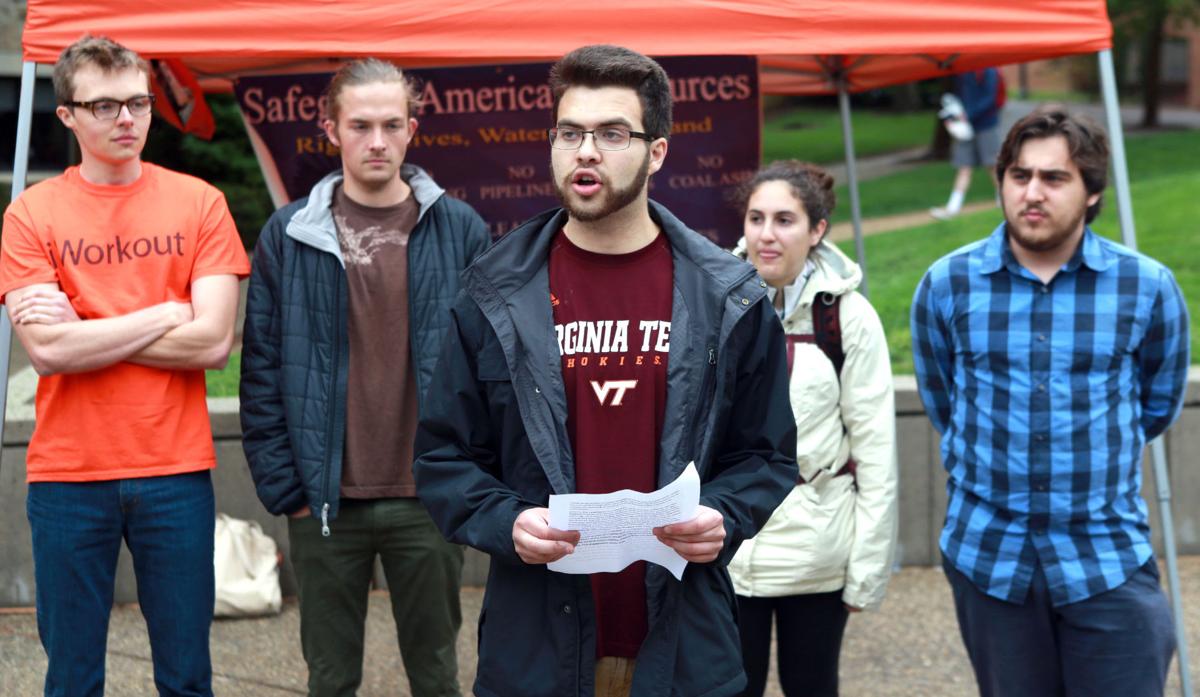 BLACKSBURG — A small group met in a chilly drizzle at Virginia Tech Wednesday to announce a new effort to scrutinize the Radford Army Ammunition Plant and pollution in the New River Valley.
Students have started a new chapter of the North Carolina-based Blue Ridge Environmental Defense League called Citizens for Arsenal Accountability to "put pressure – not a negative pressure" on arsenal officials to "get accountability and transparency" on pollution released by the military munitions producer, said Drew White, a senior English major from Williamsburg who is involved in the group.
"We don't want pollution in our air; we don't want it in our soil; we don't want it in our food," White said. "The goal is to involve the community. … We want everybody to come together."
Michael James-Deramo, a Virginia community organizer with the league, said immediate plans are for members to attend quarterly public information sessions held by arsenal officials and to begin educating people who live around the arsenal about potential dangers to their health.
The ammunition plant, known locally as the arsenal, covers 4,080 acres in Pulaski and Montgomery counties. It makes the propellant for ammunition and rockets used by the U.S. military. Its practice of burning toxic waste in open-air fires in a bend of the New River has for years drawn protests from a vocal group of residents who fear it sends hazardous chemicals into nearby communities. The arsenal regularly tops the annual federal Toxic Release Inventory for Virginia, but nearly all the pollutants produced by its operations are allowed under air and water quality permits. The permits set limits that regulators say prevent dangerous levels of pollutants from reaching people outside the plant.
Perchlorate is a chemical used in the making of rocket propellant. It also occurs naturally, and is an ingredient in some agricultural fertilizers. In great enough concentrations, perchlorate can affect thyroid function by blocking its uptake of iodine. But with some women and children possibly more vulnerable to its effects, there has been disagreement about establishing a regulatory level for the chemical. The U.S. Environmental Protection Agency has said for years that it plans to set a maximum level for how much perchlorate is allowed in drinking water, but hasn't done so. Several states have set maximum levels, but not Virginia.
Elizabeth Merin, a junior biosystems engineering major from Reston, said she heard about the open-air burning and thought: "Holy sh--, this is an Erin Brocovich situation."
As someone studying to be an environmental engineer, Merin said she wants to work with the arsenal to come up with positive solutions to reduce its emissions. Merin said she's reached out but has so far received no response.
Students said Wednesday that they are particularly concerned about testing last year that found small amounts of perchlorates in two areas of Montgomery County and at wells on Tech's Kentland Farm, across the New River from the arsenal, where some food is grown for the campus dining program.
In both instances, officials have said the levels of perchlorates detected were too low to trigger concern.