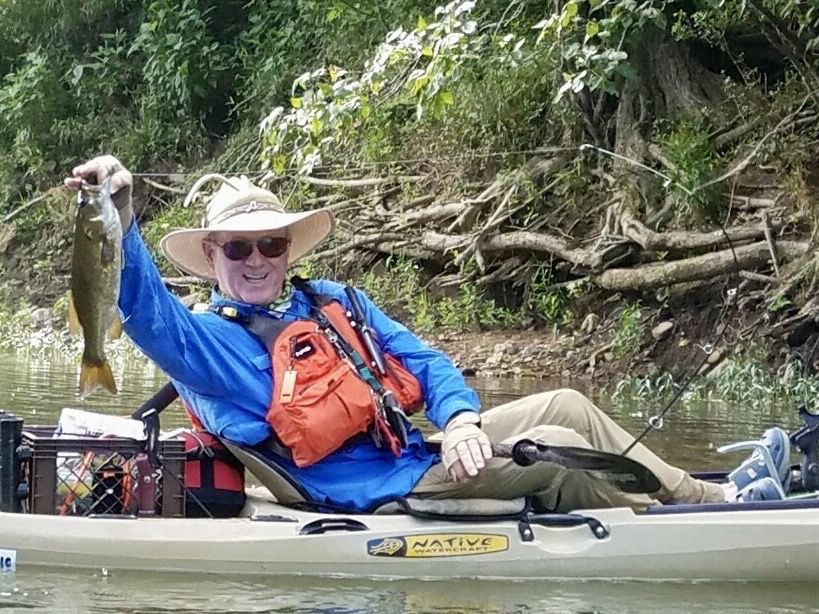 Broaddus Fitzpatrick first developed a love for the outdoors as a child, when his parents took him hiking up McAfee Knob or fishing.
"When we grew up in the 1950s, life was different," Fitzpatrick said. "There were no electronic games, and there was minimum TV. So you were outside playing all the time, and you had to entertain yourself."
That love for the outdoors expanded into a lifelong passion for conservation in Western Virginia. For his various legal work and roles over the years, including becoming the first Virginian to serve as chairman of the Blue Ridge Parkway Foundation, the Blue Ridge Land Conservancy is honoring Fitzpatrick this Sunday.
Fitzpatrick is receiving the A. Victor Thomas Environmental Stewardship Award that the conservancy gives each year to someone who has made a significant contribution to the preservation of natural heritage in Western Virginia. He'll receive the award from the conservancy, a nonprofit that conserves rural land, at the group's annual Conservation Celebration.
The honor, named for the late state delegate from Roanoke and longtime advocate of land preservation, puts Fitzpatrick in the company of former Gov. Tim Kaine and Rupert Cutler, former city councilman and director of Explore Park, who also have earned the award.
"He's been one of the stalwart leaders of the land conservation movement here in the Roanoke Valley for over two decades," Cutler said of Fitzpatrick.
Also being honored is David Jones, an orthodontist in Martinsville, who has a love for fishing, conservation and the Smith River. He turned those passions into a program in elementary and middle schools in which students raise trout in the classroom and then release them into the river. Jones is receiving the Landsaver Award from the conservancy.
Fitzpatrick, now a retired lawyer, took on more quiet, behind-the-scenes work on environmental issues for many years. His friends and fellow environmentalists credit him for his expertise in land conservation and meticulous attention to the work.
For many years, Fitzpatrick has done site visits to properties to see if they are good candidates for conservation easements. Properties have to be in compliance with covenants of the easement in order to obtain tax credits. So Fitzpatrick walks properties and makes for sure, for instance, that if there are farm animals, there's a fence to prevent them from contaminating a stream.
"It's not rocket science, but it takes time and dedication," said Tom Dunkenberger, Blue Ridge Land Conservancy board member.
Dunkenberger said that through Fitzpatrick's leadership, the conservancy has significantly expanded the number of easement agreements in recent years.
Fitzpatrick also has taken up fights. Since the 1970s, conservationists have fought damming Craig Creek to help Eastern Virginia with water problems such as flood control and low drinking water levels during dry spells. Fitzpatrick didn't believe Western Virginia should have to sacrifice its natural beauty.
"We live in the prettiest part of Virginia, I think, and we should preserve and enhance it," Fitzpatrick said.
He also opposed mine operators who used the destructive process known as mountaintop removal. The technique involves blasting the tops of mountains to access coal seams and dumping the rubble into valleys and streams.
Fitzpatrick often juggled numerous projects and volunteered wherever he could. For years, he volunteered with the Blue Ridge Parkway Foundation, which was established in 1997. He served on the board for several years before becoming the chairman from 2014 to 2015.
Fitzpatrick grew up near the parkway, and his family drove on it often for a day trip spent in the outdoors. The parkway is where he learned to drive. He taught his daughters how to fly fish in waterways just off the parkway.
"It's always been a magical place for me," Fitzpatrick said. "I love the mountains, and the parkway gives great access to the mountains."
With nearly 15 million visitors last year, the Blue Ridge Parkway is among the most visited sites in the national park system. But its operating budget is just a fraction of other sites. Fitzpatrick helped prioritize projects and arrange funding to ensure people got the best experience possible.
"Broaddus brought calm leadership and a steady hand," said Carolyn Ward, CEO of the Blue Ridge Parkway Foundation. "During much of that time — whether a government shutdown or funding crisis — his calm leadership was appreciated by everyone at the park."
Fitzpatrick is heading back to Roanoke this week from a fishing trip to Montana with friends. He camped at various places on his drive out west. He said being outside, staring up at the Milky Way, made him feel like a kid again.
"I'm just happiest out in the wild," Fizpatrick said.
He even made plans to check out an old coal mine that environmentalists have concerns about. He became interested in climate change about two decades ago, and has grown increasingly worried about divisiveness and misinformation.
"I think one of the toughest things about being in conservation these days is the mood in this country, the politics," Fitzpatrick said. "It's painful to watch."
Just last week, the Trump administration announced the repeal of a regulation that placed limits on polluting chemicals that could be used near streams and other bodies of water. The rollback is among a list of environmental rules the administration has weakened or undone over the past couple years.
Fitzpatrick said these moments are discouraging, but he maintains hope and pushes forward with his conservation work.