The board of directors of Carilion Clinic has promoted Executive Vice President and Chief Operating Officer Steve Arner to the presidency of the health system.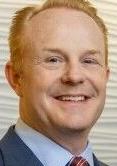 Arner, 53, will add his voice and influence to the organization's strategic direction while continuing the day-to-day management of the enterprise as COO, according to a news release and a Carilion official.
The change, which took effect May 9, was announced last week.
Nancy Agee, who until recently served as CEO and president, will continue as CEO, the top job. Agee has been CEO and president for 12 years.
Arner's promotion resulted from a track record of strong leadership during his many years at Carilion, clinic spokeswoman Hannah Curtis said. He has had responsibility for cardiovascular care, operating rooms, engineering and environmental services; worked in human resources and finance; and was president and CEO of Carilion Rockbridge Community Hospital.
Asked if Arner's becoming president indicates anything about the 71-yer-old Agee's future with Carilion, Curtis said the CEO released no new information about herself.
Carilion has seven hospitals, a trauma center, 240 medical offices and 14,000 employees, all under Arner's management. He also spearheaded the Crystal Spring Tower addition being built at Carilion Roanoke Memorial Hospital and other capital projects.
He played a central role in the clinic's COVID-19 response and chaired the Virginia Hospital and Healthcare Association during the first year and a half of the pandemic, contributing to the collective response of all health care providers to the crisis, a release said.
"Carilion today is a nationally ranked academic health system that provides an extraordinary range of services, from primary care to the most advanced, complex care," Arner said in a prepared statement. "I look forward to continuing on a pathway of growth and collaboration."