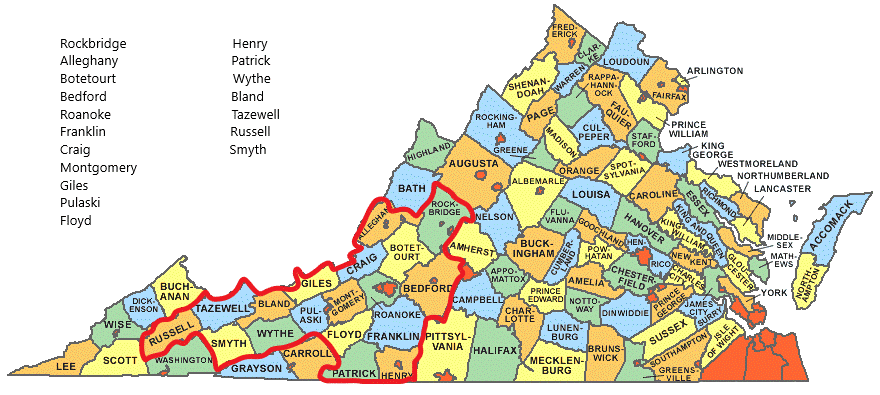 How many people in the region have had COVID-19 and don't know it?
Carilion Clinic and the Virginia Department of Health are hoping to help answer that question through a $566,000 serology study that will check the blood of 5,250 willing residents.
Dr. Paul Skolnik, chair of Carilion's Department of Medicine, put out a call for volunteers from 22 localities in Southwest Virginia who are willing to answer a survey and undergo a blood test that looks for antibodies to the coronavirus.
COVID-19 infections can turn serious, even fatal, in some people, but in others it causes mild symptoms, or none at all. People without symptoms can spread the virus unknowingly but will still develop antibodies.
During the summer, Carilion participated in a similar statewide serology study that looked at antibodies in people living in different regions of the state. About 5,000 Virginians participated.
Across the state about 2.4% of adults had antibodies, meaning they had been infected at some point. The highest rate of 4.4% of those tested was in Northern Virginia, which experienced a surge in cases early in the pandemic. Residents in Southwest Virginia, which had mostly been spared during the early months, had the lowest antibody positive rate at 0.9%.
"Since that study was done a few months ago, the infection rate in the southwestern part of Virginia has gone way up. So we are one of the hot spots in the commonwealth," Skolnik said.
The rate of infections per population is highest in this region.
Skolnik said they aim to do the study quickly and seek to enroll all participants before the end of the year.
Some Carilion patients have already received emails inviting them to participate. Anyone can sign up online. Carilion plans to put links to the survey on all its social media sites.
After filling out a survey, participants will be directed to a Carilion or Quest location for a blood draw. Test results will be shared with each individual, but an individual's identify will not be shared with researchers.
The study will look at test results by neighborhoods and by demographics that include age, race, ethnicity and type of work.
The study is being done in partnership with the Virginia Department of Health, and the results will be made public.
Skolnik said it could help inform public health officials about where to direct messaging, enhance understanding as to which groups are disproportionately affected by the virus, determine if the area's trends are similar or different than those statewide and nationally, and guide rollout of vaccines to people at high risk of becoming infected.
"All of this is a public health effort directed to stemming the tide and helping us control COVID-19 in the area so that we can eventually open things up, get our workplaces, our restaurants, our bars, our entertainment venues open," Skolnik said. "So I view this as a way to help us get to where we all want to be."
Dr. Cynthia Morrow, director of the Roanoke City and Alleghany Health Districts, said it's important to have the information as it's thought that 50% of infections are spread by people without any symptoms.
Morrow reported Tuesday that her districts have had more than 8,000 residents with known infections. Of those, 1,274 are within the past 10 days, as the people are still in isolation. Roanoke County has the most active infections with 631, followed by Roanoke with 461, Botetourt County with 95, Salem with 22, Alleghany County with 41, Covington with 14 and Craig County with 10.
Morrow made one last plea for people to avoid spreading the virus during Thanksgiving.
"I just really hope that everybody is smart and safe as we go into this wonderful time of year as we celebrate our thanks for everything we have," she said. "And the best way or us to give thanks is to stay home and protect ourselves and protect our family."