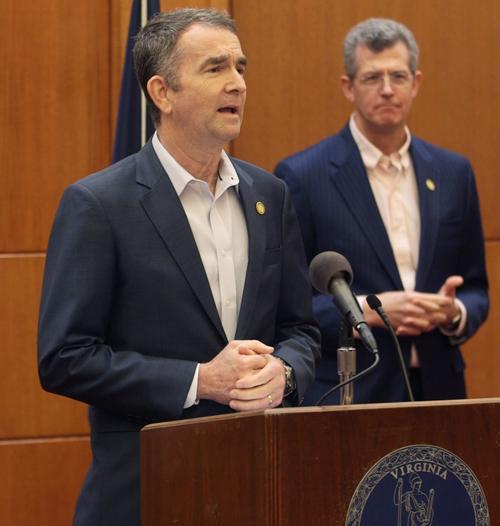 Virginia health officials said Saturday there are 154 cases of COVID-19 in the commonwealth.
That's an increase of 40 cases over the 114 reported by the state on Friday.
The cases across Virginia by region:
Central: 25
Eastern: 42
Northern: 77
Northwestern: 6
Southwestern: 4
Gov. Ralph Northam said the state is changing testing criteria to give priority to medical staff treating people with the virus. Health officials said they're also focusing on testing those with respiratory illnesses and are relaxing criteria for people residing in nursing homes.
Northam also said the state is working to get more supplies like masks and gowns, and he signed an executive order Friday night to allow hospitals and nursing homes to add more beds to deal with the pandemic.
Public health officials said with respect to the capacity of the state lab, Virginia has the ability to perform testing for more than 1,000 patients in addition to private laboratories.
Regarding concerns with limited supplies in hospitals, Dr. Daniel Carey, secretary of Health and Human Services, said they're distributing supplies from the national stockpile but are looking toward industrial suppliers or local manufacturers for more protective equipment for frontline first responders and prisoners.
Carey added that he's heard that swabs, which are used in flu testing, are in short supply.
"We are pursuing every opportunity, and I think it's also important to say that this is a national problem," Carey said. "This will not be solved without a national solution."
Tuesday, Northam gave law enforcement the ability to enforce the 10-person limit on gatherings, which applies to restaurants, fitness centers and theaters.
Saturday morning, he added that with more than 10 patrons, businesses can lose their operating license on the spot and receive a misdemeanor. There haven't been any issued yet.
He said he hasn't made a decision regarding enacting workforce limitations similar to New York, which has mandated reducing on-site nonessential personnel by 50% and work-from-home policies. He doesn't have criteria for what would lead to the implementation of one.
"I'm not here to answer 'what if's,' " Northam said. "I'm telling you where we are today and what we're doing to keep Virginia safe."
The governor also said the Virginia Department of Education is considering actions needed to provide relief to students on state-mandated SOLs, which is required to pass the school year, to ensure high school seniors across the commonwealth will graduate.
He referred to Attorney Gen. Mark Herring's opinion released Friday that gives public bodies and local governments the ability to conduct meetings during the outbreak while maintaining accountability obligations and open government.
"That includes meetings to make decisions that must be made immediately and where failure to do so could result in irrevocable public harm," Northam said.
Northam also clarified again that activating the Virginia National Guard does not mean it's mobilized and forcing people to stay home. But they're on-call to help in transportation of supplies needed in healthcare facilities.
The Virginia Department of Health reported on its website on Saturday that 2,790 people in the state have been tested for the virus.
On Thursday, state health officials said there's a lag in the reporting of statewide numbers by VDH, and their figures might not be the same as ones reported by individual localities or local health districts.
Saturday evening, the LENOWISCO Health District announced two confirmed cases in Lee County, the first in the district. The patients are a man and a woman in their 50s; the second case is a household contact of the first. They have had no contacts with the community since before they developed symptoms and have maintained strict isolation, officials said.
Because of the reporting lag, those cases are not yet included in the tally on the VDH website.
In the greater Roanoke area, four cases had been confirmed as of Friday evening: a person who lives in Lexington; a woman in her 60s who lives in Franklin County and who is isolated at home; a man in his 30s who lives in the Central Virginia Health District — which includes Bedford County and Lynchburg — and is isolated at home; and a Botetourt County woman in her 80s who is at Carilion Roanoke Memorial Hospital.
This Roanoke Times contributed information to this report.