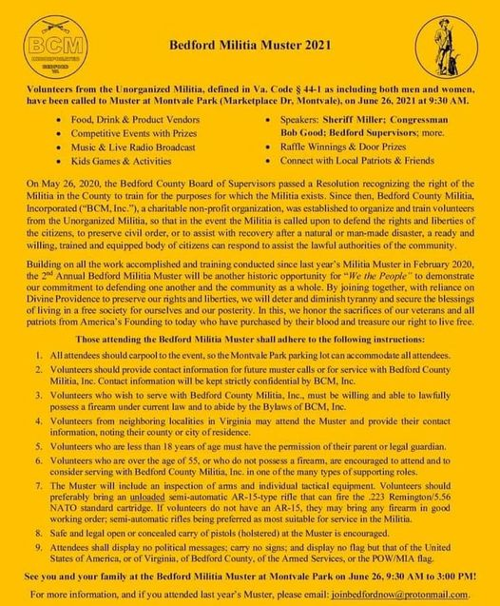 What's going on with our neighbor to the east, Bedford County? Has someone slipped a nefarious substance into the water supply that hijacks minds and transports victims to the alternate universe?
Those questions are worth raising for a couple of reasons. One's an event that occurred May 22. Another is happening Saturday in Montvale.
The first was touted in a half-page ad in a May edition of the weekly Bedford Bulletin.
"Wake Up Sleepy Church!" proclaimed the headline, which was promoting a free showing of a three-hour video, "Fall of the Cabal," at Apple Valley Community Church, which is near Peaks of Otter.
"Arise from your stupor," the ad continues. "Open your bleary eyes. Enlighten your confused minds. EDUCATE YOURSELF."
I called the listed phone number and spoke with a helpful woman who took my reservation for the event. I didn't make it, though, because the weather that Saturday afternoon was far too nice to waste three hours indoors watching anything.
Then I found the whole "documentary" on YouTube. I watched the first 30 minutes, then skipped around for another 15 or so. It doesn't document much, aside from lunacy.
It's a QAnon indoctrination video, produced by Dutch "researcher" Janet Ossebaard,whose other work includes investigation of crop circles. And just so there's no mistake about the film's theme, the church's ad featured a big, fat "Q" in the upper left-hand corner, superimposed over a pair of old-style skeleton keys.
More or less, "Fall of the Cabal" unifies all of history's best crackpot conspiracies. We're talking the illuminati, freemasonry, Egypt's pyramids and far, far more, all tied into a not-exactly-tidy theory of world domination and slavery.
Naturally, it includes a couple of well-worn anti-Semitic tropes, such as the Rothschilds and George Soros. The Bedford Bulletin ad specifically cited those, along with the Rockefellers.
Stewed in such fearful juices, weak minds might indeed conclude that Earth is composed of shape-shifting aliens who kidnap, torture and sacrifice infants before ritually drinking their blood. And that former President Donald Trump was sent to save us from that nightmare.
That's purely my take on "Fall of the Cabal," however. What about Apple Valley Community Church's? After the showing, I called the church five times in an effort to get its perspective, and left multiple voicemail messages. Nobody called back.
Fortunately, Apple Valley's May 22 Facebook post features a robust and rollicking defense of QAnon. According to that, "Q" is actually a group of more than 800 military intelligence analysts who advise the president, and are sending signals to the general populace to awaken them to "the truth."
Here's an illuminating passage from that 781-word screed:
"Are you aware that the FBI, CIA and other intelligence agencies have become so corrupt that they employ hundreds of journalists throughout the four major media organizations, including CNN, the Huffington Post, NBC, Fox News, The New York Times and Washington Post? How could you not know that intelligence agencies disseminate disinformation and control mainstream media story lines and narratives?"
In that case, where my FBI and CIA propaganda checks? I could use that money.
Of course, it's also possible that the FBI isn't paying reporters and that Bedford's nascent QAnon movement was caused by something weird in the water that's warped a few psyches.
The other questionable event happens Saturday at Montvale Park, just a stone's throw off U.S. 460. There, the Bedford Militia Inc. will hold its 2021 muster beginning at 9:30 in the morning. A flyer the militia put out urges people to bring unloaded semi-automatic rifles. AR-15-type rifles are preferred, the flyer notes.
Members of the militia I spoke to Wednesday disclaimed any connection whatsoever to Apple Valley Community Church or QAnon.
The Bedford Militia organized in February 2020 with an event that drew "700-plus," said militia Commander Jon Falls. And on May 26, 2020, the Bedford County Board of Supervisors voted 5-2 in favor of a resolution recognizing the organization.
Specifically, it noted the county government has no authority over the militia.
Supervisor John Sharp, who chaired the board last year and voted to recognize the militia, told me that its formation was "a chess move" in preparation for potential lawsuits against the state or federal government.
By some legal principle I don't quite follow, that official recognition may provide its members "legal standing" in future lawsuits, Sharp explained.
As you may recall, some (but not all) election lawsuits following Trump's 2020 loss were dismissed by judges who ruled the plaintiffs lacked standing — or the legal right — to sue. (Others post-election lawsuits were rejected on the merits of their claims.)
"It may — and I emphasize may — give legal standing to challenge unconstitutional restrictions," Sharp told me.
Falls, who earns his living as a welder, declined to tell me the precise number of members in his group.
"We have, you know, a number of people," he said. "I don't want to say, exactly. But we have 50-plus people in the organization."
The militia, Falls added, performs search-and-rescue functions, road clearing, delivers food to needy people and helps elderly residents repair their homes.
"But in the flyer you're asking people to bring unloaded AR15s," I noted.
"That's also a function of the militia," Falls replied. "We're a multifaceted organization."
I asked him which civilian authority the militia answered to. That's a relevant question, considering Article I, Section 13 of Virginia's constitution. Here is that in its entirety:
"A well regulated militia, composed of the body of the people, trained to arms, is the proper, natural, and safe defense of a free state, therefore, the right of the people to keep and bear arms shall not be infringed; that standing armies, in time of peace, should be avoided as dangerous to liberty; and that in all cases the military should be under strict subordination to, and governed by, the civil power."
Fall replied: "We don't really answer to a civilian authority … We're rebuilding an institution [the militia] that should never have fallen out of existence in the United States."
I'm not sure Virginia Attorney General Mark Herring looks at it that way, however. When I asked his spokeswoman, Charlotte Gomer, about the legality of the Bedford Militia, she replied:
"Attorney General Herring has been clear on the threat these untrained, unorganized, and unaccountable so-called militias could pose to communities in the Commonwealth. Last month, he sent a letter to Congress calling for more federal resources to combat the threat of militia extremism in Virginia and around the country.
"While the Bedford County Board of Supervisors has the right to express their opinions, it should seriously consider the risks and negative consequences of recognizing and condoning a group of armed, untrained persons that could violate the law by purporting to have law enforcement authority."
It sounds like Herring's wondering whether there's something weird in Bedford's water, too.
Perhaps the Virginia Department of Environmental Quality should investigate!