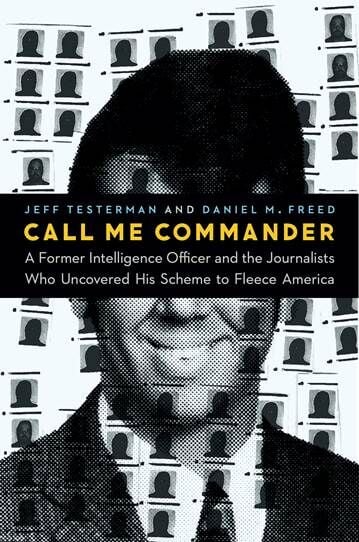 If you've ever wondered how gumshoe-style investigative reporting works, there's a new primer out. It's about a Harvard Law grad — John Donald Cody — who orchestrated a nationwide scam that swindled millions from people in the name of a fake veteran's charity.
Using a stolen identity, Cody billed himself as "Commander Bobby Thompson," leader of the U.S. Navy Veterans Association. The Navy Vets claimed 67,000 members. Its tax returns pegged its fundraising totals at more than $100 million.
"Thompson" operated the con mostly hiccup-free across 41 states for years, during which it passed at least one IRS audit. He also made hundreds of thousands in campaign donations. He had his photo taken with political luminaries such as President George W. Bush, Rudy Giuliani, Karl Rove and others.
Then in the summer of 2009, "Thompson" ran into Jeff Testerman, a (now-retired) investigative reporter for the Tampa Bay Times. Testerman drove to "Thompson's" residence to grab a simple quote about a $500 contribution the Navy Vets had made to a Florida politician with a fishy Navy past.
"Thompson," Testerman told me, was immediately hostile and suspicious.
"I think he recognized my name," Testerman told me Monday. Testerman became suspicious, too, partly because "Thompson" and the Navy Vets' headquarters were housed in a rundown duplex in a Tampa slum.
"I didn't anticipate a Navy commander in that setting," Testerman said.
For the next six months, Testerman and Tampa Bay Times news researcher John Martin found out everything they could about "Thompson" and the Navy Vets.
Here's what they learned: None of the state-chapter officers the Navy Vets listed on its website existed — all the name were made up. Their photos had been filched from somewhere on the internet, probably obituaries. All of the of the Navy Vets' chapter addresses were mail drops with rented boxes. All the state chapters' phone numbers led to voicemail systems.
"Thompson" left Tampa shortly after his encounter with Testerman. But his scamming was hardly done. He next splash occurred in Virginia, where he pulled perhaps his most ingenious con.
At the time, the commonwealth's charity regulators were putting the heat on the Navy Vets and had barred the group from soliciting donations in Virginia, a big Navy state. Those solicitations were made by professional fundraising firms that kept up to 85% of the take.
"Thompson" hired respected Virginia lobbyists and made roughly $68,000 in campaign contributions to key Virginia lawmakers in 2009. Then-state Sen. Ken Cuccinelli, running for attorney general, got the lion's share — more than $55,000.
The next year, "Thompson" persuaded the 2010 Virginia General Assembly to enact a law that exempted veterans charities from strict regulation. It worked; the measure passed unanimously.
Then in March 2010, Testerman and Martin published their Navy Vets expose, "Under the radar." Oddly, it didn't prevent then-Gov. Bob McDonnell (whose campaign received $5,000 from Thompson) from signing the bill into law. That made it far easier for "Thompson" to cheat Virginians than it had been before.
I and Michael Sluss, a former Roanoke Times colleague, broke that part of the Navy Vets saga. The embarrassed legislature repealed the law in 2011, but Virginia never went after "Thompson."
The state of Ohio did, though. It indicted him on multiple felonies. The U.S. Marshals Service began chasing him. And in 2012, they caught him in Portland, Oregon, living in a boardinghouse and using the name of a dead police officer.
In a rented storage locker, police found two suitcases "Thompson" had stashed there. One, Testerman said, was full of fake IDs Thompson had collected over the years. The other held just under $1 million in cash.
Eventually, Thompson was identified as Cody, who'd earned a undergraduate degree at the University of Virginia then a law degree from Harvard. Until the mid-1980s, he worked as a flashy, Corvette-driving lawyer in Arizona. That's when he suddenly absconded with nearly $100,000 in client funds and disappeared.
Part of the genius of "Call Me Commander," is that Testerman and co-author Daniel Freed, 41, a senior producer for the CNBC show "American Greed," were able to trace Cody's whereabouts and misdeeds between his disappearance from Arizona in the 1980s and his reappearance as Thompson in Tampa years later.
Freed did the hard work on that, Testerman said. Freed discovered Thompson had operated other smaller scams in Canada, Oregon and Washington, where he raised money for fictitious anti-crime and anti-drug organizations he created.
At some point, the U.S. Marshals had traced many of Cody's aliases and IDs to real men in Gallup, New Mexico, which had roughly 20,000 residents in 1990. Testerman said Freed figured out how that came to pass.
Early on while hiding out and scamming in the Pacific Northwest, Cody placed a help-wanted ad for hazardous materials handlers in a small Gallup newspaper. The ad offered high pay and great benefits. Applicants had to fill out a form with their Social Security numbers and other identifying information, which Thompson used for decades to obtain false IDs.
Freed put it together by reading a year's worth of newspapers he obtained on microfiche from a Gallup librarian, Testerman said. And Freed found the ad.
"[Freed's] just a crack journalist — old school," Testerman said.
And what about Cody? Ohio convicted him in 2013 following a trial for which Testerman was the very first witness. Cody's now 73. He was sentenced to 28 years.
Freed and Testerman, now 71, spent four years writing "Call Me Commander." Each wrote different chapters, and they edited each other's work.
I felt proud when Testerman last year asked me to write a blurb for the back cover. Here it is:
"This is the saga of the phony 'Commander Bobby Thompson,' who paid esteemed lawyers and famous politicians to help him swindle tens of millions with a bogus veterans charity. It is also the inside story of tenacious reporters who brought down a colossal con and revealed the stunning true identity of the character behind it. The narrative sends a powerful message: now, more than ever, journalists are needed to help distinguish between what is real and what is fake in American life."
I wouldn't take back a word of that. This is a great book. You should read it.