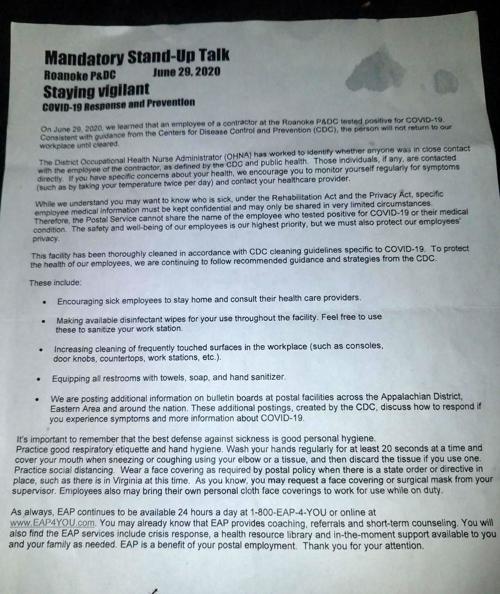 What would you do if your employer handed you a letter that someone in your workplace had tested positive for COVID-19 — but the employer declined to identify who?
That's the situation for several hundred workers at the U.S. Postal Service's Processing and Distribution Center in Roanoke. At least some employees there were informed June 29 that an outside contractor who visits the facility regularly had tested positive for the easily transmissible virus.
But one employee told me that not all workers had been informed. And even the union that represents mail handlers there — Local 305 of the National Postal Mail Handlers Union — was unaware of it when I first inquired Monday.
A Postal Service spokeswoman confirmed a case of COVID-19 among a "highway contract route driver" at the facility. But she said federal law prohibits the service from identifying that driver.
"Under the Rehabilitation Act and the Privacy Act, specific employee medical information must be kept confidential and may only be shared in very limited circumstances," spokeswoman Susan Wright wrote me in an email Monday. "Therefore, the Postal Service cannot share the name of the employee who tested positive for COVID-19 or further specifics of his or her medical condition."
It's probably worth noting that I hadn't asked for the employee's name, or specifics about his or her medical condition. I'd merely sent Wright an email and left her a voicemail asking her to call me about a case of the virus that had been connected to the Roanoke facility.
In the statement, Wright added: "The safety and well-being of our employees is our highest priority. To ensure the health of our employees, we are continuing to follow recommended guidance and strategies from the Centers for Disease Control and Prevention."
The Roanoke processing center is part of the Postal Service's Appalachian District, which covers West Virginia and parts of western Virginia. It's a subset of the Eastern Area, which covers Pennsylvania, Ohio, Tennessee, West Virginia, Delaware, Kentucky and parts of New Jersey, Indiana, western New York and Western Virginia.
I learned about the COVID-19 case connected to Roanoke on Sunday from a mail handler who works at the facility, Bob Stager. On June 29, Stager was handed a document about it by a supervisor.
Titled "Mandatory Stand Up Talk" and dated June 29, the document states: "On June 29, 2020, we learned an employee of a contractor at the Roanoke PD&C tested positive for COVID-19. Consistent with guidance from the Centers for Disease Control and Prevention (CDC), the person will not return to our workplace until cleared."
The document also noted, "The District Occupational Health Nurse Administrator has worked to identify whether anyone was in close contact with the employee of the contractor … Those individuals, if any, are contacted directly."
Stager, 69, is a 41-year employee of the Postal Service. He works the 10 p.m. to 6 a.m. shift on the docks at the Roanoke processing center. It has 44 loading spots at which contract drivers arrive daily to pick up mail destined for outlying areas, he said. About 25 of those are in use daily, and mail handlers load those trucks.
Stager told me that typical safety briefings at the facility occur regularly and are done in a group setting at the beginning of a shift. But this didn't happen that way, he said. Instead, a limited number of employees were privately handed the "Mandatory Stand Up Talk" document.
Stager told me he was one of them, but that not every mail handler received it. Moreover, he added, employees there have figured out who the contract driver is because only one of the regular drivers has not been arriving to pick up mail since the document was distributed.
Stager said he was told the contract driver got tested after he developed "a high fever." He estimated that 10 to 15 different mail handlers had close contact with that driver in the week preceding June 29, but that "at least half a dozen" of those had not been informed of the COVID case.
"It's not a complete cover-up," Stager said. "But they're keeping it as low-down as possible because they don't want people to freak out."
"You had 10 to 15 different mail handlers in contact with this guy in the week before he got sick," Stager said. "What happens when those mail handlers go home to their wives and kids?"
Stager added that mail handlers on the Roanoke dock have not been offered tests for the virus.
Monday, I contacted Local 305 of the National Postal Mail Handlers Union in Richmond, which represents mail handlers at the Roanoke processing center. Its president, Felandria Jackson, initially told me she was unaware of a COVID-19 case connected to the Roanoke processing center.
I sent her an image of the document Stager gave me, along with the email from Susan Wright.
Later, Jackson told me she had spoken to the president of the local's Roanoke sub-unit, Marcus Anderson. Anderson informed her he was requesting documentation from the processing center's management that all potentially affected employees in Roanoke had been informed.
"At this point, we cannot certify that everyone who worked on that dock was or was not informed," Jackson told me. If it turns out that hasn't happened, the union will take action, she said. That could include a complaint to the U.S. Occupational Safety and Health Administration, if necessary, she added.
The Postal Service's written statement said the agency does not believe that mail recipients would be impacted by the contract driver's illness.
"Although the virus can survive for a short period of time on some surfaces, both CDC and the United States Surgeon General have indicated that it is unlikely to be spread from domestic or international mail, products or packaging," the statement said.
In a follow-up email, I asked Wright how many employees at the Roanoke processing center had been informed about the contract driver who had tested positive. She didn't directly answer that question. Instead, she replied: "Information was provided to employees on all three [shifts] at the Roanoke Processing and Distribution Center."